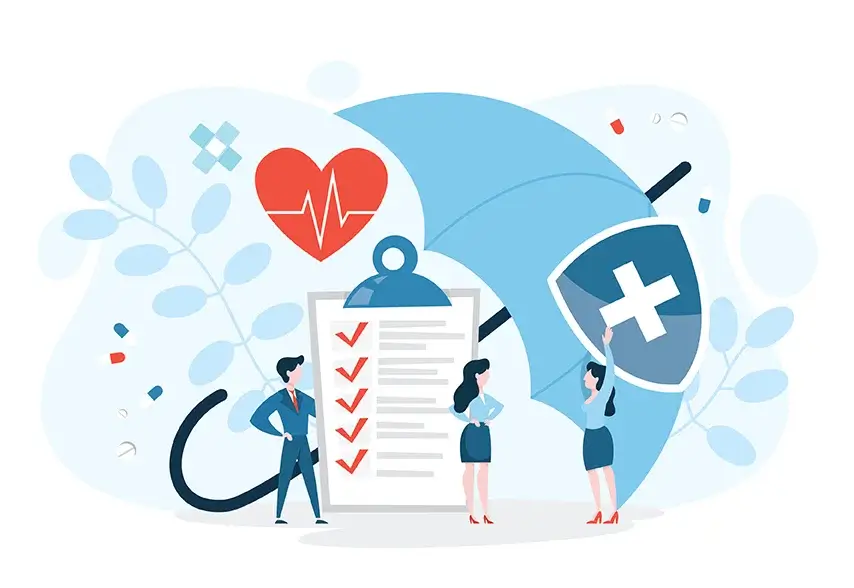 The National Health Report, 2018, revealed that there is a 23.3% probability of people dying in India from diseases such as cancer and diabetes between the ages of 30-70 years.1 According to Indian Against Cancer, there were over 7,84,821 cancer-related deaths in India in 2018. The other killer disease, AIDS, though has been considerably controlled, still killed around 69,000 Indians in 2017.2 Other terminal illnesses such as AIDS, advanced heart diseases, COPD, Alzheimer's disease and others kill millions of Indians every year.
The growing number of people with critical and terminal illnesses in India has compelled insurance companies to design a variety of health, term, and life insurance products that cater to their needs.
What is terminal illness cover?
Terminal illness cover is a health insurance plan that provides a lump sum payment if the policyholder is diagnosed with a terminal illness – an illness that in all probability will cause death. Some insurance companies provide terminal illness cover along with a term insurance plan or a part of their life insurance plan while others offer them as a rider.
Treatment and care of a person suffering with a terminal illness can be costly, time-consuming and agonising. Such cover allows the individual or the family to focus on the care and treatment of the person without worrying about the financial aspects. Learn more about what is terminal illness cover here.
Apart from term insurance policies that come with terminal illness riders, there are health insurance plans that provide terminal and critical illness cover. One such plan is the Future Generali Heart and Health Insurance Plan that provides a comprehensive coverage for 59 critical illnesses and surgical procedures including heart and cancer-related ailments. This plan covers the policyholder right through the diagnosis of listed conditions whether it is in the minor, moderate or advanced stages. Under Future Generali Heart and Health Insurance Plan, the insured receives a fixed lump sum pay-out on diagnosis of critical illnesses or while undergoing surgical procedures.
Buying terminal illness cover for yourself and your family is more important than ever. But before you buy them, you need to keep a few things in mind. Below are the 5 things you need to know about terminal illness covers.
The disease must have reached a certain level of severity
In order to consider a disease as critical or even terminal, it has to reach a certain level of severity. Today, as modern medicine and technology is making rapid advances, a disease that may be considered severe in a Tier II or Tier II city may be not that serious in a metropolitan city. Also, not all types of heart disease or cancer are considered severe or critical. For example, the cancer may have reached a malignant stage and it may be considered critical but a tumour that is benign is not considered critical.
Number of critical illnesses covered
The number of critical illnesses covered is a deciding factor in buying a terminal illness cover because it will ensure that you are adequately covered against a wide range of diseases. Most health insurance companies provide coverage for up to 35 illnesses but Future Generali Heart and Health Insurance Plan has one of the most comprehensive plans that cover 59 illnesses.
Buy a standalone policy rather than a rider
A standalone critical illness policy gives you more flexibility compared to a health insurance or term insurance policy with critical illness or terminal illness cover as a rider. With a standalone policy you can choose the sum insured according to the risks. If you buy it with a rider, your sum insured cannot be more than the base plan.
Check survival and waiting period clauses
Some insurance companies have a waiting period clause before you make a claim after the inception of the policy. It's usually 90 days. Also, the policy holder has to survive at least 30 days after the diagnosis of the disease to make a claim. It is called the survival clause. You must check both these clauses before signing below the dotted line as it varies between different insurance companies.
Claim procedure and claim settlement ratio
Lastly, understand the claim procedure of the insurer for critical illness cover and check the claim settlement ratio of the insurance company before you decide to buy the terminal illness cover.
Apart from these check other clauses such as renewability, policy tenure, sum insured, sub limits (cap on certain ailments) and the cost of premium before buying a critical illness or terminal illness cover.