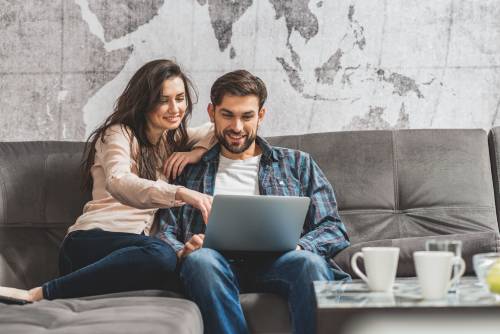 Embarking on a new chapter of life together is one of the most exciting experiences in your life. It's a time of romance, promise, hope and reality. Whether you are planning your wedding or deciding where to live, there are a lot of decisions to make before saying "I do," especially when it comes to securing your finances together.
Marriage brings responsibilities and joy in equal measures. Therefore, while embarking on this new journey, it's vital to make prudent financial decisions. This is important, especially, to remain financially secured against life's unpleasant surprises.
So, let's look at some financial products that you two can buy together post marriage and start the new inning of your life.
---
1. Term Insurance
When you marry, you promise to take care of each other until death do you apart. Term insurance extends this promise further by helping to care for your spouse financially even after you are not around. Term life insurance is the most affordable form of life insurance and a practical way to protect your loved ones' financial future.
The payout from a term insurance policy can be used by your spouse to help pay debts, pay day-to-day expenses, and, eventually, help support your children's goals in the future. When deciding to buy term insurance, a good place to start is by getting an idea of how much coverage would you need to protect your spouse financially. You can use term insurance calculator for the same.
In order to get comprehensive protection, you can further add a rider such as 'Critical Illness Rider' to your term plan. This rider will help cover the treatment cost of the critical illness in case you are diagnosed with one.
2. Health Insurance
A common part of wedding vows is to promise to care for each other in sickness and in health. One way to help care for each other is to make sure you are both covered with health insurance.
You might think that you and your partner are healthy and don't need health insurance right now. However, the reality is no one can afford to go without a health plan. This is because, when emergencies pop up or illnesses develop, medical expenses climb up quickly. By having a health insurance plan, you don't have to worry about the treatment cost when you are dealing with serious issues.
Even if your work offers health insurance, it's prudent to opt for a standalone health cover, which is much more customizable than your employer's health policy. You both can keep separate health insurance plans if you are satisfied with the price and service.
3. Unit Linked Insurance Plan
You may have invested countless hours planning for your dream wedding. But along with that, you need to spend some time planning investments for your future together. Making prudent investment decisions will help you and your partner build wealth for your long-term goals.
Therefore, as a responsible couple, you must think of investing in financial instruments like Unit Linked Insurance Plans (ULIPS). ULIPs are simply insurance cum investment products that offer you the opportunity to build wealth over time along with providing you with a life cover.
Moreover, long-term investment in a ULIP plan can help you build wealth for your future financial goals such as meeting the expenses for your children's higher education or your own retirement.
Further, ULIPs offer you various fund options to select. Therefore, if you are not an aggressive investor, you can spread your funds across equity, debt and balanced funds. Thus, you can align your portfolio to suit your risk appetite and lifestyle.
ULIPs also offer you the 'Switching Facility' which allows you to switch your funds when the market is not at its best or when you are nearing your goals. Furthermore, you can also avail of tax benefits on the premium paid up to Rs. 1.5 lakhs every financial year and receive tax-free maturity benefits as well.
---
Conclusion
These are some important financial products that can help ensure a more prosperous and steady financial footing, long into the future. Remember, the sooner you get the ball rolling on buying them, the smoother your new life together is likely to be.