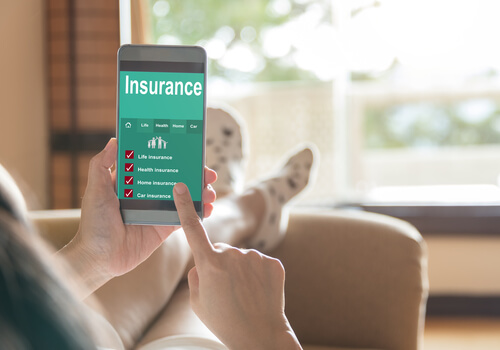 Introduction:
Mr Sharma has a family of 4, including him. He is the sole breadwinner for the family that consists of his partner and his two kids. He realised that the kids are financially dependent on him to provide for not just their current needs, but also for the future - their education, their marriage, their dreams. This is when he realises the importance of buying a term insurance plan . He wishes the best for his family and wants to provide for them even in his absence if something were to happen to him. He knows term insurance will serve just the right purpose for this. It will offer financial safeguards against the uncertainty of death of the policyholder and also works as a good investment plan, which helps you meet several life goals in turn.
But one question is nagging him: where should he buy term insurance? Is it safe if he decides to buy term insurance online ? Are there risks involved? Or is it a better option than buying through an agent? Let's address his apprehensions. If like Mr Sharma, you are sceptical to buy term insurance online, this will help:
---
Is it safe to buy term insurance online?
A short, emphatic answer is 'yes'. If you are purchasing a term insurance policy online, you can directly log on to the insurance company's website and browse through the different plans and terms available. These websites also ensure that the transactions are protected and your personal details are secured. On the other hand, if you go through an insurance agent, you are likely to be manipulated. An insurance agent may try to influence your decision such that you get a policy that serves his/her interests more than it serves your purpose. It is also not possible to get unbiased and complete information through an interaction with an agent. If anything, buying insurance online is safer than the offline route.
This brings us to one major benefit of the online mode: the ability to compare term insurance policies on the basis of their terms and conditions. An agent is essentially a salesman who will try to sell you a policy from the company he is endorsing. But online, you can take your time as you collect all the information you need before making a final decision on the policy you want. The parameters on which you could compare term insurance plans could include policy-specific details like the available riders , tenure offered etc. or insurance company-specific features like the claim settlement ratio.
Another advantage of the online mode is that these plans turn out to be cheaper since no agents are involved. This eliminates agent commissions and/or intermediary costs, thereby bringing you the same policy at a lower cost.
The online mode also enables you to keep track of your policy, premium payments and renewals in a more timely and accessible manner. For instance, the Future Generali Online Term Flexi Plan details everything from the term to the eligibility requirements to the application process on the website. It also explains how the plan works through examples to give you a clearer understanding of what to expect from the plan. You can also go through sections on the riders available and acquaint yourself with the various policy disclaimers.
The digital boom: a macro lens
The shift towards the online route is not just an individual choice - a large chunk of the population can see the benefits. Because of increasing internet availability and accessibility, the number of internet users in India expected to rise from 429 million in 2017 to 829 million by 2021 at the rate of 17.9%. Digital technology also implies that you, as a policyholder or a potential policyholder, will have greater product awareness level, access to effective customer touchpoints, access to knowledge, service availability and convenient payments mechanisms.
This is also why the pricing is so competitive and there is greater transparency in product features, costs and services. Basically, the online route is a blessing for the policyholders.
To sum it up, it is absolutely safe to buy insurance online as long as you are going to the authentic website of the insurance provider. The process is convenient, you get the benefit of quick access, lower premiums, less documentation, more transparency and ease in payment and renewal.