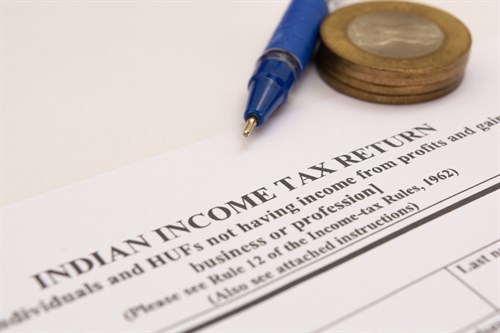 Introduction
Income tax refers to a percentage of your income that you pay to the government. It is a kind of direct tax that is used for infrastructural developments and to support the salaries of government bodies, at both the central and state levels. Each year, income tax slabs are introduced in the annual budget. The income you earn is exempt up to a certain limit according to your age bracket, and for the rest, you have to pay income tax at the given rate.
In calculating the income tax, the gross total income refers to the total income from the five heads of income and is calculated before allowing any deductions under sections 80C to 80U of the Income-tax Act, 1961. So, if your gross total income is, say, Rs 3.50 lakh and investment under section 80 C is Rs 1 lakh, the taxable income becomes Rs 2.5 lakh, the ITR still needs to be filed as gross total income exceeds the exemption limit before adjusting for deductions. All deductions including the life insurance tax benefits on premium are claimed while filing income tax returns.
---
Why file Income Tax Returns (ITR)?
You may be tempted to think that filing of ITR is not mandatory if income is not taxable, but it is always preferred to file your ITR. Each year the due date for doing so is July 31st, and often an extension is provided on this deadline. Filing for ITR allows you to claim a refund if the tax was deducted at source. It is possible that tax is deducted at source by either your employer or on some investment. Filing ITR is the only way to claim a refund on this deduction.
Filing ITR has other benefits too:
ITRs help expedite a lot of other areas of financial paperwork, where a detailed picture of your income status is needed.
ITR documents are accepted by various lenders and banks while assessing the eligibility and quantum of loans, by authorities for visa processing etc.
Filing for claims under insurance policies often requires handy documentation, and ITR can be provided for the same.
In some cases, such proof of income is compulsory to be furnished.
There are other instances whereby return can be filed so that you can carry forward the losses incurred in one year to be set off against income of subsequent years.
And if the more practical reasons stated above are not enough, there is a moral compass in the act of paying taxes. As a law-abiding citizen of the country, it is the right thing to do: keeping the income tax department informed about your income and taxability. Convey this through your ITRs and present all material facts about your earnings and investments, account for life insurance tax benefits or the taxability of life insurance maturity amount.
Penal Provisions
Until Assessment year 2017-18, there was no penalty if you didn't file returns or filed returns late. Often, deadline extensions are also provided. However, a penalty is now applicable from 2018-19. A new, section 234F, was introduced by the government into the Income Tax Act which provides for penalty in respect of return of income required to be furnished for the assessment year commencing on or after the 1st April 2018. The fee for default in furnishing return of income will be
₹5,000, if the return is furnished on or before the 31st day of December of the assessment year;
₹10,000 in any other case.
This penalty is applicable provided that if the total income of the person does not exceed five lakh rupees, the fee payable under this section shall not exceed one thousand rupees. Beyond this, if you have any unpaid tax liability, then penal interest on the same would be levied too. If you don't file for income tax, and on assessing your return the department raises demand for additional tax payment, then you would have to pay penal interest on that tax as well as the additional tax. Therefore, it is advisable to file your return on time.
In the meantime, if you are looking for a life insurance policy that will render the life insurance tax benefits for the returns, you can opt for ULIPs plans like the Future Generali Big Dreams Plan that bring you tax benefits under Section 80C and Sec 10(10D) of the Income Tax Act of 1961. Remember to keep a track of the deadlines to make the most of these deductions!