Financial planning is a very crucial component in a young individual's working life. To achieve balance in life, a person should invest in financial planning. A sound financial framework can help an individual achieve their life goals in a planned and systematic way.
A proper financial planning should primarily answer three questions: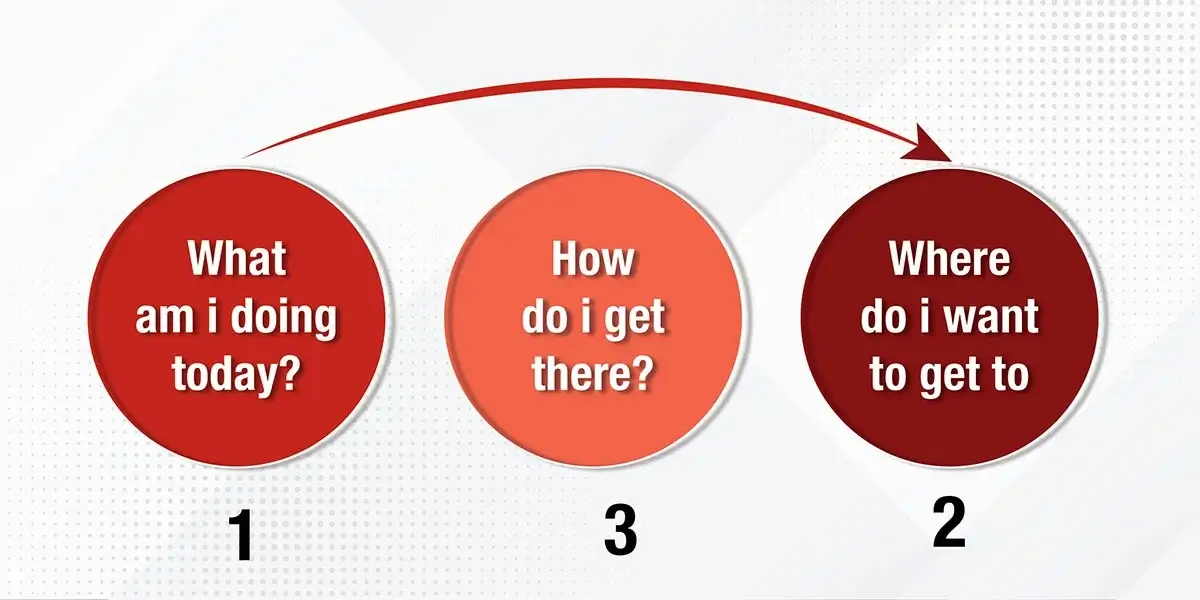 Financial planning primary questions
Here the important question is where I want to get to. Let's move to the write-up that looks at various steps in the financial process, including how to establish financial goals, and then follow through on the decided plan.
The Financial Planning Process
Let us quickly run-through the financial planning process:
Step 1 - Review Current Financial Situation
An individual must first evaluate their current financial situation. After analysing their monthly income, expenses and savings, they should also evaluate immovable property like flats and movable property like investments in fixed deposits, bonds and equity shares. This will help provide a clear overview of adjustments that will have to be made to achieve financial goals.
Step 2 - Goal Setting
Financial goals form the foundation for a financial plan. Different individuals have different financial goals. Hence there are 4 steps to goal setting:
Goal Identification - Identify what your goals are. It is recommended that the number of goals is to be limited to a maximum of three goals at a time. The reason being if we have more goals we will not have enough resources to allocate the goals and may not be able to achieve those goals.
Goal Prioritization - Achieve goals all at a time may not be possible. Hence, prioritizing goals will help you achieve your goals faster.
Goal Amount Estimation - The next step is to estimate the amount required to achieve your goals based upon judgement, historical understanding, and experience.
Goal Time Frame Estimation - Based on the available resources and expected monthly savings a time frame to complete the goal must be decided.
Additionally it is important that you have SMART Goals!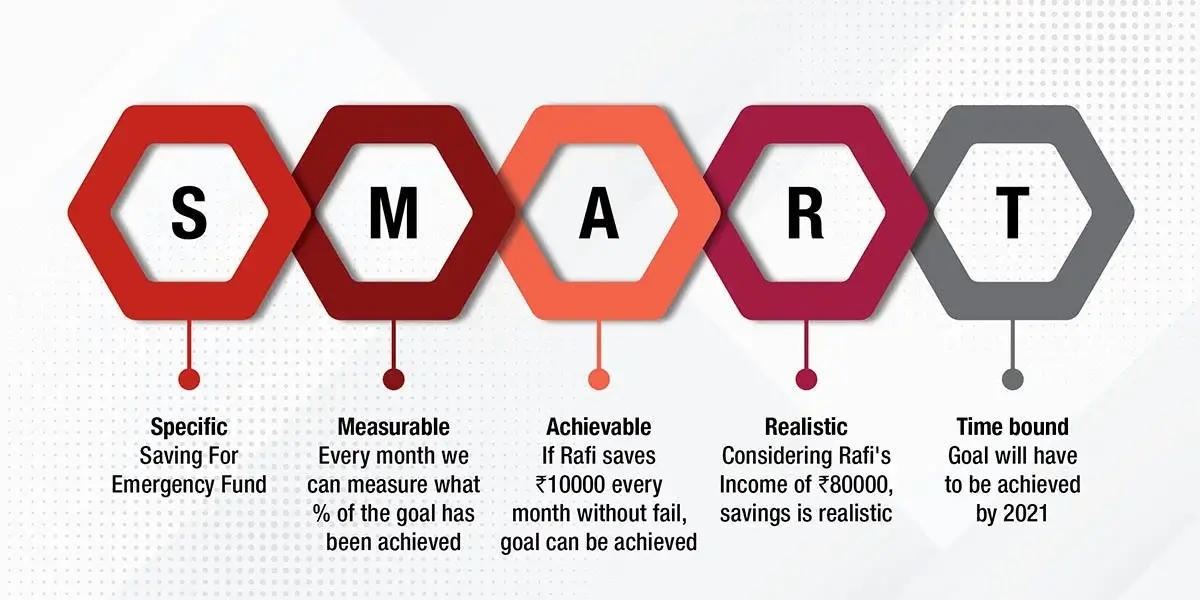 SMART Goals - Image source: https://ncfe.org.in/e-lms
Step 3 - Create Alternative Course of Action
An individual should always have an alternate course of action, in case the current plan does not work out as was originally planned. Before taking a decision, all available alternate solutions must be evaluated. For example, if a person takes out a loan to buy a house, he should ensure that he has a safety net in case of any untoward emergencies. If he has high EMIs, his monthly salary may not be enough to cover medical bills or any other emergencies that may arise.
Step 4 - Evaluation of Financial Standing
A person must evaluate his financial situation before any major investments. For example, a person in a secure government job will be in a better position to take a car loan than an individual in a shaky private job. Before any major investments, you must always evaluate your financial health, or you could end up in a risky debt situation.
Step 5 – Savings
"Do not save what is left after spending, but spend what is left after savings" – Warren Buffet
One of the important and necessary thing one can do for their financial wellbeing is to start saving. A majority of people think that the following equation is right:
Income – Expenses = Savings (which is wrong!)
The actual equation should be:
Income – Savings = Expenses (this is right!)
Hence our financial wellbeing depends upon how much we save. SAVING IS IMPORTANT and there is no better financial instrument other than LIFE INSURANCE when it comes to savings.
Step 6 - Implement a Financial Plan of Action
After the financial goals have been identified and your financial standing has been established, an action plan has to be developed. All goals must be listed in order of their importance, and the most prioritized goal has to be completed first. Then the second item on the list has to be completed, and so on. For example, an individual may have 3 different goals like a child's education, owning a house and planning for retirement. He may consider the child's education the most important one and start implementing a plan for that first.
Step 7 - Reevaluating and Revising Your Financial Plan
Evaluation of a financial plan has to be done at regular intervals, say at least, once a year, and necessary changes can be made if required. An individual may have a sudden rise in income due to a big jump in salary or a job change. In such an instance, he may change his financial plan to make higher investments, thus achieving his goals quickly.
Alternatively, the individual may lose his job or may have to work at a lower salary. In this case, the investment period may be revised, and the goals may be delayed. He may also have to liquidate certain assets in such a scenario.
CONCLUSION
The financial planning process may seem daunting at first, but with discipline and careful budgeting, you should be able to manage it with ease. Always remember to have a contingency plan. Most people get carried away with achieving their life goals, whether buying a home or educating their children. When things go awry, they may struggle to make ends meet. Ensure that you don't end up in this situation with a sound financial plan.
A professional financial advisor can help you achieve your goals by bringing in their vast knowledge about various investments. Future Generali India Life Insurance offers several suitable for different age groups. Connect with a financial advisor and choose the best saving option(s), today!