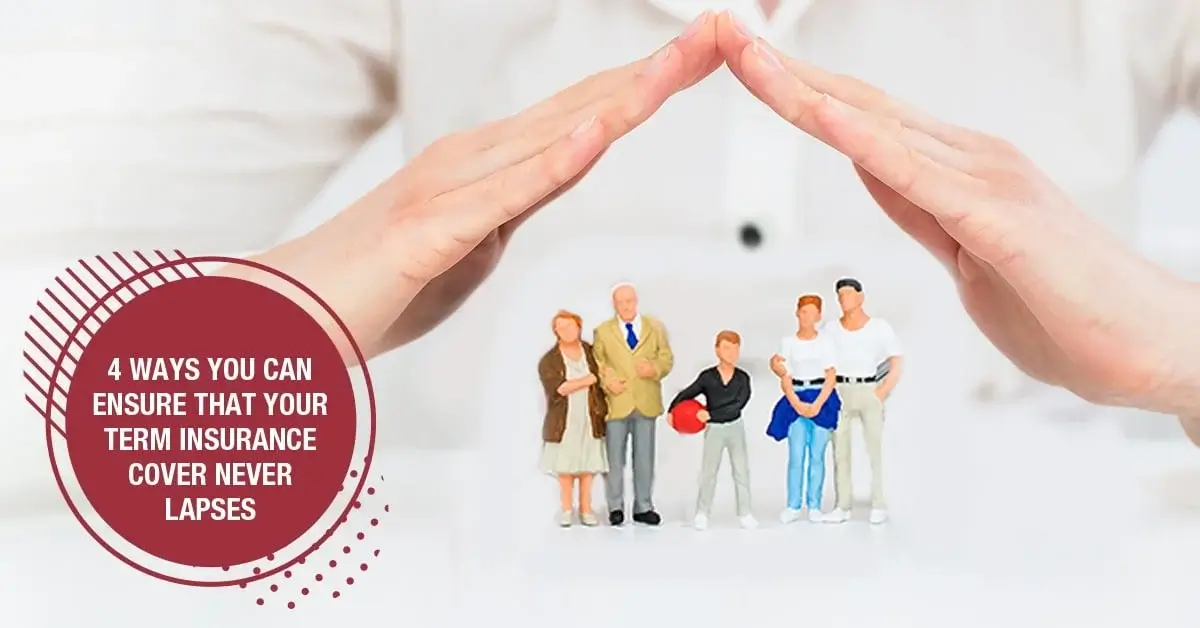 When it comes to 'Term Insurance', the word "lapse" isn't a good thing to hear. What does a lapse of team policy mean? Simply put, if your term insurance plan has lapsed, it implies that the policy is no longer valid and you do not have coverage and protection.
Nobody would want to lose the insurance cover benefit after investing in a term plan. It is detrimental to family's financial well being. To avoid your policy getting lapsed,here are few things you can do:
---
1. Make Your Premium Payments on Time
The best way to ensure that your term insurance cover never lapses is by making payments on or before the due date. In case, you are unable to make payments on the due date; insurers provide you a grace period.During this period, you still have the option to pay your pending premiums. However it is better to be early than sorry.
---
2. Set Up Automatic Billing (ECS) for Your Term Insurance Policy
Non-payment of even one premium instalment can lead to the lapse of your term insurance policy. This mistake can come crushing on you, as you will lose all the benefits of the policy and also all prior premiums you paid will go futile. Also the insurer may ask you to go through more detailed process to revive your policy , like medical examination and re-submission of documents.
Yes, we agree that it is possible to forget the premium payment due date considering your busy schedule. But one way to ensure that you don't is by adopting the ECS mode for premium payment. Through this option, your premium is auto-debited on the exact due date from your bank account or credit card. This process is fairly simple, can be done online through setting up standing instruction on your credit card or submitting an auto pay form with your bank details at the nearest branch. You can also now opt for e-NACH, a process to set up payments from your bank account online if your account is linked with your Aadhaar.
---
3. Keep Your Communication Details Updated
During the purchase of the insurance policy, you are required to provide your communication details to the insurer. This includes your permanent address, current address, mailing address, email id, phone number, etc.
Using these details, the insurance company send you emails, text messages, premium reminder letters etc., which can include reminders for premium payment.
So, in case of any change in these communication details, it is recommended that you update the same with your insurance company. This will ensure that you get timely reminders and pay the premium on time or beforehand. This updation can also be done online by signing in the customer portal.
---
4. Be Aware of Your Payment Capabilities
Before you purchase your term insurance policy, make sure you are aware of your payment capability. For instance, opting for a lump sum premium payment which can burn a hole in your pocket is never a good idea. Going for options like monthly or quarterly payments can be a smart move, ensuring that you have no financial strain while making your premium payments.
---
Few Additional Tips:
• If you get a letter from your insurance provider, don't just assume it's an advertisement. It might be a notice before your policy lapses
• We also advise you to open all the emails received from your insurer as soon as you get them. You might think it is not important, but you never know, it could be a notice of your missed premium payment or something else related to your policy
• If you enter the grace or lapse period, reinstate your policy as early as possible
• Reinstating your term insurance policy will be less expensive. It will also keep you from troubles of undergoing the underwriting process and medical examination again
---
Conclusion:
Missing your premium payments means allowing your policy to lapse; where the coverage may no longer be active or may be squeezed (as per the terms and conditions of the policy).
However, regular and disciplined premium payment will ensure financial protection to your loved ones during an unfortunate event. That's the reason why you bought term insurance in the first place, right? So, pay your premiums regularly and stay protected!