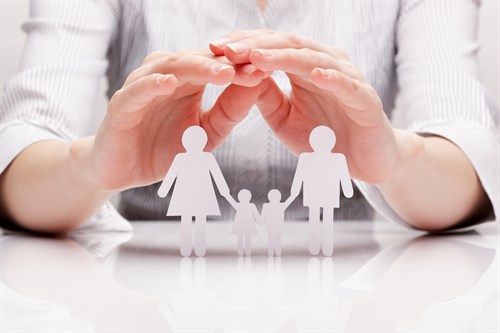 For many of us, keeping our family happy and healthy is our main priority. Unfortunately, there are some things we can't predict. Accidents, health issues or long-term illnesses could strike at any time. However, with the right insurance, you can make sure you and your family have access to top quality care, such as specialised treatments, fast diagnoses and essential support that can make all the difference. Importantly, insurance can also play a major role in limiting the financial impact of illness too, keeping any additional money stress and worries at bay so you can focus on getting better. From chemotherapy to kitchen burns, read on to find out more about just a few common scenarios where health and illness insurance can offer you and your loved ones medical support and financial protection when you need it most.
---
Managing the burden of long-term illness
We all want to be there for every memorable moment in our loved ones' lives, helping to support them through thick and thin. But if you develop a difficult long-term illness, you might find yourself unable to provide the physical, emotional and financial support you thought you'd always be able to give them. Many long-term illnesses from heart disease to cancer can lead to long hospital stays and expensive treatments and examinations, including MRI scans and chemotherapy, all of which can lead to mounting costs. You may also find yourself unable to work, adding burden to what is already an overwhelmingly stressful situation. The last thing you need is to be focused on an uncertain long-term financial outlook or the prospect of medical bankruptcy, but this can quickly become a very real scenario.
With the right coverage, this financial burden and fears for your family's future can be taken away, letting you focus on more important things such as recovery and spending quality time together. Health insurance can help cover the costs incurred by treatment, surgical procedures and hospital care for you and your dependents under one policy. Meanwhile, income protection insurance can make sure your inability to work doesn't affect your financial situation and income. While we all hope for a long, happy and healthy future, having these protections in place will give you peace of mind. It will make sure that you and your family are covered, whatever happens, so you can make the most of today without worrying about tomorrow.
Support for accidents and emergencies
Ever had a nasty accident and needed medical treatment? You're not alone. Whether you've injured yourself falling off a bike, broken a bone after tripping over a stray toy in the garden or even suffered a bad burn after cooking Sunday lunch, accident insurance can get you the support and advice you need in these emergency scenarios. The insurance helps you to cover the costs of medical treatment, transport and even a hospital stay if necessary too.
If you're abroad when an accident occurs, insurance can make sure the bill is covered at a foreign hospital while ensuring you get back home safely with no additional costs to deal with. Depending on your plan, you can even get coverage to make up for any lost earnings while you recover from the accident, so you can focus all your energy on getting better.
Peace of mind through preventative and everyday healthcare
Being covered with health insurance doesn't just cover long-term or emergency scenarios. It can also help you get high-quality care and expert medical advice whenever you need it, without having to worry about what you can afford or how long you might need to wait. Private insurance allows you to cut down on waiting times for pressing issues, such as worrying symptoms you want to have looked at straight away, a small procedure you'd prefer to have fast-tracked, or even dental problems such as wisdom teeth that are causing unnecessary pain.
You may also be able to enjoy preventative services, helping you find any problems before they develop and stopping them in their tracks. By getting your blood pressure checked or having any moles scanned regularly, you can rest easy knowing your family are putting their health first and making staying well an everyday priority. Some plans can even support the costs of fertility treatments too if you're struggling to start a family, so check your plan today to see how your insurance might be able to help.