Being a father of a two year old, Kedar was looking for an insurance plan to safeguard the future of his family. At the same time, he also sought to invest a portion of his income periodically to meet his future financial demands. After being unsure for a while, he finally called up his father-in-law, sound in financial instruments, to seek advice. His father-in-law suggested opting for Unit Linked Insurance Plan (ULIP).
However, one question still bugged him:
Is ULIP Good for the Long Term?
A Unit Linked Insurance Plan (ULIP) is a financial tool holding double benefits of insurance and market linked investments. It becomes promising for individuals who wish to connect their investment with financial security.
A part of the premium you pay is dedicated towards Life Cover and the rest is assigned to a shared pool of money, which invests in debt, equity, or a combination of both. With a minimum lock-in period of 5 years, it acts as a financial tool that helps individuals move towards their financial goals. When compared with other financial instruments, equity-linked options like ULIPs emerge as one of your best bets.
As of March 31, 2022, a well-known market index like Nifty has produced a 10-year rolling return of around 14% on average.
| Investment | Rate of Interest (2022) | Profile | Guaranteed Returns | Lock-in-period |
| --- | --- | --- | --- | --- |
| FD (Fixed Deposit for 10 years) | 2.90% - 5.50%1 | Debt | Yes | 10 years |
| PPF | 7.1%2 | Debt | Yes | 15 years |
| NSC | 6.8%3 | Debt | Yes | 5 years |
| Post Office Time Deposit for 5 years | 6.7%4 | Debt | Yes | 5 years |
| Sukanya Samriddhi Yojana | 7.6%5 | Debt | Yes | 21 years |
| Senior Citizen Savings Scheme | 7.40%6 | Debt | Yes | 5 years |
| NPS | 9% - 12%7 Expected | Equity, Debt | No | Till retirement |
| ELSS | 10% - 12% Expected | Equity | No | 3 years |
| ULIPs | 12% - 14%8 Expected | Equity | No | 5 years |
Benefits of ULIPs
The various benefits that decisively answer the question of whether ULIPs are good for the long term are:
Power of Compounding

A common nickname for compounding is "the eighth wonder." Any investment is worth the wait because of its unseen power. Compounding is the ability of an asset to provide income that is then reinvested by the fund to produce its own income. By doing this, your investment money stays exactly where it is while your earnings from interest and other sources continue to grow. If everything is done correctly, your fund should be able to produce large gains over a number of years.

Unit-linked insurance plans (ULIPs), take advantage of compounding while requiring you to commit to making regular payments and allocating your money toward specific objectives. In addition, it protects your loved ones financially in the event of your untimely death through the Sum Assured.

So, in essence, investing consistently over a long period of time is the key to utilising compounding.

Good Retirement Corpus

India has been ranked as the nation with the worst retirement conditions. With lack of care and minimal savings, elders lead a fragile life after retirement.

ULIP is a suitable tool that takes care of a good retirement corpus adjusted to inflation to support you steadily in the form of a healthy pension.
It invests a part into debt and equity (as chosen by you) which in the long run is known to give healthy returns, potentially better among its peers.
If you seek a product that ensures a guaranteed safety net for your family, in case of your untimely demise and at the same time presents decent returns, pick a ULIP for your future planning.
It gives the benefit of knowing that your 'insurance premium' is also working towards securing your future goals.

Flexibility

Individuals are given the option of switching funds with ULIPs.

As per your risk appetite and tailored financial goals, you can choose among growth, equity, balanced and income funds.
After choosing the policy, you can change the fund allocation anytime during the term, and run it till maturity to reap long-term benefits.
This comes in handy for individuals who do not typically focus on improving their financial portfolio but are aware of its necessity.
Further, one must note that since ULIPs are equity-linked instruments, a longer policy tenure will give you the benefit of rupee cost averaging which has the potential to balance any losses due to short term volatile movements in the market.

ULIPs Help Inculcate Long Term Saving Habits

One prime reason you should place your savings into a ULIP is that ULIPs primarily focus on long term wealth creation, and help you achieve the same. How?

Because most ULIPs have a five-year lock-in period. It instils the discipline of saving money.
Another added benefit of long term investment is that since your funds are tied up for the long run, you are more likely to survive any shocks in the market, enabling you to get higher returns in the long term as compared to short term horizon investment products which are grossly affected due to changes in market conditions.

Tax Benefits: ULIPs are Triple Tax Exemption (EEE) Products

Tax exemption is one of the biggest reasons why one should invest in ULIPs.

An investor purchases a ULIP once, but saves on tax every year for the entire policy term.
Moreover, the maturity amount received by the investor is also exempted under section 10(10D)9.
It is often seen as one of the best tax-saving options as they fall under the EEE or Exempt-Exempt-Exempt bracket.
This means that when you buy the policy, you are qualified for tax exemptions during the investment, earning, and withdrawal period.
The premiums that go towards your ULIPs can be deducted from your taxable income according to section 80C of the Income Tax Act.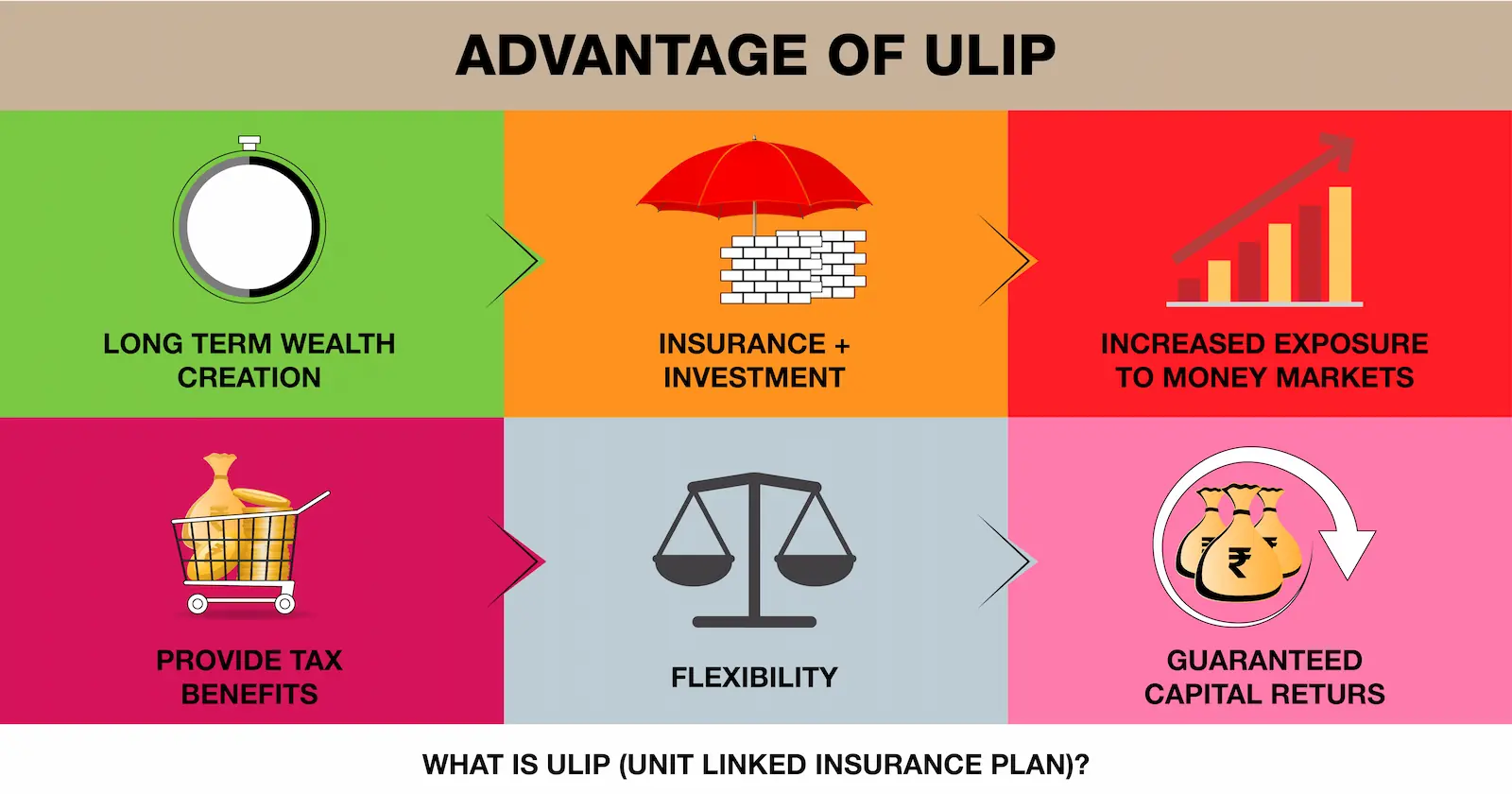 Source: https://www.youtube.com/watch?v=fhyHb4CdTgc
The above mentioned diverse benefits make ULIPs an ideal investment tool for your long-term financial goals. If, like Kedar, you are seeking a cover for your family and at the same time looking for a suitable financial instrument for market-linked growth, ULIP becomes a reasonable choice with such benefits. To know more about ULIPs, feel free to connect with our trusted financial advisors today!