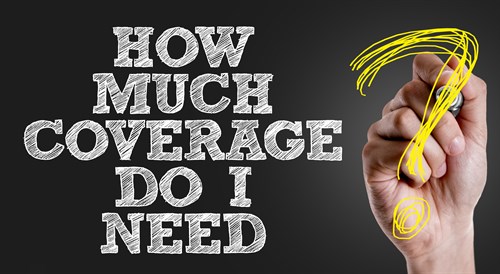 Sudesh and his wife recently had a baby girl. After this news, they were both brimming with joy. They organised a get together of family and friends a few months later to celebrate the occasion. As friends and family usually like to discuss about finances, When someone asked Sudesh about his term life insurance and does it cover the rising inflation, Sudesh was confused.
Yes, he did have a term plan in place because he wanted to secure the future of his family, but he had not factored in the rising costs of inflation every year, and the impact they could have. Was it too late for him to rectify this decision? Could he opt for an increase in term life insurance every year? If only he'd have thought about this sooner.
---
Most people tend to opt for a basic life cover wherein they can either opt for a lumpsum benefit on death or monthly pay outs as per their convenience. A basic life cover can start for a premium as low as Rs4200, for an 18 year-old healthy non-smoker male, for a policy term of 10 years. This differs from insurer to insurer.
The lumpsum payment option takes care of your family's immediate needs such as medical condition, marriage etc. While, the monthly payout option is good to help maintain your family's standard of living as well as take care of the education of your children in your absence.
However, one look at the inflation figures can get you thinking if this coverage is enough. In June 2019, India's retail price inflation rate rose to the highest since October 2018, at 3.18 percent year-on-year, slightly below market expectations of 3.20 percent. The numbers were still below the Reserve Bank of India's medium-term target of 4 percent for the eleventh consecutive month. India's inflation rate averaged 6.08 percent from 2012 until today, reaching an all time high of 12.17 percent in November 2013 and a record low of 1.54 percent in June 2017.
Such unpredictability can for sure impact the amount of coverage you choose as a part of your term life insurance. However, opting for increasing income protection could be your best bet. In this alternative, there is a 10 percent increase in term life insurance monthly amount from the second year and thereafter every year, that is paid to your family.
In case death happens during the policy term, the increased policy amount as per the policy year of death will be disbursed to your nominee. This amount will keep on increasing till you would have attained 60 years of age(if alive) or 10 years from the expiry of the policyholder, whichever is higher.
If the nominee wishes to take a lumpsum amount, they could as well do so at the time of claim settlement. However, this cannot be done once the monthly increase in the amount has already begun.
Lets take an example. Suppose Mr A aged 35 opts for income protection plan of 50,000 for 30 years. Unfortunately, he dies in an accident at the age of 41, the seventh year of his term life insurance. His nominee will start receiving Rs 80,000 every month starting this year, with the amount increasing in subsequent years, till Mr A would have been 60 years of age.
When you opt for an increase in term life insurance on a monthly basis, there are no death benefits payable on maturity of the policy. However, it protects your family from rising costs in the future, which is inevitable.
Here are 6 events in your life when you should review your life insurance.
Technology has made buying term insurance easier. You just need to generate a quote online by keying in your basic details, fill in an application form and submit the necessary documents to get an increase in term life insurance on a monthly basis.
Future Generali Flexi Online term plan provides this option of income protection for those who want to secure their family's future in the long run. A free look-in period and a grace period of upto 30 days to pay your premiums are some of the benefits that you get.
You can opt for riders as per your convenience. What's more, your premiums qualify for tax benefits as well. Packed with so many advantages, term life insurance with the option of increased monthly payments, to factor in inflation, is in tune with the future. So take this wise decision soon!