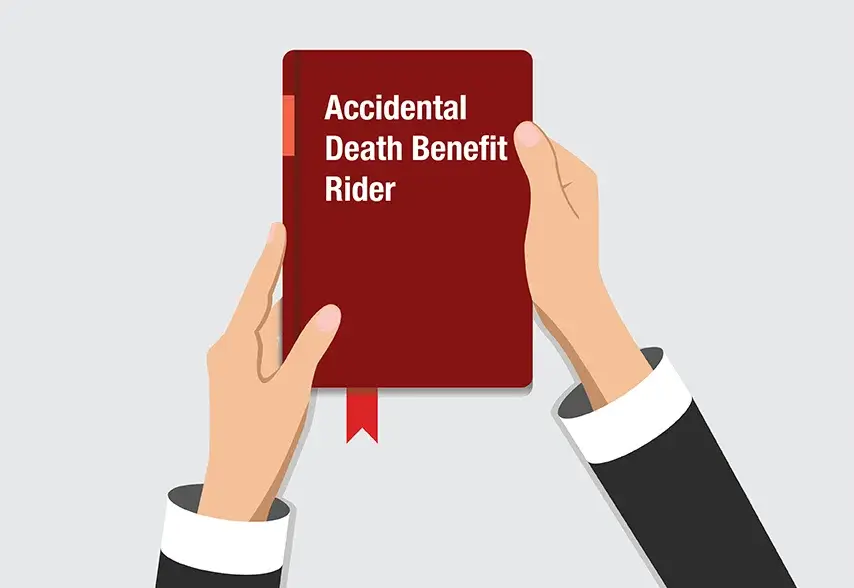 Riders are the optional, additional benefits that you can add to your term life insurance plan, over and above the basic insurance coverage. They add on to your premium, but also extend the coverage benefits to other allied unforeseen circumstances like accident, permanent and partial disability, critical illness etc. Accidental Death Benefit Rider is one such rider.
It is an additional benefit with the life insurance plan as a protection for you and your family against accidental death or disability. It functions as a double indemnity rider, whereby death by accident is compensated through both the life insurance policy amount and the amount on the rider.
Why is accidental death benefit rider important?
The accidental death rider is so important because it deals with an absolute, irreversible loss - the death of the life assured. This means that his/her family is left to deal with the emotional grief, and is now also faced with tremendous financial stress. Emergency medical expenses are a gigantic expense already, and if it turns out to be fatal, the family has to deal with the loss of life and future income. The blow of this double jeopardy of medical expenses and permanent loss of income from the death of the breadwinner can be eased through the provision of the accidental death benefit rider.
What are the benefits of the accidental death benefit rider?
The rider safeguards the family from accidents/mishaps resulting in death which can impair the family's income for several months or even years.
In an event of death, the insured gets an additional amount - usually, twice the sum assured.
You can include the Future Generali Accidental Benefit Rider to your base term life cover of Future Generali Flexi Online Term Plan. Future Generali Accidental Benefit Rider provides two options to choose from:
- Accidental Death Rider that provides cover against accidental death.
- Accidental Death and Accidental Total & Permanent Disability Rider that provides cover against accidental death or accidental total & permanent disability whichever is earlier.
Another alternative is the Future Generali Non-Linked Accidental Death Rider that provides additional sum assured on accidental death along with the term insurance.
What is an accidental death, then?
If the life assured shall sustain any bodily injury resulting solely and directly from an accident caused by outward, violent and visible means and such injury shall within a period of 180 days of the occurrence of the accident; solely, directly and independently of all other causes, result in the death of the life assured, such death will be deemed to be an accidental death.
Details and Exclusions
There are certain exclusions to the rider. This means that death caused by certain events like acts of war, self-inflicted hazards, illegal activities and hazardous hobbies, among others, do not qualify for the benefits under the rider. Also, there are age limits to avail of the benefits attached to the rider – for instance, the rider may not apply to the policyholder once he reaches the age of 75 years. You also cannot enter into a rider after crossing 65 years of age.
If you get a Future Generali Term Insurance and add the Accidental Death Benefit Rider to it, the minimum sum assured under the rider is Rs 50,000.
The premium payment is as follows:
- For Accidental Death Protection option, you pay Re 0.50 per Rs 1000 of rider sum assured for regular premium payment term.
- For Accidental Death and Accidental Total and Permanent Disability Protection, you pay Re 0.90 per Rs 1000 of rider sum assured for regular premium payment term.
Accidental death rider benefit will not be paid if the accident is caused by self-inflicted injury, suicide, death through alcohol/drug overdose, riots, civil commotion, war, adventure sports like bungee jumping, river rafting, scuba diving, during employment in the armed forces, involvement in an aviation or aeronautical operations-related accident, and other circumstances as listed in the policy.
The utility of the rider is obvious, and since the cost of adding a rider is nominal, it makes a lot of sense to grab this add-on to your overall life insurance term policy. It is better to be safe than sorry, and that goes even for the provisions you make for your family in the light of unforeseen and unfortunate circumstances.
References:
1.FG Accidental Benefit Rider Brochure