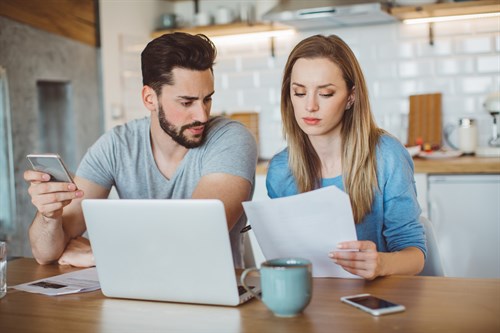 When an individual is not financially trained, handling a large sum of money to the tune of Rs. 25 lakhs to Rs. 1 crore or more can be overwhelming. Imagine a scenario. Deepak, 45, purchased a term insurance plan with a cover of Rs. 1 crore for a term of 25 years, five years ago. Unfortunately, Deepak died in a road accident leaving behind his wife (a housewife) and two children. His wife had no idea how to deal with that money and made bad investment decisions. Ultimately, she squandered off all the money leaving herself and her children open to a life of suffering and misery. This was not what Deepak had planned for his wife and children. However, this situation would not have arisen if he had known about what is monthly income plan in term insurance.
Term insurance with monthly income plan is specifically designed to derive maximum term insurance benefits in a situation such as the one mentioned above. Managing money is not everyone's cup of tea and monthly pay-outs in place of lump sum payments works like a salary and is easy to handle for the dependents.
---
What is a monthly income plan in term insurance?
A term insurance with monthly income pays the death benefit to the nominee in monthly instalments instead of a lump sum amount. The policyholder has to select fixed monthly payment option or increasing monthly payment option while buying the term insurance policy. This is different than a basic term insurance cover that provides lump sum payment to the nominee in case of the death of the insured.
How term insurance with monthly income plan works?
You can get maximum term insurance benefits by using a monthly income term insurance plan. This can be best explained through an example.
Chandan bought a Future Generali Flexi Online Term Plan with fixed income protection that will give his family a monthly pay-out of Rs. 50,000 on his death. He bought the plan when he was 35 years old at a yearly premium of Rs. 6,556 plus taxes. Unfortunately, Chandan passed away due to a heart ailment when he was 45 years old.
Since he opted for the fixed income protection plan, his wife will get a monthly pay-out of Rs. 50,000 (which was his monthly salary when he lived) until he would have reached retirement age (60 years) if he was alive. Now, his family will receive Rs. 50,000 for the next 15 years. Until then, his children can complete their studies and get a job to maintain the family. This is how a monthly income plan in term insurance gives the insured and his family the maximum term insurance benefits.
So, to answer that question: What is monthly income plan in term insurance? It is a great tool to secure your family if you think that they don't have the resources or knowledge to make good investment decisions with a large lump sum payment.
What is increasing income protection in term insurance?
If fixed income protection provides your family with a pay-out equivalent to your salary in your absence, an increasing income protection goes a notch ahead and increases the pay-out every year to account for inflation.
For instance, if you opt for the Future Generali Flexi Online Term Plan increasing income protection, your family will receive monthly pay-outs that increase by 10% every year to account for inflation. The advantages of this plan are worth the higher premium one has to pay to get this protection.
When you should buy term insurance with income protection?
Term insurance with monthly income protection is ideal if:
You are the sole or major earning member of the family
Your spouse or dependents are not financially literate
You have regular EMIs that are deducted from your salary
You want to make sure that your family has a regular source of income to fall back on during your absence
You want to ensure that monthly income that they receive accounts for increasing inflation
Term insurance with monthly income plans is undoubtedly a great way to provide financial protection to your family. However, remember that such plans are only valid up to the age of retirement (60 years). If you want to provide protection to your family after you have crossed the retirement age, you can always buy a basic term plan cover.