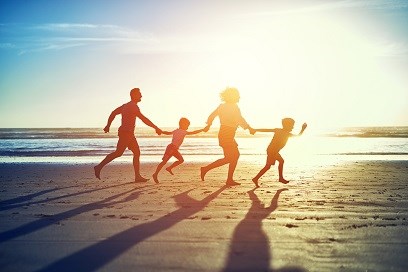 By the time you turn 40, you have many responsibilities on your shoulders, apart from taking care of growing needs of your family, special attention has to be given to children for their education and you may also have your retired parents to take care of. Good health is a blessing, but your health related issues start creeping in when you cross 40. Although, you would have settled in your career with a stable income, a car and perhaps a house too. 40 is when you also start thinking about what if you were not around for them tomorrow. The thought of leaving your family in a financial deprivation is scary. Do you have a plan that will take care of your dependents after you are not around? Sudden incident can put your family's lifestyle and future at big risk. The daily expenses, the car EMI, home loan EMI etc. can take a toll on them. It's unimaginable of what they will have to go through when you are not around? Stakes are high, and one should not risk it. Buy a term insurance before 40 , here are the reasons why -
---
1. You can avail the highly recommended term plan in the market, you will have more options as most of the insurers would want to cover you
If you approach financial advisors to help you invest, they will highly recommend term insurance plans, and the logic is straightforward:
While investment options like mutual funds and pension plans help you save money for your retirement days, you start investing early as you want to have a larger corpus at your disposal.
Term insurance plans help you tackle a much bigger problem – the risk of death. What happens to unpaid loans, plans to send kids to college, financial security for your family? Even if you are not around, term insurance plan ensures your family will have the required financial support.
Also, online term plans cost lower than most other insurance products. You pay as little as 2% of your income for coverage about 20 times your current income.
---
2. Starting Early Means Lower Premiums
You are healthy before you hit your forties and diseases like diabetes , blood pressure, thyroid etc may not have impacted you yet. You health may also not been affected by habits like consuming alcohol, smoking, and eating out regularly. It means you are likely to have lower premiums as compared to someone well over 40 and indulging in smoking and drinking. It's also likely that your medical check-up will not show any abnormality during younger age and it will result in more moderate premium amount while post 40, an insurance company could increase premium or refuse to cover you with a term policy because of a lifestyle ailment.
---
3. Longer period of cover
When you purchase a term insurance plan early, you get locked to a lower premium amount as compared to buying health insurance where your premium increases every year. So, buying a plan earlier implies you will pay a lower premium for the rest of the policy term. Ideally, you are going to need cover until the age you are going to have responsibilities. You may have loans to pay-up till you are 50, your family may be dependent on you till you are 60. Hence, if you buy insurancea> at the age of 35, you will require cover for at least 30 years as less than that would be of no use to you and your family.
---
4. You Save on Income Tax
Everyone is looking for options to save on income tax and premium paid towards a term insurance plan can be a part of tax saving investments. The money you save means more money for important things in life.
---
5. Term Plan by Your Employer is not Enough, hence get one on your own.
While it is good to have an employer, who cares about your family's future, to rely on the term plan offered is not advisable. You may be at the peak of your career during this age and switching jobs to explore better opportunities is a part of your growth or starting something on your own. Term plans offered by your employer may not be portable and end as soon as you move on.
Hence, you should not rely on anyone but your good judgement. You should buy an online term insurance plan before you turn 40 as it is the most affordable for you at this age and offers the best risk cover for your family.
While we wish nothing uncertain to happen to us, turning 40 brings many changes in our lives. You never know when life throws a surprise at you and it is always wise to stay prepared for whatever is in store. You are not just buying term insurance; you are buying peace of mind.
Secure your family's financial future @ Rs.20* per day with Future Generali Flexi Online Term Plan! Get a Quote
*Premium for 30 year old, Non Smoker Male. Policy Term: 30 years for Basic Life Cover option inclusive of Goods & Services Tax. UIN 133N058V03