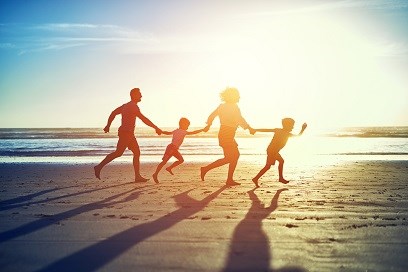 Your family is one of the most important part of your life. All the effort and wealth we build over time is for the family to have a good lifestyle and have a stable future. By the time you turn 40, you may have many responsibilities on your shoulders, apart from fulfilling the needs of your family. Special attention has to be given for your child's higher education and you may also have your retired parents to take care of.
Good health is a blessing, but some health-related issues may start after you cross 40. Although you would have settled in your career with a stable income, you may have a car and perhaps a house too. 40 is the age when you also start thinking about what if you were not around for them tomorrow. The thought of leaving your family in a financial deprived state is also scary. Do you have a plan that will take care of your dependents when you are not around? An unfortunate event can put your family's lifestyle and financial future at a big risk. The daily expenses, the car EMI, home loan EMI, etc. can take a toll on them. The stakes are high, and one should not risk it.
---
Here are 5 reasons why you should buy a term insurance plan before 40:
1. Large Cover at Lower Premium
When you purchase a term insurance plan early, you can secure your family's financial future at an affordable cost. With an increase in age, your premium amount will also increase. Hence, the earning members of any family should buy term insurance as early as possible. It will provide your family, the financial protection they deserve in case of any unfortunate event.
An earning individual up to the age of 40 should purchase a term plan with a life cover of approximately 20 times the annual income, a person in his 40s should buy a cover 10-20 times, and an individual in his 50s should opt for a life cover of 5-10 times the annual income.
2. Provides Financial Security
Buying a term plan is important if you are the sole bread earner in your family, you might have taken a large loan such as housing loan, car loan or you may have any other obligations. In case of any unfortunate event, term plans help to cover the risk of repaying the loans.
3. Starting Early Means Lower Premiums
You are perhaps healthy before you hit your forties and diseases like diabetes, blood pressure, thyroid, etc. may not have impacted you yet. It means you are likely to have lower premiums as compared to someone well over 40. With an increase in age, your premium amount will also increase. Hence you should buy a term plan as early as possible.
Also, the premium amount will not change during the policy tenure. Though the tax component (Goods and Services Tax) may change as per prevailing tax laws and regulation laid by Government of India.
4. Avail Tax Benefits
Everyone is looking for options to save on income tax and premium paid towards a term insurance plan can be a part of tax-saving investments. When you purchase a term plan, you get Tax Benefits as may be applicable under Section 80C and Section 10(10D) thus it will help you to save on tax.
5. Term Plan by Your employer may not be enough
You may be at the peak of your career during this age and might be thinking of switching jobs to explore better opportunities or starting something on your own. Term plans offered by your employer may not be portable and end as soon as you move on. Hence, you should not rely on anyone but your good judgment. You should have your term insurance plan before you turn 40 as it is the most affordable for you at this age and offers the best risk cover for your family.
While we wish nothing uncertain to happen to us, turning 40 brings many changes in our lives. You never know when life throws a surprise at you and it is always wise to stay prepared for whatever is in store. You are not just buying term insurance; you are buying peace of mind.
*For 30yr, non-smoker Male/1 Cr sum assured, policy & premium payment term 20 yr, paid yearly (Basic Life Cover opt.), Tax Extra