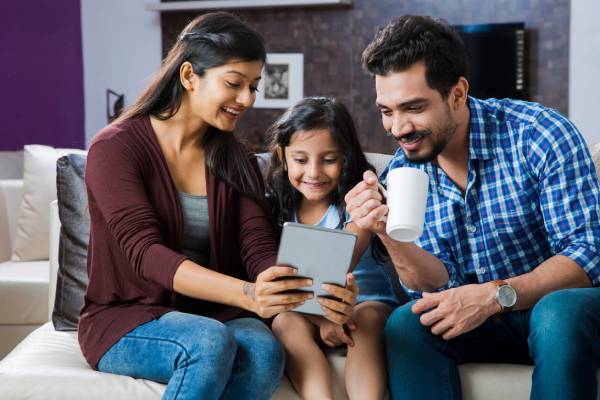 You make a new beginning when a child is born. All parents want the best for their children, and as soon as a baby is born, planning for his or her future begins. At the centre of this planning is providing world-class education to the child. With the school fees increasing every year, most parents worry about saving for their child's future. It is essential for parents to build a corpus to fund the education of their child.
While saving for your child, you need to factor in the expense that'd occur on education, marriage, unforeseen medical conditions, and more. Know about the steps to plan your child's future effectively:
---
Calculate the amount required

Setting an approximate target value would be the first step towards your goal. You need to calculate the effects of inflation while calculating the funds needed for the future. You will have to make estimates and plans around the future values of education cost, expense on marriage, and hospitalisation cost instead of the present value. The same goes for your investments – you need to calculate the future value of your investments that you can use. These calculations will help you gain an insight that'll help you set a target and the monthly savings you need to meet the goal.

Plan carefully

Once you have calculated the target amount, it is time for planning and implementation. Your calculations will tell you how much monthly savings you need, and you will need to come up with investment options so that you can get right returns on your savings. It is important to remember that the longer your plan is, the better your return is going to be.

Look at your options

Once you set investment targets for yourself, you would need to look at investment options and come up with good choices. A good child education plan must be on your list of investments. A child plan is an insurance cum investment plan that will secure your child's future financially and also take care of your child in the event of your unfortunate demise.

Choose premium waiver benefit

We offer to waive off the premium in the event of the unfortunate demise of the insured (parent) during the tenure of the insurance policy and it helps the policy to continue without any burden on the family, or the child, to pay premiums regularly. The child receives full benefit that was promised at the start of the policy once the insurance cover matures. Most insurers would offer premium waiver benefit, but if they do not, you should always ask for it.

Look for income benefit

Life is unpredictable, and emergencies can knock at your door anytime. Being prepared to tackle them is essential. The provision of income benefit will help you provide for the schooling expenses of your child. This provision will help you avoid any unwanted financial disturbance in your otherwise planned routine due to a sudden unfortunate demise.

Teach your Child about Money

While you have the values of saving and investing at the right time, you should make it a point to add them to your child. This way, not only will you make him or her a responsible person while spending money but also know how to utilise your money.

Tax Benefits

Every person wants to save tax and save that money for some use in future. With the best plan that you choose for your child's future, you can also save tax. ULIP is one of the best plans that can give you the freedom of tax saving and lead a stress-free life. Every penny you save gives you return by putting them at the right investment instrument.
Last but not the least, Start Saving and Investing Early
For you to gain more from the above tips, you need to start saving your hard-earned money and investing right away. A child plan that works wonder for you is available. Get the most of the plans by paying an affordable premium to Future Generali. Following every tip is the key to a brighter future of your child..