CEIC DATA indicates in the above image that savings in India are drastically declining. In March 2009, India's gross savings rate was 36.41%, but it has since declined to 31.379% in March 2020.
These numbers draw attention to improving your financial habit of saving a part of your income.
Building the habit of disciplined saving has several benefits. However, here are the three greatest reasons why you should start saving now:
1. Emergency Fund
"Life is unpredictable….kal kya hoga kisne jaana!"
Hence, setting up an emergency fund is as important as investing in a life insurance plan. You would not want to risk your family's security in the face of an unfortunate event or emergency. With a good life insurance policy, such as a term insurance plan, you can rest assured that even in your absence, your family is financially protected.
The next thing to do is build an emergency fund to ensure unforeseen events can be handled if required. Hence, try to build enough funds so that you can sustain at least 6 to 8 months without active income sources if the need arises.
2. Purchases
What Henry Wheeler Shaw said rings true even today—
Debt is like any other trap, easy enough to get into, but hard enough to get out of.
Hence, before making an unplanned purchase or borrowing money to buy an expensive asset -you should prepare a savings plan- to live debt-free as far as possible.
To achieve this, you can set aside money in small amounts at regular intervals and invest your money in guaranteed plans like Future Generali Money Back Super Plan that not only offer a guaranteed lump sum at maturity but also offer guaranteed regular payouts that can take care of your cash flow as well as fund your purchases without taking unnecessary debt.
3. Wealth Building
Building wealth comes by investing regularly for a long term. Because, Rome wasn't built in a day!
For instance, investments as small as Rs 2000 monthly in ULIP like Future Generali Dhan Vridhi that are designed to provide increased capital growth over the long term.
Why invest Rs 5,000 per month for wealth building?
Here are the reasons:
5,000 rupees is not much of an amount from your monthly income. Everyone can afford to invest such a small amount.
Although your salary continues to increase over time, the Rs 5,000 premium will not increase.
It's Important to Invest Even Rs 5,000 Per Month for 25 Years
Investing Rs 5,000 per month for 25 years has the following advantages:
Upon maturity, you can reinvest the money in various other plans or schemes
You have enough money to fund your purchases
Your financial requirement will be fulfilled worry-free since you would not be financially dependent on anyone
You will have a reserve corpus for financial emergencies
You must develop the habit of saving and setting aside funds, and time will reward you.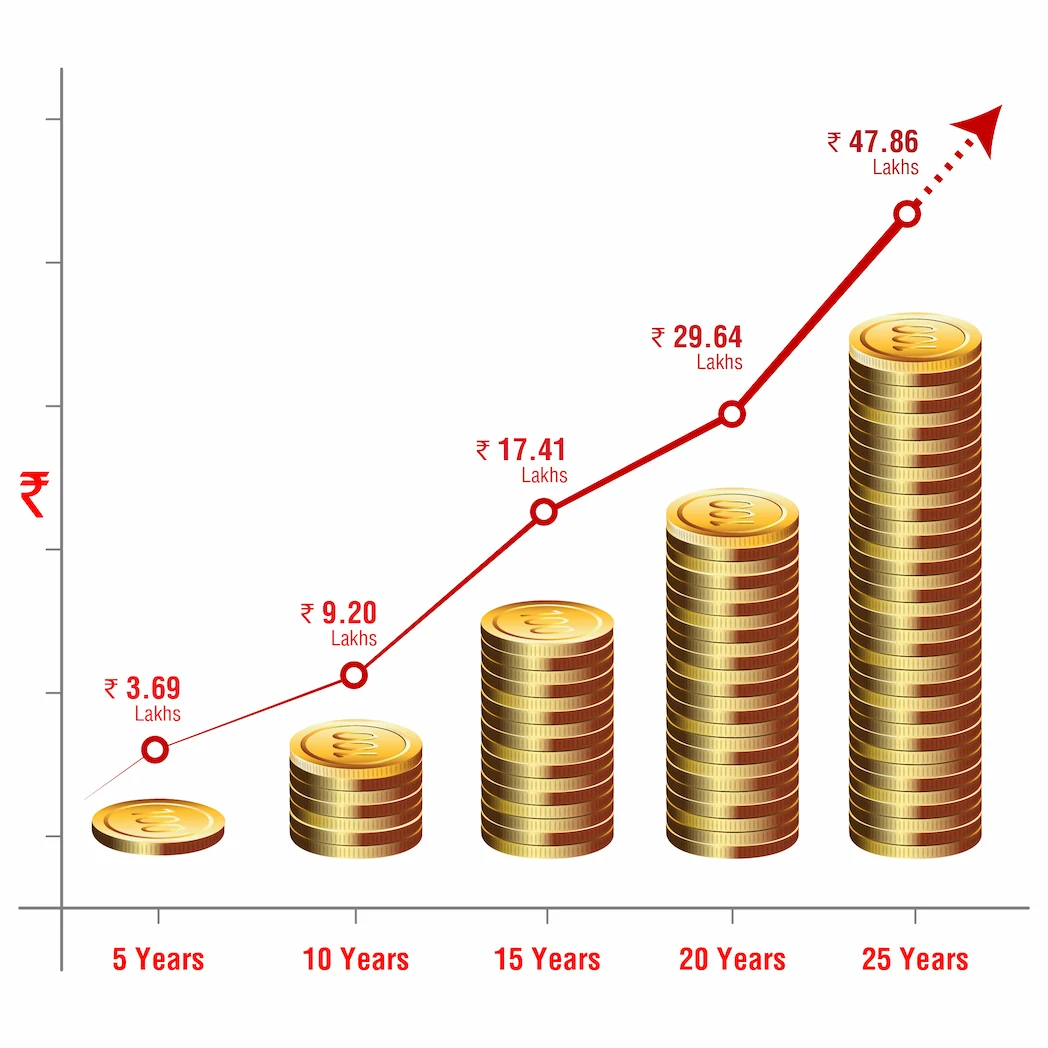 Returns at 8% when you invest Rs 5,000 per month for 25 years.
Once you have cultivated the habit of saving, you can live a comfortable life, protected from the events the future may hold. Plus, with Future Generali India Life Insurance, you can enjoy both—the possibility of building wealth and the protection offered by life insurance.
Connect with our team of trusted financial advisors to learn more about the most suitable savings and investment options for you.