The stock market follows a cycle in which there is a significant correction every seven to eight years. Such corrections can have a catastrophic effect on the economy.
Here are some reasons why investors should not be overly reliant on the markets to get a predictable income.
The stock market has many High Net worth Investors and a small number of retail ones. This fact demonstrates that volatility will always exist. Such institutional investors control the market movement.
The new SEBI margin requirements will reduce retail traders' participation in the markets. They will receive a 5x margin instead of a 20x margin.

For example, if you are a trader, you will have to pay 1000 to buy a 5000 rupee stock instead of 250 - 300 previously.

Unexpected events or a weak economy can cause the market to suffer greatly.
It will never be a substitute for a primary source of income because there is no promise of a fixed return.
One Way to Build Steady Wealth
Why not seek a different method of accumulating wealth that is not subject to the market's devastating fluctuations?
There is an option that avoids market volatility while still earning a stable income and increasing wealth over time.
Plans offering Guaranteed Returns makes this possible.
An individual's first responsibility to themselves and their family is to be financially stable. A once-in-a-lifetime occurrence might devastate a family's financial situation.
As a result, it's crucial that you buy the right financial products, especially if they provide guaranteed returns on your investments at market-beating interest rates!
What makes Guaranteed Savings plan the Hero?
A few real-life, practical reasons and facts support the claim that plans with guaranteed returns are the best:
Rather than keeping up with the fluctuating market environment, guaranteed returns allow you to relax and stay tension-free!
The combination of guaranteed returns and life cover is a win-win situation.
By signing the policy agreement, the policyholder is guaranteed a return, since the investments are invested in the most secure securities and bonds in the country.
These guaranteed investment returns have the potential to outperform market inflation and hence expand your money. Keeping your money in a savings account will not increase its value.
Individuals can benefit from guaranteed saving plans as a source of second income. In today's world, second income is critical.
You should expect to earn tax-free returns of between 5.5 and 6.2% every year if you invest in Guaranteed Savings plan.
The number effectively increases to 9% with tax-free returns (in the case of a 30% tax bracket).
The ultimate investment opportunity - 9% returns on guaranteed investments with low-cost life insurance and triple tax exemptions on savings!
Let's take a look at the plan using the Future Generali Assured Money Back Plan as an example.
Future Generali Assured Money Back Plan is the option of a guaranteed return in which a person pays a premium for a set time-frame. After paying the premium, the person begins receiving an annual payment for a set period.
If a person does not have any unexpected events and survives the period, they will be paid a maturity sum.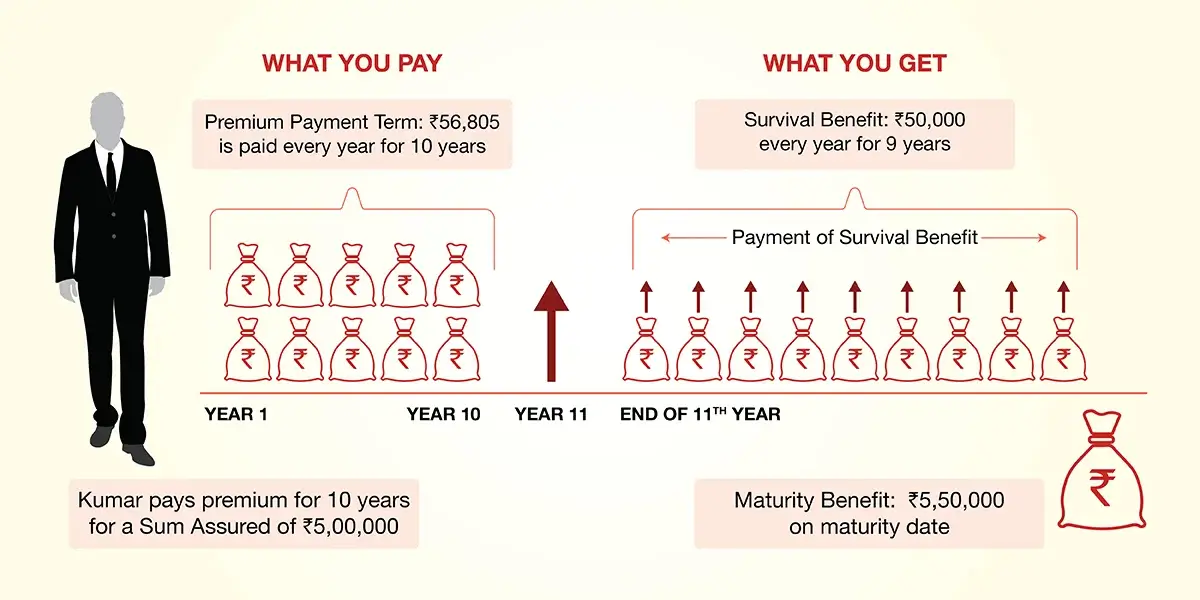 The benefits are computed individually in the event of an individual's death, so the family does not suffer.
Sounds like a plan! Check out a variety of guaranteed returns plans offered by Future Generali India Life Insurance and choose the one that fits your needs.
Summing up
Life throws unexpected problems at us all the time, and it is up to us to be prepared for them and overcome them.
The best way to build wealth and protect yourself from market fluctuations is to get insured by a plan that is not affected by the markets.
Connect with our trusted financial advisor NOW and find a life insurance plan that fits best for you. Make the best financial decision of your life right now and safeguard your family.