5 Alternatives To Diwali Sweets And Why You Should Pick Them Over Traditional Ones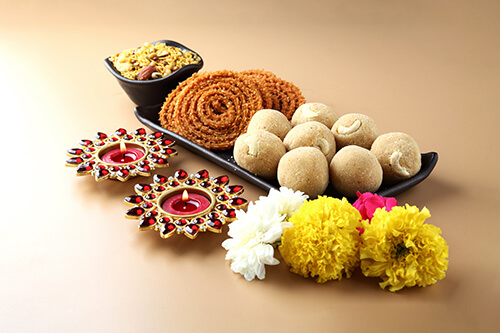 What is Diwali without Diwali Ki Mithai? Who doesn't wait for the sight of boxes and boxes of motichoor laddu, kaju katli, halwa and barfi? It doesn't matter if you have a sweet tooth or no, these shiny boxes of goodness offer the warmth of Diwali even without eating what's in them. While some indulgence is fun and even maybe necessary to get into the spirit of Diwali, excessive indulgence in these sugary delights can have adverse effect on our health. *According to Harvard Health Publishing, the adverse effects of excess added sugar intake are higher blood pressure, inflammation, weight gain, diabetes, and fatty liver disease. *It is recommended to have no more than 150 calories (about 9 teaspoons or 36 grams) of added sugar per day. So in order to stay healthy, it is only wise to celebrate the spirit of Diwali and yet practise caution so as to not allow Diwali sweets to have any adverse effects on one's well being. After all celebrations shouldn't come at the cost of ones health. And to make this happen there are alternates for those seeking to have a healthier celebration to one of the most awaited festivals of the year.
1. Ras Malai
Ras Malai is made using milk, sugar, cream and dry fruits. Lot of sweet shops now offer low fat and sugar free versions of the famed Ras Malai. However you can even prepare it at home, if you fancy awakening the inner chef in you. All it will take you is the right ingredients, a couple of DIY online tutorials and the will to whip up some sweet magic in the kitchen.
Scary fact: A traditional piece of Rasmalai has approximately 33 gms of sugar which equals to about 132 calories!
2. Low Calorie Gajar Ka Halwa
Diwali is incomplete without the famed carrot halwa. But each bite of this delicacy comes at the cost of your health. Make eating it a healthy affair by substituting with a healthier version of the same. The culprit is the sugar that is used in the halwa. So you can begin by substituting the sugar with jaggery or by using a sugar substitute.
Scary fact: A bowl of traditional Gajar halwa has around 26gms of sugar which equals to about 104 calories!
3. Makhana Kheer
Kheer is a favourite of many during the festive season because of its sugary satisfaction and slurpy goodness. But it can wreak havoc in your body if consumed in excess mainly because of the large amount of sugar used in it. One way to substitute an unhealthy dish is by substituting it with something nutritious. And the perfect alternate to regular kheer is Makhana Kheer. Makhana is a super food that aids in wealth loss, improves heart health, improves bone strength and controls blood sugar levels. So go ahead have a bowl full of Makhana kheer, but make sure you add less sugar or a sugar substitute.
Scary fact: One bowl of traditional kheer has around 20 grams of sugar which equals to about 80 calories!
4. Almond Barfi
An almond is a popular super food that is low in cholesterol. It is an excellent source of vitamin E that is known to reduce the risk of heart attacks. Give your usual barfi a skip and have an almond barfi instead. Almond has its natural sweetness so you don't need to add any sugar.
Scary fact: One piece of traditional Mawa Barfi has around 20 grams of sugar which equals to about 80 calories!
5. Energy Laddoos
Say goodbye to the traditional laddoos with energy laddoos. Energy laddoos are the healthier alternatives to our traditional laddoos. They are made of nuts and dried fruits and do not contain any added sugar. Unlike traditional laddoos which are loaded with sugar and very less nutrition, these laddoos are full of anti-oxidants and therefore a healthy sweet treat all the way.
Scary fact: One traditional Motichoor laddoo approximately 15 grams of sugar which equals to about 60 calories!
While substituting the traditional mithai for healthier alternatives is a great way to have a healthier festive experience, it is also advisable to continue your exercise routine during the course of the festivities. Exercising will not only keep you in good spirits, but it will also help you burn the extra calories. They say that there's no wealth like that of good health. So this year celebrate with the attitude of preventing and protecting your health, which is your true wealth. Click here to know some exercises that you can do without leaving the comfort of your home and without any gym equipment.
So go ahead and have a tasty and healthy Diwali!
* https://www.health.harvard.edu/heart-health/the-sweet-danger-of-sugar#:~:text=%22The%20effects%20of%20added%20sugar,Hu.