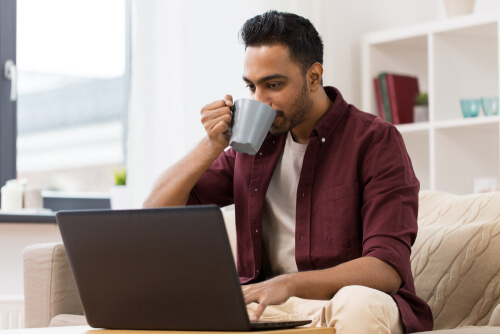 Human perseverance knows no bound. People from across the world are taking sincere efforts to adapt to the new normal brought about by the ongoing coronavirus pandemic. The quote "It is not the strongest or the most intelligent who will survive but those who can best manage change." sums the direction we need take if we want to tackle this situation the right way. This quote also holds true for our businesses and careers. We need to transform and upgrade and add to our skillset to suit the need of the hour to continue being successful at what we do for a living.
Below are the top skills that will be in high demand in a post corona world, according to experts. These skills are already highly coveted, and their weight only increases with the current situation.
1.Digitally Equipped
Physical distancing has caused many businesses to issue work from home. One thing that we surely know is that we need to be digitally equipped to ensure the continuity of companies. So whether you work in a factory or in an advertising agency, in a post COVID world, you will need to be adept to work with tech tools. An employee with the ability to work with technological tools will surely have an advantage over one who can't.
2.Creativity And Innovation
Problem-solving is the need of the hour. And coming up with creative solutions at a quick pace is even more critical. Experts predict that nearly 200 million can be jobless because of the pandemic. According to the International Labour Organisation (ILO), it is "the most severe crisis" since World War Two. The way forward is to actively initiate creative solutions that will tackle the hurdles in the way of achieving business goals. People in organizations who lead the way and make things happen will surely succeed in such a situation.
3.Data Analytics
Data is critical for the success of businesses. It is what enables companies to serve customers with the right products and services at the right hour. But data itself is of no use without a resource who can extract insights from it. Only people who are equipped with the skills to understand data can enable businesses to take efforts in the right direction.
4.Coding
Experts foresee a surge in demand for coders, web developers, and digital marketers as most organizations will have to adapt their businesses to a digital model. People who can enable businesses to thrive digitally post lockdowns will be an asset to any organization.
5.Adaptive and Flexible
Adaptivity and flexibility are base skills that are required from any resource. But with the ongoing pandemic, anyone who can adapt and be flexible will thrive. The situation demands one to go beyond their skillset and be ready to continuously update and refresh their skills as the typical idea of work and a workplace keeps altering.
Fortunately, the lockdown also gives us some extra time to work on our skills. So it is advisable to improve and upgrade one's skills from home so that you are ready for the post-coronavirus job market. With this purpose, we have curated an ensemble of live webinars "Masters Speak" with some of the Great Thinkers, Global Leaders, Impactful Trainers and Subject Matter Experts of our time. You can attend these live and interactive sessions on our FB: https://www.facebook.com/futuregeneralilife/ and Linkedin: https://www.linkedin.com/company/future-generali. So join in to be ready for the big reset.