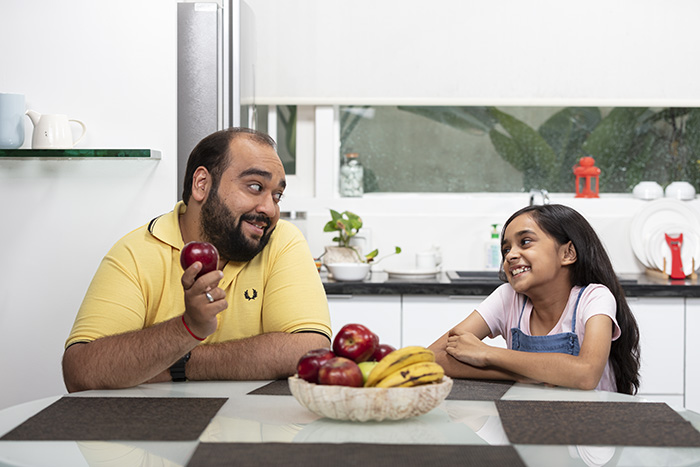 A few days ago Raman was walking with his daughter, hand in hand, at the mall right next to his house. His daughter had just started the eighth grade and she was sharing everything about her new classes, teachers, classmates and subjects with him. As he was walking through the stores, his daughter pulled his hand and stopped him by a pharmacy store. "Papa, I want you to start taking better care of yourself," she said. "My teacher in class taught me about lifestyle-related diseases," his enthusiastic 13-year-old daughter added. "It is very common amongst males of your age, Papa, and it can lead to heart diseases, all types of cancers, respiratory diseases and diabetes," she grew concerned. "You have such a stressful job and I don't want stress, age and pollution to affect your health."
That evening when Raman got home, he sat with his daughter to make a list of lifestyle tips he could follow to start living a better lifestyle. Here are some tips you follow to take baby steps into healthy living:
Get regular health scans and checks

For men over the age of 40, the importance of getting health screenings and checks cannot be emphasized enough. Such checks are preventative and help you spot diseases in early stages before their symptoms develop fully. While the screenings and checks you get will depend on a range of factors including your family history, personal health history and lifestyle, certain checks and screenings remain common for all. These include blood pressure, cholesterol, prostate cancer, colon cancer amongst countless others. You should visit a physician or your family doctor to determine which tests would give the widest overview of your health and how often you should be getting them done.

Understanding the importance to quit smoking, no matter for how long you have been doing it.

If you have been an avid smoker for years, do not think that it is too late for you to quit smoking. No matter what age, quitting tobacco can have paramount benefits for your health. In the short term, quitting will help you breathe better, have more energy and even cough less. In the long term, the benefits of not smoking are far more. It will lower your risk of heart attacks, stroke, high blood pressure and give you more energy to enjoy life.

Undertake physical activity

Not only does undertaking regular physical activity reduce the risk of lifestyle and other diseases, but is also the best way to improve heart health, muscle strength, flexibility, and balance. Any form of cardio or aerobic exercise gets your heart pumping and helps you use all your large muscle groups. Everything from walking, biking, swimming, playing ground games are all forms of aerobic exercises which will keep you fitter. If you like to lift weights, strength training in combination with cardio can also help you be fitter.

While most of us shy away from exercise as we think it is boring, you should remember that exercising doesn't have to be boring. If you are up for the challenge, join a kick boxing or yoga class, this way you can get fitter while having fun! In fact, you can join in on one of the classes with your children and spend some time with them while both of you get fit.

The importance of adopting a healthier diet

Having a healthier diet is critical as it can help reduce the risk of heart disease, type 2 diabetes, obesity, and various types of cancer. You should understand the importance of having a diet that is rich in fruits, vegetables, whole grains, and fat-free or low-fat dairy products. You should also aim to adopt healthier sources of protein such as lean meats, poultry, fish, beans, eggs, and nuts. In order to have a healthier heart, it is important that you eat foods that are low in saturated fats, trans fats, cholesterol, salt, and added sugars. In fact, it might be advisable to invest in hiring a professional dietician who will be able to provide advice on what to eat.

In the everyday stress of life and the ups and downs of running a family, we as fathers often forget to take care of our own health and lifestyle and discard these for other "more important" responsibilities. However, you need to understand that adopting a healthier and fitter lifestyle is the best gift you can give to yourself and your loved ones.