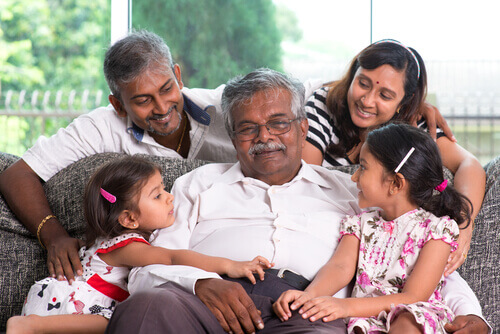 Children can often command our attention by throwing a tantrum. So we naturally tend to shift our focus to childcare and completely forget about the elderly in the house. The senior members of our home, just like children, need extra attention and care. And with the ongoing pandemic, it becomes even more important to care for their well-being. Primarily because they have weaker immunity and those with a weaker immunity have a greater tendency to suffer from severe symptoms of the COVID 19. Apart from that, even the mental health of elderly parents should be taken into account. Staying indoors has not been easy for any of us, but we can make it easier for our elderly parents by taking specific steps.
Make Them Aware
Since the virus spreads in a particular manner, it is important to keep elderly parents informed about how the virus spreads and how they can protect themselves. So make them aware of the situation. Tell them to not touch their face – eyes, nose or mouth - without washing their hands first. Also, give them a mini bottle of sanitizer which they can keep handy.
Plan Their Meals
As parents age, their immune system becomes weaker due to heart ailments, cancer, diabetes etc. To be healthier, they need to follow diets that are suitable for their medical conditions. So it is essential to make a note of the same and plan their meals accordingly.
Buy A Pill Organizer Box
Elderly parents who are on daily medications for various ailments must consume their medicines at the right time. We might find it challenging to keep track of the same through our busy schedules. That is when a pill organizer box comes to our rescue. You can pre-fill the box the night before and keep reminders on your phone as to when specific medicines need to be consumed. By doing this, you ensure that your parents have their medication on time and also give yourself some headspace.
Keep A Tab On Parents By Delegating Watch Hours
Some elders suffer from diseases like Alzheimer's, need critical care or are unable to do several things on their own. In such a situation, one needs to delegate watch hours between spouses and even older children. That way, you give your elderly parents adequate attention and care without overburdening a single person.
Encourage Them To Exercise
The senior-most members of our house love their evening and early morning walks, but due to the ongoing restrictions, they have been forced to stay indoors. To stay healthy, they need to continue doing some form of physical activity. At their age, the best they can do is walk around the house. Encourage them by joining them for a walk indoors. This will not only keep them healthy but only also keep their spirits high.
Secure Them Financially By Securing Yourself
Life is unpredictable, and nothing proves this better than the current pandemic. It is crucial that you provide for your parents even when you're not here. You can do that by buying an insurance plan that will take care of your parent's financial needs in case you're not around due to any unfortunate incident. Click here to get in touch with our financial advisors to know more:  https://life.futuregenerali.in/customer-service/send-an-advisor
Spend Time With Them
Lastly, but most importantly, give your parents your time. Make it a point to spend a few minutes with them on weekdays and more time with on weekdays and holidays. It will bring a smile on their face and keep them happy.
The coronavirus has impacted all of us; therefore, we must show extra care and kindness to those who need it the most. And what better way to start than from our own homes. So with these simple steps, you will make the lives of your elderly parents easier and happier during this challenging time.