Worried about missing your insurance payments? If you struggle to make your insurance payments on time, don't panic! There are a number of ways to ensure that you don't miss your insurance payments.
Insurance firms insure your assets in return for a premium payment during the policy's term. If you fail to pay your premiums on time, there's a chance your policy will lapse. The term "lapse" refers to a gap in policy coverage, implying that the insurance company will not pay any insurance benefits to the policyholder.
What Happens if Your Policy Lapses?
Life insurance is one of the only insurance plans where the premium doesn't increase once the policy is issued. So, if your policy lapses, then you have these options to consider:
Revival: You would have to apply to the underwriter to revive your plan if it is still within the grace period.
Reinstatement: If you go beyond the grace period, you need to apply for a reinstatement of the plan and pay your due premiums within a period of three months. Depending on the underwriter's decision, you may need to undergo a medical test or a fresh underwriting.
Fresh plan: If your policy lapses for a tenure of more than three months, you would have to opt for a fresh life insurance plan at a higher premium.
Though most insurance firms provide a grace period, it is best to pay your payment well before the deadline. 
Hence, paying your premiums on time will save you both time and money.
Ways to Pay Your Premium on Time
Check out various ways to ensure you never miss your insurance payments now.
1. Pay Premium on the FG Life - Customer App
With the FG Life App, paying your premiums instantly is now much easier anytime, anywhere. Best of all, you can enable the 'Autopay' feature on the app. The premium amount will be deducted automatically from your default credit card or bank account on the renewal date.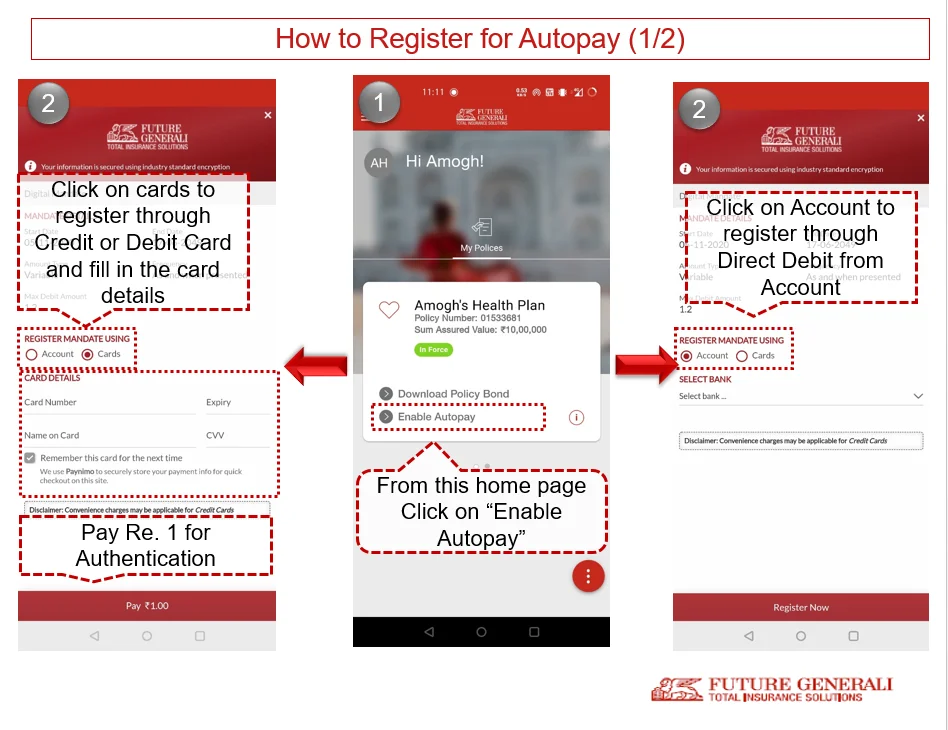 Screenshot: FG Life - Customer App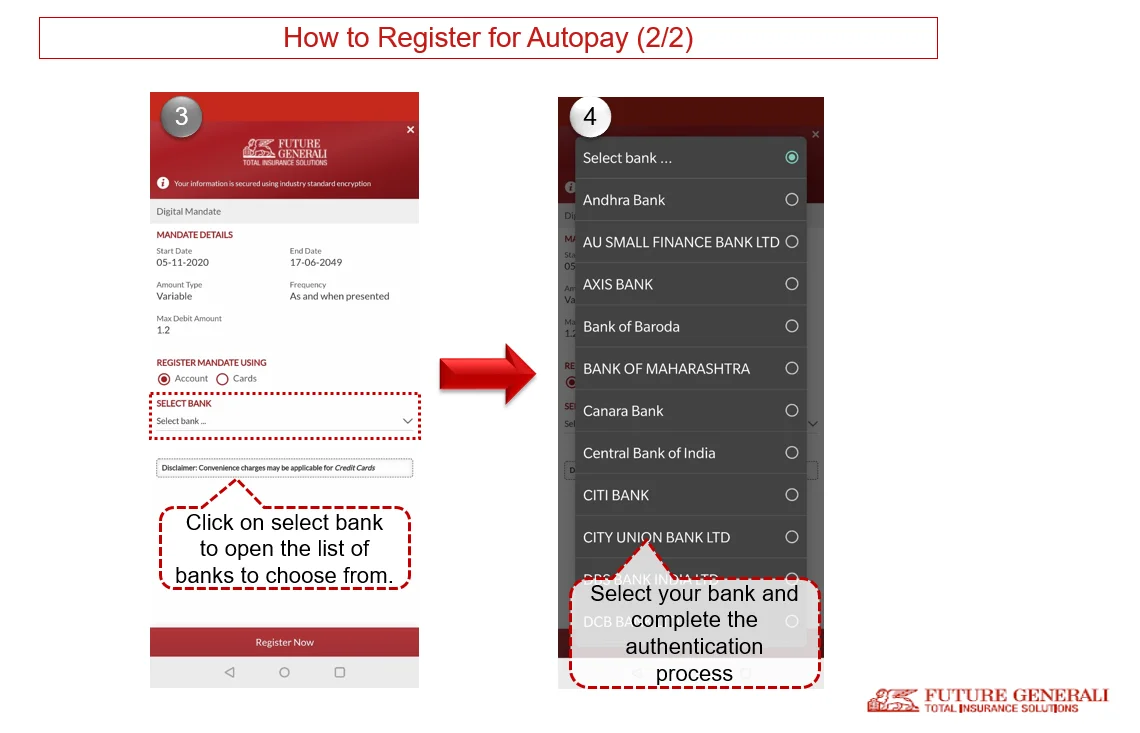 Screenshot: FG Life - Customer App
Links to Download the FG Life - Customer App: Play Store | App Store
2.  Pay via Auto-Debit Payment Option
Auto debit is a money transfer scheduled on a certain date to make recurring payments. You don't have to hunt for a dropbox or a chequebook. You can make your payments on time, even when you're on vacation. Your transaction record is automatically recorded for you to see and evaluate at any given time.
How to Activate the Auto-Debit Payment Option?
Regular investors may breathe easy since they can now auto-pay their upcoming insurance policy premiums by adding the insurance company to their biller list. Simply put, you don't have to worry about forgetting your insurance premium payment deadline or waiting in line to submit the deposit.
Let's see how you can activate the auto-debit payment option:
Visit your bank's online website or download its smartphone application and log in with your account number.
Select the 'Pay Bills' option.
Select 'Insurance' from the list of available choices under 'Billers'.
Select your insurer from the drop-down list.
Enter the insurance policy details, including the policy number and the premium amount, along with your e-mail address and phone number.
Select the 'Auto Pay' option.
Select to get the premium receipt in either hard copy or digital for the amount that will be auto-debited.
Click on 'Submit'.
What Are the Benefits of the Auto-Debit Payment Option?
Get a closer look at the benefits of the auto-debit payment option so that you never miss your insurance payments now.
Convenience - You can pay your investment premiums straight from your account. Add your insurer to the biller list, and the policy payment will be deducted from your authorised net banking account every month.
Recorded Payments - The bank will notify you of an auto-debit payment as soon as the transaction takes place. Moreover, the transactions are recorded in the passbook, which you can access anytime.
Scheduled Payments - Pay on your chosen date. Once you schedule your investment payment in advance, the bank will pay it for you on the specified date.
Free - The auto-debit facility does not charge any additional fees.
Secure - Since your bank is initiating the transaction instead of you, it is totally secure.
Alternatively, you could also opt for ECS on your credit card or opt for standing instruction for the debit from your bank. The process for setting up the same needs to be initiated from your credit card or bank account.
Conclusion
Use these handy tips to develop a sound financial practice and to ensure you never miss your insurance payments now! Investing in insurance takes a great deal of dedication and discipline.
Future Generali India Life Insurance has a range of life insurance plans that offer comprehensive coverage to you and your family. With features like auto-debit payment, you never have to worry about missing your premium payments again. Visit our website to learn more. Our trained and trusted financial advice experts will guide you with appropriate policies tailored to your needs.