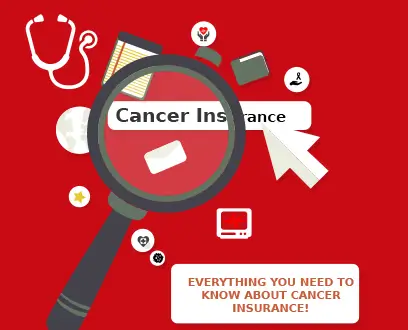 'Cancer' is an unfortunate disease that can strike anyone and leave the person with a feeling of fear and helplessness. Cancer not only has a deep emotional impact but also affects the financial health of the patient causing a big dent in his/her savings along with depriving families of a secure future.
Cancer Insurance Plans are a special insurance policies that are designed to give immediate financial relief upon the diagnosis of the disease. The money can be used to fund all kinds of costs like chemotherapy, hospitalisation, surgery, travel and even the loss of income during this period. Typically these plans cover all the stages of cancer ensuring that you have funds available even during the early stage of the disease. Cancer covers are not meant for those who have a pre-existing cancerous condition or are already impacted by cancer.
While this category of insurance is new in India, choosing the best cancer insurance plan is not difficult. Here are a few questions that you may help you decide about cancer insurance
What are the benefits of Insurance plans that cover cancer?


Cancer policies cover you for all stages of the disease. The policy will pay a lump sum amount at the onset of the critical illness. You can also customise your cancer insurance plan by taking your choice of sum assured amount and choose between lump sum cover/lump sum cover plus monthly income benefit to suit your need and budget. Adding monthly income to the plan is also beneficial as this benefit offsets the loss of income during the recovery period. Additionally, on the diagnosis of a minor stage of cancer, your premiums payable for a fixed period are waived off which helps you keep your cover intact. If the disease progresses to a major stage then the policy ensures that you still get an additional amount to fund the cost of your treatment.

Is it wise to choose cancer cover as standalone policy instead of Critical Illness policy?


Statistics show that cancer is a growing concern in India and if the risk is big then there is a need of a specialised cover. Most of the critical illness plan may not cover the disease comprehensively. Hence it's recommended that you add this to your financial plan as it comes at a very low cost.

I have a health insurance, do I still need an additional cancer cover?


Cancer can affect anyone and treatment can be costly. Even quality medical plans can leave you with extra expenses to pay. Having the financial support when the time comes means less worry for you and your family. A cancer cover over and above your health insurance can strengthen your protection. Also the cancer insurance amount is paid immediately upon diagnosis ensuring that you have funds in your account which you can utilise as per your requirement. While a health insurance plan will only reimburse the actual expenses on hospitalisation. Hence, both these plans complement each other and hence we recommend that you should have both. The fixed benefits gives you liquidity at the onset of cancer and health insurance gives you convenience at the time of hospitalisation.

Can I buy cancer insurance for my family members as well?


Yes, Cancer Insurance plans are meant for everyone. Cancer cover can be purchased for adults, juveniles, smokers, non-smokers, income earners and homemakers. The Future Generali Cancer Insurance Plan can be purchased for anyone between 1 to 65 years of age.

When can I buy cancer insurance plan?


While you can buy the plan any time before you turn 65 years, it is recommended that you do not delay the purchase decision. The best cancer insurance plan will cover you till age of 80 years.

How can one buy a cancer insurance policy?


Cancer plans can be easily purchased online through a simple and hassle free process. This process is completely paperless if you authenticate yourself with your aadhaar number.

What are the parameters on which I should evaluate a cancer insurance policy?


While evaluating between various cancer insurance plans, you need to consider the following points carefully

How long does the plan cover you? A wider policy term will give you coverage and protection for a longer term.
Does it provide cover for all the stages of cancer?
Does the plan come at a low cost?
What are the benefits offered in each stage and the total benefits under the plan.
Is there a waiver for all future premiums upon diagnosis? You can check at what stage the plan offers it.
Upon diagnosis, will there be a regular income benefit as a fixed percentage of the sum insured?
Future Generali India Life Insurance offers a Cancer Protect plan that has been rated as the best cancer insurance policy in India by Consumer VOICE. You can generate a free quote in few seconds by clicking here.
Survive Cancer Financially with the Best* Cancer Insurance in India - Future Generali Cancer Protect Plan.