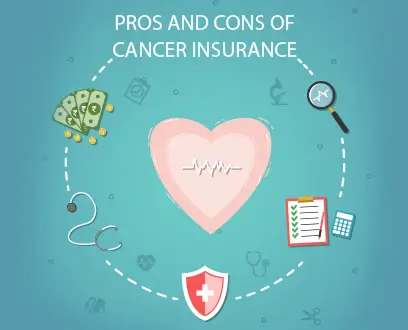 Cancer is an illness that when diagnosed with, can leave a huge impact on one's physical, emotional, and financial state. Having a cancer insurance plan can protect you from the sky-rocketing medical expenses that it brings along. This article aims at showcasing the advantages of opting for a cancer insurance plan.
Understanding Cancer Insurance:

As per data, it is said that around 14.5 lakh people are living with this acute disease. Approximately 7 lakh cases are registered each year and around 556,400 deaths are said to be caused by cancer.

Opting for a cancer insurance may seem like a strange option in the beginning, but is in fact something that may be needed, keeping in mind our lifestyles. Most feel that opting for a cancer insurance plan is overrated, however, with the increase in cancer cases every year, it does make for a feasible option.

One of the most common questions people ask themselves about cancer insurance policies… ''Is cancer insurance worth it?''

Well, if opting for a right cancer insurance plan, then it is worth the amount you put in.

Additionally, one of the most common misconceptions about insurance for cancer is that it's a health insurance plan. However, that is not accurate. Cancer Insurance policies are supplemental insurance plans that offer monetary coverage if diagnosed with cancer. You can use the income any way you see fit such as cost shares for treatments or it is to pay household bills.

Future Generali helps you make the right decision when it comes to choosing the right cancer insurance plan. To help with that particular question, and gather a better understanding about cancer insurance, here are some important things you should know:

Advantages of Cancer Insurance Plans:

Financially Secure

One great advantage of purchasing a cancer insurance plan is the financial relief it brings to you and your family. Cancer cannot be only physically devastating but also financially exhausting. During treatment, there will be many monetary challenges that will leave you stressed. Thus, to relieve some financial stress, you can purchase a cancer insurance plan that will take care of most of your monetary needs.

Cover Medical Expenditure

As suggested, nearly 33% of the total costs of cancer treatment are medical. Cancer patients are more than 2.5 times more likely to go bankrupt than people without cancer. Thus, a cancer insurance plan can aid with medical costs. It'll give you extra money to meet all those medical expenses that arise during the treatment of cancer.

Future Security

If you belong to a family where having cancer is known to be hereditary, then opting for a cancer insurance plan will help you deal with the situation better.

Sole-Earning Member

Having a cancer insurance policy is important, especially if you are the only earning member of the family. Thus, it is advisable to be insured in order to cover all basis from a financial perspective.

Exclusions of Cancer Insurance Plans

Excludes Skin Cancer as an Option

There are many exclusions when it comes to an insurance plan for cancer. For example, skin cancer is usually not covered and any kind of pre-existing disease you have been diagnosed along with cancer, will not be entertained.

Conclusion

With the help of Future Generali's Cancer Protect Plan, you can profit from the coverage and tax benefits that the Future Generali Cancer Protect Plans offers. The plan has been recently adjudged as best cancer insurance plan in India by Voluntary Organization in the Interest of Consumer Education.