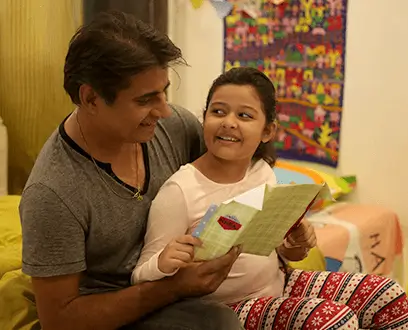 The old sages have always insisted that "money can't buy happiness."
However, in modern times it has been interpreted with multiple different meanings. The current generation looks at it with a twist, "money can't buy happiness, but it can certainly make it easier to achieve."
Whatever, your belief is, one thing that holds true is that assets bought with money can easily become boring. But, tiny, innocuous moments with our family, like the moment when our parents sat together to help us through the homework or the late-night ice-cream party with dad are forever etched in the memory.
These seemingly small moments with the family, somehow still hold more value than any amount of money earned or spent.
---
Something to Change this Father's Day
As parents we want our kids to have the best of everything, and often the 'best' involves a lot of money. The need for more money simply leads to more time at work and less time with the family. The person who goes around the most in this rut is often the dad.
Running around for work and stressing more on earning leaves little time to spend on self or with kids. The result, deteriorating health and fussy kids. This Father's Day, however, let's pledge to change this for the better.
The key is to balance it out and strive to live alongside your kids and take care of your health as well while providing for their future.
All you need is to plan out some activities with your kids. This Father's Day promise your kids to:
Play a sport with them
Attend their school sports event to cheer them up
Sit with them for their homework at least once a week
Sneak them out of the house on weekends for late night ice-cream runs
Take short breaks with them.
In fact, the list of fun activities together can be longer. However, the key takeaway here is not just to go through the life taking care of only responsibilities. Take care of your health and create memories with your kids is what you need to aim for.
---
What if You Are the Child?
Your father is the man who has probably sacrificed a lot of his dreams to get you where you stand. So, it's only fair to think of making this day special for him.
A lot many other times, you may have thought about a gift, a special thank you note, or something similar. But, this time, why not make it rather memorable. The best way to do that is to make the most of those tiny small moments you get with him. For example, early mornings and evenings.
You know, with age he is becoming more health conscious, curtailing his food habits despite being a foodie.
You may have already gifted him the sports equipment, shoes, bicycle, etc. which he rarely touches. Perhaps it's time you gift something that money can't buy for him, and that is, "time" to do things together.
---
Plan the Regular Activities
Wake up early and get those shoes on him you gifted last time and go jogging together. There is a high probability that you will be surprised at your own stamina and you dad's enthusiasm about the whole thing. There's nothing more he'd want at this age than to spend more time with his kids.
Just in case you do not have time in the mornings, evenings are perfect to slug it out to play badminton or tennis or even going for a swim with your dad.
On weekends, early morning cycling can be not only relaxing but also a great warmup for the moments with your dad. Remember, he has spent his prime years sacrificing his own aspirations to build a future for you, and there's nothing he'll cherish more, than your love and attention.
---
Adding little cover for his health
Getting a health insurance for your dad will not only take care of his health for long term but also will give you a peace of mind. Also, a separate health cover for dad makes more sense, as his healthcare needs could be very different from you and your kids.
Health insurance plan for your family, which include a family Mediclaim, critical illness and personal accident cover, should offer the financial backup to look after any healthcare contingency.
A comprehensive health insurance plan is the perfect gift for your dad alongside the workout for better health and stress-free life. This Father's Day chooses health over gifts, build healthier bonds along with it, strive for more of those happy family moments.
# 59 Critical Illnesses are covered under Critical Illness Cover (Option 2) and Critical Illness Cover with Return of Premium (Option 4)