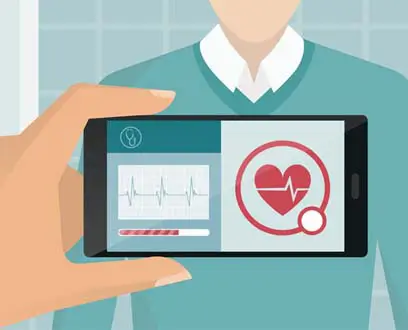 Technology has brought to our palms methods and tools to eat healthy, stay in shape, and maintain a healthy lifestyle. It has transformed the way we take care of ourselves by allowing us to access reliable information about food and exercise through mobiles, laptops, and accessories such as fitness bands, monitors, sensors, etc.
It's not surprising, therefore, how wearable tech and mobile apps have taken the health and fitness industry by storm. As people become more conscious about diet and exercise, wearable technology and fitness apps are becoming increasingly popular. There are plenty of options in the marketplace to choose from by features and functionality to complement your health goals.
Looking to include one of these health monitoring apps or devices in your life? Here's our list of recommendations for the best health apps and tracking devices that can keep you fit!
---
Apple Watch

The Apple watch is an impressive piece of technology that offers a lot of features. It can measure your heart rate, monitor your workouts, and tell you how active you are through the day.

Fitbit trackers

Fitbit has gained a lot of traction in the Indian market over the past couple of years. The latest versions – Blaze, Alta HR and Charge 2 – are powered by improved features and functions. The bands come with a watch-style strap, making them comfortable to wear, and are equipped with a heart rate monitor.

Jawbone band

The UP24 is the latest offering by Jawbone. It comes with a dedicated app that syncs all the information once you plug the band into your phone's headphone jack. The design is sleek and modern, making it perfect for everyday wear.

Google Fit app

If the fitness tracker you use can't record all your daily fitness endeavours, you may want to consider Google Fit. Google Fit uses GPS, other sensors in your phone, and your inputs, and also connect with other devices and apps to track your activities. For a free app, it is incredibly resourceful and provides many options to track your primary and other health stats.

Moov Now tracker

The Moov Now tracker is great for beginners, despite not being equipped with a heart rate monitor. Relatively inexpensive, it is an excellent alternative to the pricier options. As a plus, it's also waterproof.

Mi band

The Mi band is a fun piece of wearable tech that offers many features. It not only counts calories and keeps track of the distance walked, but is also equipped to monitor the quality of sleep. The band comes in fun colours, making it even more attractive.

GOQii band

The GOQii band offers a unique prospect – an actual human trainer who you can talk to you via the app. The band is equipped with motion sensors that record your activity levels and steps. However, you have to manually log in sleep data, exercise data, and food intake.

Nike Running app

This app has been around for a while. Another great option if you do not like walking around with a tracker on your wrist. The app is mainly geared towards running and offers a personalised running plan, heat map, and customised soundtracks, among other things.

Runtastic app

If you don't want a real-life coach, the Runtastic app offers a virtual one to help you run better. Though it started out with a focus on runners, it has become well-rounded and now targets sportspeople, both amateurs and professionals. The app measures were running, cycling or jogging activities.

Healthify Me app

The unique thing about this health app is that it counts calories for Indian foods using its database of more than 20,000 food items consumed across 13 regions in India. You can get a personalised diet and exercise plan and on-demand instant access to reputable nutritionists, fitness trainers, and yoga instructors to guide you through your fitness ambitions.
To sum up, getting healthy is now very easy with health apps and devices to guide you. So strap one on, tighten your laces, and hit the ground with your feet (or wheels) to achieve your health goals.
Also, given the widespread of cardiovascular diseases, you can never be sure that you're completely immune to heart problems. What's worse is that the extremely high costs of treatment could cause a huge dent in your savings. Therefore, it is wise to opt for a good health plan to prepare and secure yourself financially in case you're diagnosed with a CVD. Future Generali's Heart and Health Insurance Plan provides you with the necessary comprehensive cover for all major critical illnesses. The plan offers a fixed lump sum payout benefit on diagnosis of a critical illness, along with an inbuilt death benefit. So, go ahead, invest in Future Generali's Heart and Health Insurance Plan, and ensure yourself peace of mind for years to come.
# 59 Critical Illnesses are covered under Critical Illness Cover (Option 2) and Critical Illness Cover with Return of Premium (Option 4)