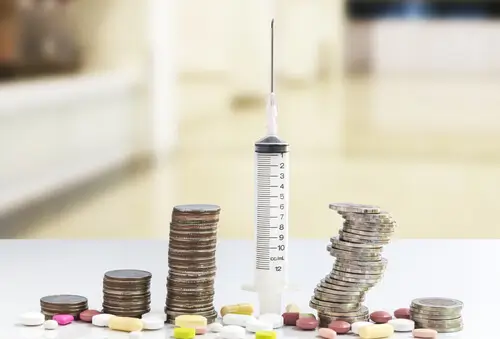 For the last two years, Sudha had been battling with cancer. Not only had it taken a physical, emotional and psychological toll on her, it had been a tough time for her family financially as well. The health insurance that her husband had opted for was insufficient to meet the costs of Sudha's treatment such as the doctor's fees, chemotherapy and radiation. As a family they had never imagined that one day they would have to shell out a fortune for the treatment cost of critical illness such as cancer.
Heart diseases, kidney ailments, stroke and other such critical illnesses can strike unannounced anytime. A stable financial situation might not be enough to protect you in such circumstances with the cost of treatment of critical illnesses escalating high with every passing year. To add to this, healthcare inflation itself has been estimated to be around 15 percent, increasing costs further. Here is a look at an estimated cost of treatment of critical illnesses that commonly affect people:
---
1. Cancer:
The treatment cost of critical illness such as cancer may vary depending on which stage the cancer patient is in- early stage or late stage. In extreme cases, removal of a tumour by surgery can set you back by upto 5 lakhs or more. Not only this, follow up checks cost anywhere between Rs 2000 to 15, 000 per test further increasing costs(1). Patients who have to undergo chemotherapy and radiation have to incur extra costs. Add to this the expensive medicines prescribed by doctors and you could end up spending anywhere upwards of 8 lakhs depending on how long your treatment continues.
2. Heart attack:
Cost of treatment of critical illnesses of the heart can be high enough to bear. Coronary artery bypass grafting commonly referred to as bypass surgery could cost anywhere upwards of 4 lakhs(2). And this is not all. The medicines and tests required post surgery on a monthly basis could be between Rs 5000 to 10,000(1). Thus patient may end up spending close to Rs 1 lakh for the next few months on cardiac rehabilitation itself.
3. Angioplasty:
The cost of angioplasty has become a bit affordable after the price cap on stents, with stent prices being slashed by upto 85 percent. The cost of angioplasty with a single stent can cost anywhere between Rs 40,000 to 2.5 lakhs depending on the hospital(3). However, with no regulation on the cost of consumables used in the procedure, doctor fees, cost of the procedure itself, it may set you back by more than the price of the stent itself.
4. Kidney transplant:
Surgery for transplanting a kidney has costs for both the donor and the patient which combined could be upto 7 lakhs or more. Add to this the injections to be given before and after the surgery which could cost more than Rs 80,000(1). Not only this lifelong immunosuppressant, steroids and supplements could further make a dent in your savings with monthly expenses upwards of Rs 5000.
5. Stroke:
Treatment cost of a critical illness such as stroke can run upwards of Rs 10 lakhs depending on the hospital and the technology used(4). Intravenous thrombolysis therapy or IVT injection that is used to dissolve the clot alone costs around Rs 25,000 to 40,000. Expenses don't end here. Stroke patients require life long care with long term physiotherapy and rehabilitation care depending on the patient's condition after surgery.
These are just a few examples of the cost of treatment of critical illnesses which individuals have to bear in the absence of a critical illness policy. More than often you end up dipping into your hard earned savings, thus depleting your corpus. However, it makes sense to be proactive and invest in a critical illness insurance plan such as Future Generali's Heart and Health Insurance plan.
It covers upto 59 critical illnesses including 18 heart related disorders and both early and late stage cancer along with carcinoma in situ. Not only this, you are also protected for lesser known and rare diseases. A critical illness insurance plan thus is an effective tool that helps to safeguard your health in the future.