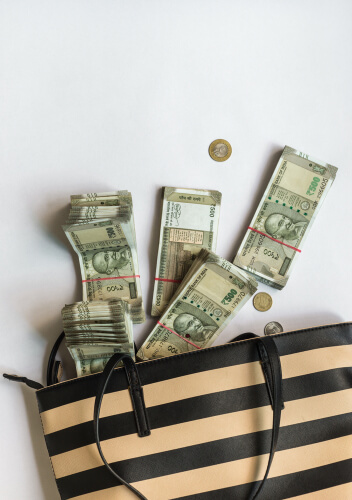 The world of finance is fraught with risks that must be avoided. Financial mistakes can occur to the best of us. It can happen while choosing investment instruments while building up savings or even while choosing the best term insurance policy to provide coverage for your family once you are no longer around. It is important to safeguard you and your loved ones' future against them by taking appropriate measures in advance.
Read on to learn about the most common financial mistakes that must be avoided at all costs:
Not Understanding the Business you Invest in:
When you invest in stocks of a company, it is important to understand the company, its industry and the business model which the company will use to gain leverage in this market. Being familiar with the business model allows you to accurately predict whether the company will perform according to your expectations or if other market conditions will play a role in lowering your returns on investment. It is best to gain a thorough understanding of the market and the company before investing in it.

Not Being Patient with your Investment:
Market conditions are affected by a host of factors, which can cause stock prices to rise and fall, often dramatically. It is important to be patient and watch the stock over a long time. Don't be in a hurry to pull back as soon as your stock prices drop - this might just be a temporary fall and might not be reflective of negative market conditions.

Not Availing Insurance:
Insurance acts as protection against any eventualities that might occur in life. From people's lives to vehicles, insurance can be availed to offer protection and ensure coverage in case of any accidents. Not opting for insurance can prove costly in the long run. It is important to opt for the best term life insurance policy at the earliest to prevent this situation from arising.

Not Budgeting:
Budgeting is an important part of meeting all your financial goals in an organised manner, and not budgeting appropriately is one of the worst mistakes that could be made financially. When one fails to budget, they are more likely to end up spending more than they expected. This can lead to problems in the long term as several important financial milestones could be missed in this manner.

Not Saving Enough:
Stats have shown that only 4% of Indians have emergency funds of Rs. 5 lakhs and upwards. Savings are one's best friend on rainy days. Essentially, if you ever find yourself in trouble and require financial assistance at once, your savings are what will bail you out, but the adhoc savings are not always sufficient. It is important to set aside a portion of your income in the form of savings as these will help you take care of unexpected medical emergencies which can end up draining huge amounts of money otherwise.

Not Paying Credit Card Dues on time:
Credit cards can be a boon or bane, depending on how the cardholder utilises them. A credit card is helpful when you are running low on cash, since it can help you buy things on credit. However, if you fail to pay back your credit card dues on time, you could end up in a lot of trouble financially. Not only will your credit history suffer with the bank, but this will also negatively impact your overall credit score. The credit score is a rating maintained on the basis of how soon loans and credit card bills are repaid, and this score is considered as a basis for how easily you can avail loans in the future.

Not Clearing off Debt:
Letting debts linger only makes them more expensive, and stops you from seeking more capital in the future. By clearing off your debts early, you are more financially independent and can choose to spend your money more wisely.

Not Educating Yourself Financially:
One of the worst financial mistakes that you could commit is to not educate yourself thoroughly in financial matters. Even if you have an advisor or broker who decides the funds and instruments you invest in, it is best to understand the market and instruments yourself.
While financial mistakes are easy to commit, they are easy to safeguard from as well. It is important to learn from your peers or elders who have been dealing with financial matters longer. Once you learn from them, you can easily learn from them on mistakes to avoid and thereby gain an advantage when you begin handling money.
Financial mistakes can take on different forms, from not choosing the best market instruments to not opting for the best term insurance policy. Make sure to avoid these common mistakes to have a safe and secure future, financially.