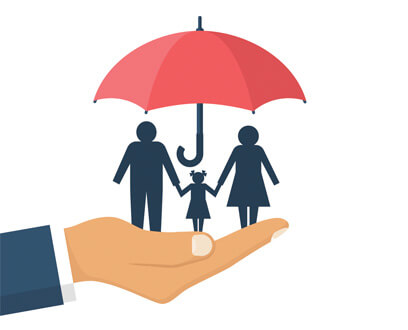 Traditional Life Insurance plans are known to provide multiple benefits like income return, risk cover, and tax benefits. They are insurance plans that cater to individuals with a low risk appetite. This article briefly explains the underlying factors of traditional life insurance and its inclusions.
What is Traditional Life Insurance?
Traditional Life Insurance, also known as whole life insurance, money back or endowment insurance, provides multiple benefits like risk cover, fixed income returns, safety and tax benefits. These are considered risk-free on account of their fixed returns in case of death or maturity of the term.
This type of life insurance policies provides insurance coverage to the policy holder for his/her entire life. Unlike a term life insurance policy, this type of plan never runs out. In case of an inevitable death of the policy holder, the insurance pay-out is made to the policy's beneficiaries.
Whole Life Insurance - A life insurance policy that is guaranteed to remain in force for the insured's entire lifetime.
Money-Back Policies - Provides life coverage during the term of the policy, and the maturity benefits are paid in instalments.
Endowment Plans - Endowment Plans are a combination of insurance and investment. The insured will get a lump-sum along with bonuses on policy maturity or on death.
---
Who should consider choosing a Traditional Insurance Plan?
An individual should opt for a traditional life insurance policy under the following circumstances:
Looking for a long term financial stability
Looking for risk coverage and guaranteed returns on your premiums
Continuous cash flow for predictable future life events like child's education & marriage or your own retirement.
Looking for higher tax saving instruments
---
Benefits  of Traditional  Life Insurance Plans
As a traditional insurance policy works on the 90/10 rule in the industry, the insurance company can retain only 1/10 of the profits. The rest of it would be shared with the customers
You get higher returns on investments
It makes for a risk-free option, as the investment risk is entirely borne by the insurance company
Traditional Insurance is closer to protection than ULIPs
Traditional Insurance Plans offer built-in guaranteed benefits, leaving behind the chances of miss-selling
Future Generali Life Insurance offers range of traditional life insurance plans. You can benefit by increasing your savings with the help of insurance cover. Choose from the plans below:
Future Generali Assure Plus
Future Generali Triple Anand Advantage
Future Generali New Saral Anand
Future Generali New Assure Plus
Get Life Cover of ₹ 1 Crore at ₹ 16 /day* with Future Generali Flexi Online Term Plan!         Know More!