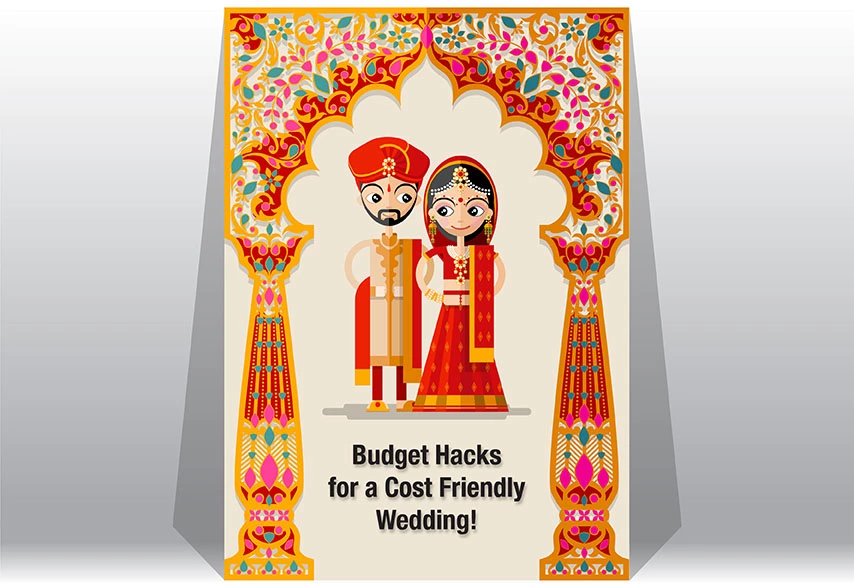 It can be easy to get carried away when planning a wedding and before you know it, costs have spiraled out of control. Yet the most personal of weddings often feature DIY touches that give an innovative and unique edge. Here are some creative ways to keep costs down and ensure you still have the wedding of your dreams.
First, cover your bases
Perhaps the biggest nightmare a to-be married couple could have is something going wrong and their hard work and effort of wedding planning going to waste. It's tough to think about unfortunate events happening on what is supposed to be the happiest day of your life. However, it's always wise to be prepared for the unexpected. For instance, unfortunate events like need to cancel your wedding due to sudden illness in the family, or sudden unfortunate demise can cause a great financial impact. Hence, it is best to be covered by a life insurance plan. A good life insurance is a great way to recover your losses especially when you are absent. The sum assured received on death of the life assured from the life insurance policy can help you cover any kind of financial obligation towards your loves ones like  support in wedding-related expenses like marriage hall, catering, decorators, buying dresses and jewelry, etc. It works like a safety net for your loved one's happiness in your absence.
Wedding outfits
Whether it is a lehenga, saree or dress, wedding outfits can really blow up your wedding budget. All this for something you are likely to only wear once! If you aren't the sentimental type, renting is a great option. There are now a number of rental websites in India where you can wear a beautiful designer outfit without shelling out tons of cash. If you are keen on having your own dress for keeps but don't want to break the bank, do away with getting tailor-made attire that can cost lakhs of rupees. Readymade outfits are often a fraction of the cost and you can get something for even less during sales. 
Bridesmaid dresses
Don't go to dedicated wedding and bridal shops! Instead, you can find gorgeous dresses and Indian outfits from high street brands. Consider mix-and-match designs and ask friends to wear their own shoes.
Printing
Printing elaborate invitations on expensive paper can really add to your wedding costs. Choose small, independent printers to do the job. Have someone creative give you tips or look online for inspiration and design your own invites. You can then get them printed using an online printing service. Better yet, do away with physical invites in favour on an e-invite - it's eco-friendly too! You could also use postcards as invites for a fun, quirky touch or set up a free wedding website with all the details your guests will need (e.g. Wix).
Food
Consider a limited menu for your buffet to keep the per plate cost down. It's better to have a few really good dishes than a huge variety. Choose options that are friendlier on the pocket. For example, a largely vegetarian meal is likely to cost less. If you are having a wedding cake, consider replacing the dessert with this instead. 
Photos and videos
You can hire a photographer for just a few hours for the formal parts such as the ceremony. At the reception, have guests be your photographers. Set up an Instagram account for your wedding and a dedicated hashtag so that you and your guests can track down all the pictures from the big day. Or ask friends and family members who are interested in photography to contribute by taking a few pictures on their own cameras (if they own one) so that you can have a mix of professional-like photos taken by those you love. Remember to specify to them if there is anything particular you'd like them to photograph or record, such as speeches or your first dance. 
Wedding favors
Wedding favors are a fantastic way to add a really personal touch to your wedding while having some fun. However, purchasing wedding favors can be extremely pricey. Instead, get creative and come up with giveaways you can make yourself that won't cost a lot. Some ideas include homemade jams and chutneys, cookies, sweets or cupcakes, personalized bracelets with initials on them and lavender-filled pouches.
Decorations
Decor costs can really add up and many venues have to be booked with their own decorator as an add-on. Flowers and decorators are usually expensive so ask for minimal work to keep costs low and fill in the rest with your own contributions. Look online for deals on decor items such as lanterns, flowers, fairy lights, balloons and bunting which you can use to spruce up your event. A rustic theme is wonderfully warm while being easy on the pocket. Think about rustic decanters on tables; make signs out of recycled wooden planks and try turning small glasses into candle holders that you can dot all around the venue. Do away with thermocol confetti that's terrible for the environment. Instead get dried rose petals or rice for a traditional, organic touch. 
Music
Do you have any friends that play musical instruments? If so, now's the time to call them into service and they will be so honoured! Perhaps a friend could play the music during the wedding ceremony or at the reception. If you have friends in a band, perhaps they could play a few tunes before you turn to DJ decks. To keep costs low, skip a hired band and get a friend to DJ.
Venue
For venues, write a clear list of what you want as many venues have a lot of restrictions that can increase prices e.g. do you have to use their caterers; do they charge corkage; how much is their alcohol going to cost? Keep in mind that a wedding that you organize completely on your own can sound cheaper but they often work out just as expensive and a lot more work because you need to hire everything in, including catering, decorations, tables and chairs, etc.
Cake
If you have a friend or family member that loves baking, you'll save yourself a lot of money! It's not hard to make a delicious cake and it adds a lovely personal touch to the wedding.
Guests
Smaller weddings are much more intimate and allow the bride and groom time to chat to all their guests without being overwhelmed. Keeping your guest list to a minimum and only to those really special friends and family will save you a huge amount of money and will also widen your venue choices.
Finally, ask around in your circle if there are any students who would be willing to offer their services for a smaller payment than a professional? For example, music, photography or event management students? This is a great way of sourcing up and coming talent!