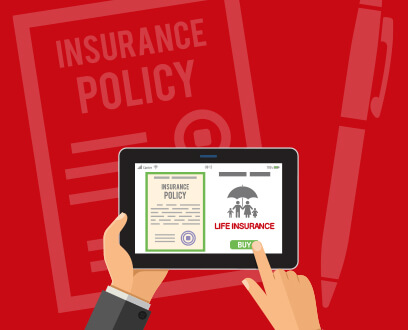 Being the bread earner of the family, we all strive hard to give the best without any hassles. However, as they say life is uncertain, an untimely death of the bread earner of any family can lead to a financial problem. The question that rises then is that will you still be able to fulfil your family's needs and aspirations in your absence? Though it may sound unrealistic, you can certainly make arrangements for your family's well-being post your demise. You can purchase a term insurance plan that would offer your family a financial help in their tough times.
---
Breaking down Term Insurance
Term Insurance is most basic form of a life insurance product. The product provides a lump sum to the family on death of the life insured.
Here is how it works:
One can decide the amount of life insurance cover and period of cover. Life insurance company decides premium on basis the insured amount, term of cover, age, gender and habits like tobacco consumption. In case of untimely death during the coverage period the life insurance company pays the insured amount to the family.
---
Why should one invest in a term insurance policy?
One of the main reasons to opt for a term insurance policy is to protect your family financially in your absence. The lump-sum that your family will get as a death benefit can bring financial stability and also aid in paying off liabilities.
Benefits of a Term Insurance Plan
Get a lump-sum amount in the event of a sudden demise
Helps see off loans and liabilities
Have a financial backup so that your family can live stress-free
Opting for a term insurance policy can also help take care of family in case of critical illness
Additional sum insured in case of accidental death with accidental benefit rider
Term Insurance plans offer lump-sum amount if diagnosed with critical illness
---
Here is why you should consider buying term insurance online?
With the online world becoming highly convenient to use, plenty of insurance companies give you the opportunity of purchasing policies online. Future Generali India Life Insurance Company Limited is one such company that provides you with the chance of choosing and buying term plans online. Let's have a look at the reasons to buy term insurance online:
Pocket-friendly: As you know, online term insurance plans are approximately 40% cheaper than the offline plans. If one has a chance of saving even a minimum bracket of income, why wouldn't they? You skip all the charges like paper-cost, agent's commission, processing fees etc. The particular insurance company therefore passes on their benefits to their customers in the form of additional perks and so on.
User-friendly: It is not necessary that one needs to be tech-savvy when it comes to the online world. Insurance companies make it a point of offer a user-friendly gateway to take you through the process of buying term insurance conveniently. To help make this process even simpler, try comparing term insurance with different insurers.
Expert-knowledge: Before you short list on a term insurance plan, ensure you take advice from a professional or expert in the field. Many insurance companies give you a chance to talk to experts, thus making it simpler to opt for a particular plan. They offer you the finest approach for all your needs related to insurance.
If you have made up your mind about purchasing a term insurance plan, then visit Future Generali Total Insurance Solutions to find the perfect plan according to your requirements. It assures financial safety by providing practical and long-term beneficial plans. You can find customized term insurance policies and plans that suit your needs.
Future Generali Flexi Online Term Plan (UIN 133N058V02)
Future Generali Care Plus (UIN: 133N030V02)
However, it is vital that one lists down the main reasons for choosing an insurance plan before purchasing one.
*Premium for 30 year old, Non Smoker Male. Policy Term: 30 years for Basic Life Cover option inclusive of Goods & Services Tax. UIN 133N058V03