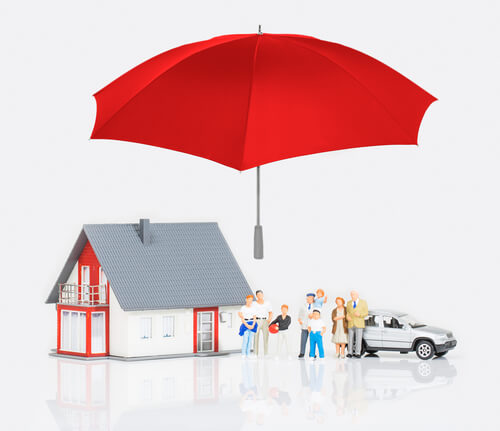 Five years ago, 35-year old Satwik availed a home loan of Rs. 50 lakhs for a loan tenure of 20 years. He is self-employed and runs a successful battery business. Given the risks in the business, he also bought a pure term insurance cover of Rs. 1.5 crore for a period of 20 years at the time of securing the home loan. Unfortunately, Satwik died of a sudden cardiac arrest, and his aged parents were his only dependents. The loss of their grown-up son was irreparable and unbearable for them in their old age, and a home loan repayment would have only added to their financial woes, had the term insurance cover not been in place. Luckily, the term insurance death benefit of Rs. 1.5 crore helped Satwik's parents clear the outstanding home loan along with providing them financial security for their lifetime.
Owning a home is surely an essential financial milestone to achieve in an individual's life but it also is an expensive business that demands regular savings across years, a steady source of income and long-term financial planning. The skyrocketing property prices, especially in the urban landscapes have left the prospective home buyers with no choice but to avail a home loan to fulfil this wish of becoming homeowners. Home loans are long-term commitments, usually spanning across 20-25 years. Lenders normally offer home loans to customers depending on an individual's regular income and his ability to repay the loan in equated monthly instalments (EMIs) during the loan tenure. However, life gives no guarantees and an unexpected demise of a borrower may put a huge monetary stress on his surviving family. In such cases, a pure term insurance plan for home loan is very much essential to shield the borrower's family from the financial burden of paying the outstanding home loan, in case of his demise.
Reasons to consider buying a pure term insurance plan for home loan
Although it is not mandatory to insure a home loan, it would be a wise decision to opt for this plan. Here are a few compelling reasons why:
Economical plans: At the time of availing the home loan, the lender might insist that you opt for a home loan insurance to protect your investment, where the insurer shall pay the outstanding home loan amount to the lender, in case of borrower's demise. As this is not mandatory, one can opt for pure term insurance plan for your home loan which is more advantageous and economical than a home loan insurance plan. There is no dearth of term insurance plans available in the market and one can compare the plans before choosing a plan with a large cover at an affordable premium. Online plans offer further discounts for the term plan.
Flexibility during home loan balance transfer: Upon availing this type of plan, its benefits remain regardless of the lender. If the borrower decides to move the home loan from one lender to another, the life cover still remains in place and there is no need to re-apply for another term life insurance cover. Even after the closure of the loan, the borrower's family can continue to be eligible for the coverage of the term plan. It works as a financial shield against any other loans and liabilities, or long-term financial goals.
Term plans come with fixed benefits: Unlike the home loan insurance plans that offer insurance covers relative to the loan repayment calendar, and terminates upon loan closure, in plans like the pure term insurance plan for home loans, the sum assured remains unchanged throughout the policy term. Even after the loan closure, the life cover remains active throughout the policy period. The payout can be utilized towards repayment of not just home loan but fulfil any other financial obligations in the borrower's absence.
How to choose the right term pure insurance plan for home loan
As a home loan borrower, one must assess the short-term as well as long-term costs and benefits of opting for pure term insurance over the regular home loan insurance plans. Rather than blindly trusting what the lenders might utter, it is important that the borrower does a bit of his own research on the term plans that can suitably cover the home loan liability along with other financial obligations in his absence. Online term plans such as Future Generali Flexi Online Term Plan is an affordable and flexible term plan that can cover a family's financial needs in the absence of the insured. The plan offers multiple coverage and death benefit options such as basic life cover, fixed income protection, increasing income protection, and a combination of these covers.
The life cover is applicable up to 75 years of age and is available at much lower premiums for women policy subscribers. Other benefits of the plan include coverage enhancement using rider options, and tax savings under section 10(10D) under the Income Tax Act of 1961. So, by opting for a pure term insurance plan for home loan, one can go ahead and take the risks, but still be prepared for tomorrow's unexpected challenges.