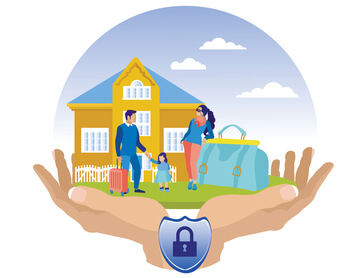 The incident of Sheetal's mother passing away had shaken the entire family on a fundamental level. Thankfully, there had been no financial setback since the insurer had settled the claims on time and the entire funeral could be carried off without a glitch. At the time of her mother's death, Sheetal's father had been lucratively employed as well and thus the family was able to continue living the lifestyle that they had become accustomed to.
Sheetal's father, on the other hand, always had better health than most of his peers and ended up outliving his term insurance policy tenure. However, he was extremely angry when he found out that once his term insurance matured, not only would he no longer enjoy insurance but he would also lose all the money that he had paid as insurance premiums over the many years of his employment.
When Sheetal was approached by an insurance agent regarding her own insurance cover, she insisted on availing term insurance with living benefits so she could avoid the situation she now found her father in.
Term insurance is a pure insurance cover, which offers protection to dependents upon the policyholder's death. The most basic types of term insurance offer either a lump sum payout to dependents upon the policyholder's death, or they offer the amount as a regular income over a period of time. In recent times, it has emerged as a more lucrative option for most policyholders. Term insurance with living benefits allows policyholders and their dependents to get all the premiums paid back (except taxes) after the policy's maturity and in case the policyholder outlives the term.
There are several benefits for the family of the policyholder availing term insurance, which can be read about below.
Medical Care:

Medical and healthcare costs continue to rise, in line with increasing inflation. The costs of hospitalisation, treatment procedures like surgery and even the cost of medication has significantly risen with times. The older people get, the more susceptible they become to falling sick as their immunity levels drop. However, investing in term insurance allows families of the policyholder to opt for the best medical care and attention without fear of depleting resources.

Tax Benefits:

Tax benefits offered by term insurance are substantial, under section 80C. Different sections of the Act allow for tax benefits at the time of paying premiums until the time the maturity amount is dispensed to the policyholder or their family. This allows policyholders to save substantially on taxes for a long period of time, and enhances their financial savings. Families of the policyholders are equally benefited with term insurance, since the lumpsum amount they receive as payout is also exempt from taxes under section 10(10D)

Income during Retirement as part of Term Insurance with Living Benefits:

Most people retire by the time they turn 60 years of age. After a lifetime of productive employment, it is often difficult for people to stay home and keep themselves busy. As a result, retired persons end up spending a lot of time and money on activities that keep them busy and that they were unable to take up while they were gainfully employed. For such times, it is beneficial to have term insurance with living benefits since the policyholder can use the funds received from the insurer to fulfil all their plans. Term insurance with living benefits can help them have a comfortable holiday and enjoy the best luxuries on offer. Retirement is often referred to as the "golden years" in a person's life, and it is important that they enjoy it the best that they can.

Financial Security and Peace of Mind:

Post years of being gainfully employed, retirement can feel like a let-down for many people. The idea of having to depend on their children and other relatives for living a comfortable life can have a dampening effect on most people and make them uncomfortable. However, a term insurance with living benefits allows the policyholder and their spouse and other dependents to comfortably live on their own means and enjoy life to the fullest without having to depend on anybody for meeting their expenses. Financial security guarantees peace of mind like no other.
A term insurance with living benefits allows policyholders to retrieve the funds they have paid as premiums until the time of the policy's maturity. It allows retired persons to live a comfortable and debt-free life, and pursue their own interests and activities.