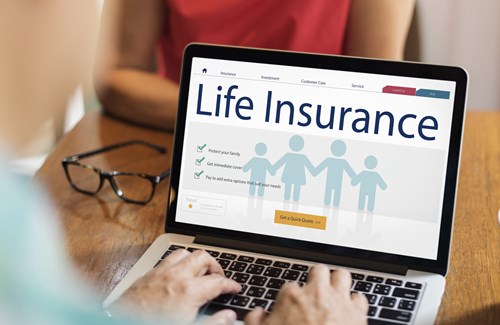 Being an optimist is great—better than being a pessimist! But it pays to be prepared for every eventuality, even if you're sure everything will be fine.
So maybe it's better to be a realist. Realists accept that things sometimes go wrong, and so they always make sure they have a backup plan... such as life insurance. The sooner you're insured, the more you'll benefit and the less you'll pay each month—an ideal situation for all budgets!
There are many types of life insurance, but for now, let's look at the sort that protects us and our loved ones through the final years of our lives and beyond.
---
Family first
Meet Arif. Arif was 25 and working in a coffee shop when in walked Sara. It was love at first sight. He took the chance of writing his number onto her cup, and six years later they're married and with a newborn daughter, Karina. Although they're all young and healthy, Arif knows that won't always be the case, so he'll feel better knowing that, no matter what, Sara and Karina will be provided for.
So Arif took out a pure risk life insurance policy. By paying a small amount each month, Arif now knows that if something does happen to him, Sara and Karina will receive an annuity—a yearly payment—for several years. And, if all goes well, the annuity will start automatically on Arif's 75th birthday, giving him an even better retirement. Not bad, as far as birthday presents go!
The gift of freedom
Meet Nadia. Nadia opened her own restaurant when she was just 30—the scariest thing she'd ever done. The first few years were extremely tough, but perseverance and hard work paid off. Ten years and six restaurants later, Nadia now makes a comfortable living for her family. But as her children have grown, Nadia decided she could afford to go the extra mile to ensure they'd always be able to do whatever they want in life.
That's why Nadia took out an investment life insurance policy. These are a lot like pure risk policies, except that the money Nadia pays in is put into an investment fund. Although this means there's a risk, the money Nadia has already been able to put aside means it's one she's comfortable taking. Especially because, with an investment policy, the size of the annuity has the potential to be much bigger. So whether they want to use the money to pay for university, buy a house, or start a family, an investment policy could give them even more freedom.
Making retirement fun
Meet Helen. Helen has just started her first job as a bank teller. Although she didn't go to university, Helen is ambitious and hard working. But Helen also knows that will only help her chances of success—not guarantee it.
With an uncertain future, Helen didn't want to rely on the state pension. After all, finishing work should allow her to start enjoying life even more. So, Helen decided to start up her own pension fund. By putting aside a little money each month, Helen can now look forward to a fun-filled retirement, however her career unfolds. And because she started her fund early, Helen pays lower premiums which translate into a bigger retirement income. And maybe even a nice little extra vacation a year.
Enjoying life starts now
When it comes to preparing for the future, taking out life insurance only takes a little effort. But once it's done, we can sit back and enjoy lifelong peace of mind. That's a pretty good deal.