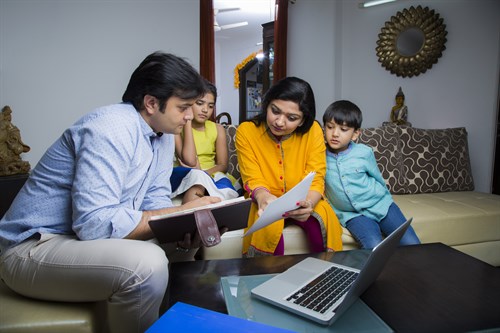 Akash had taken a student loan to get through both engineering college and for business school. It had taken him many sleepless nights of working feverishly and nearly 15 years to pay off the entire debt. When his daughter Alisha was born, Akash was determined that she would not have to struggle in the manner he had. He was bent on assuring she had enough financial resources to study whatever she wanted to study. Akash decided to start putting aside money for her, a little every month, until she was old enough to need it. However, saving money wasn't a very smooth process until he attended an older colleague's daughter's college graduation party and learnt about child education plans.
A child education plan allows for systematic savings by a parent to ensure their child's future plans are fulfilled. It helps guarantee a safe path for the child to achieve their dreams, even if the parents aren't around, due to unforeseen reasons.
Several insurers offer child education plans, which can take a huge worry off the mind of parents since the essential savings is taken care off. No parent wants to refuse to help their child fulfill their dreams by availing of the best opportunities that a good education has to offer, and investing in a child education plan right from the beginning ensures that they won't have to.
---
Read on to learn about why it is essential to invest in a child education plan and prepare for a child's educational expenses right from the beginning.
1. Educational costs are rising by the day:
Quality private education costs more than ever before, and educational costs continue to rise owing to a multitude of factors including inflation. Parents who want to assure a good education for their children have to shell out more than ever before, and it often causes a huge financial burden on the families' resources. Investing in a child education plan from the very beginning can ensure that such concerns do not crop up when the child is actually in need of money.
Investing in a child education plan also ensures that the child's dreams will be fulfilled, even if the parent is no longer around. For instance, the Assured Education Plan has provisions to waive off all future premiums payable upon the death of the parent. The child also receives 5% of the Sum Assured immediately and on every death anniversary of the parent until he or she turns 17 years ago. This ensures that their education is not uninterrupted by tragic circumstances.
2. Save a little and earn handsome rewards:
Premiums payable on a child education plan can be as little as Rs. 20,000 per year or even Rs. 2,000 a month; but by the child turns 17 and requires a handsome corpus to get through school, he will have access to Rs. 2,00,000. These can either be availed in one full go, or it can be received as consistent payouts which help the child meet important milestones. A child education plan is an investment that yields immeasurable returns.
3. Rescue the child from debt in the form of education loans:
Education loans from banks usually charge a very high rate of interest, which ensures that a child remains in debt for a very long time. This severely dampens the spirit and acts as a huge obstacle for a young professional who begins their career with a massive financial debt that they must pay off at the earliest. Having a student loan means a professional must constantly look for high paying jobs, without paying any consideration to experimenting. Additionally, it dents their ability to start saving or investing from the beginning of their career.
4. Protecting the child's future:
With a child education plan, it is possible to imagine a bright future for a child even if her parents aren't around. Having a child education plan in place will ensure that she never has to worry about her studies being hampered, and she can pursue her dreams without being worried about the financial implications.
5. Tax Benefits:
Premiums paid on a child education plan usually are eligible for tax benefits under the provisions of Section(s) 80C, 80CCC(1), 80D, 10 and 10D as may be applicable. Though these may be subject to change, some tax benefits can be availed in the form of exemptions, upon payment of premiums.
6. Easy access to a corpus for whenever the child requires it:
A child education plan will equip the child with the power to think and dream big. Most plans have an option for payouts as and when the child needs it. This allows the child to carefully analyse their options and then shoot for the stars.
A child education plan safeguards a child's future and equips them with the freedom to plan for their future, without the lack of financial resources acting as a restraint. With the Assured Education Plan, it is possible to choose payout periods, flexibly, depending on the child's milestones.