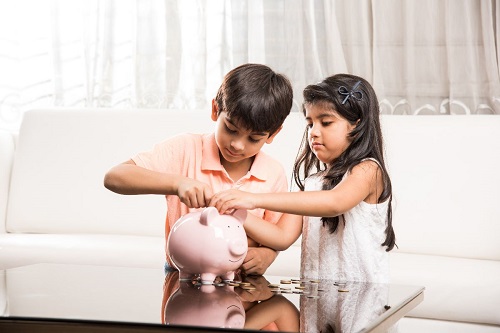 Securing your children's financial future is as much about teaching kids money-saving tips, as it is about saving your own money. Educating your children on the value of money is a lesson that will serve them for life. Which is why saving for a child shouldn't be an activity for parents alone.
 Here are some ideas for the best way to start saving money to secure your kids' financial future.
1. Start saving money from day one
One of the easiest ways to start saving money is to start early. You can make regular small payments and top them up during festivals and birthdays.
And always remember, a little goes a long way over time. Starting early always pays – however small the output be be. When you begin to start saving on behalf of your kids, do look around for the best savings plan to get maximum benefits.
2. Gift experiences with simple savings
Instead of giving presents that quickly go out of fashion, why not consider swapping them for something more experiential. For example, you can spend money on a hobby such as music classes, dance lessons, or sports tuition. While physical gifts may not last, different experiences will add lasting value to their life and will remain etched in their memory forever. 
Children follow the examples that we set for them, so when we show them how to save money for the future or for experiences, they learn easily.
3. Give them pocket-money
When you give your kids an allowance, you indirectly teach them how to save money. Instead of yielding to your child's every single demand, allocate a monthly or weekly budget for them. Explain how the money is theirs to spend in whichever way they like.
For bigger spends, teach them to save money from this allocated budget, so they can make the purchase when the time comes. Teaching your child to effectively manage their own finances can happen if you give them a regular allowance. Work with them to plan, budget and save towards different financial goals. 
4. Open a savings account for your child
Once your child is old enough, swap the piggy bank for a kids' bank account. This is an important milestone and will help to give your child a sense of responsibility towards their money. When you trust your children with money, you show that you believe them to make smart decisions. Not only does that instil a sense of accountability but also teaches them to become financially independent.
Since most banks offer two types of savings accounts for children, you can manage the level of control kids have over their money. When you open an account for a child under the age of 10, you need to operate the account jointly with the kid. Accounts opened for kids between 10 and 18 years, offer more flexibility and kids can manage them on their own.
5. Make them financially literate early on
Many schools don't teach children financial literacy, so it's up to you to fill this gap. This includes areas of finance such as interest rates, tax saving, digital payments, investments and the importance of a pension or kids education plan.
This knowledge is especially valuable for their adult life and allows them to appreciate the value of money early on. Giving them their own savings account will also teach them how the banking system works. They'll learn to write cheques, open recurring or fixed deposits, transfer money, and do so much more!
6. Invest in stocks and shares
Set up a share portfolio that you can eventually hand over to your children. Involve them in decision making and use it as a way to teach them about investing and making a return.
The stock market is challenging for anyone, and it's brilliant to support your children in learning how it works. If you're confused about how to save money for kids through investing, you can start small with investing apps like Scripbox.
7. Look for some child saving plans
There are many milestones that your child will go through - from primary school to graduation. All of these would require money. Therefore, it's important to find simple savings plans, so that their future is always secure.
When saving for a child, you need to also consider other expenses such as international education or marriage. To fulfil these dreams without burning a hole in your bank account, you should look for different child savings plans like Future Generali Assured Education Plan orFuture Generali Assured Wealth Plan. Both these plans will help you plan your finances in advance.
8. Clear your debts
Having too much debt can put you and your family in a vulnerable situation, should anything happen to you or your income stream. Try not to spend more than you earn and pay off any debts and never skip your credit cards payments or EMIs.
If you want to know how to save money for your children's future in India, you should first secure your own finances, the rest will fall into place. Kids learn by example; therefore, it's essential to set the right ones!
9. Write a will
This is one of those tasks you never want to think about. However, keeping your will up-to-date is essential, as it ensures your children are protected even when you're no longer around to financially support them. If you haven't looked at your will in recent years, dig it out and make sure it's updated. 
10. Talk about money
Finally, it's worth remembering that your children's attitude towards money will likely stem from your own. Don't be shy in talking about your finances and how you spend, save and invest. As your children grow, involve them in decision-making and encourage them to save for their future.
Continue giving them money-saving tips, so that they reach adulthood with a healthy attitude towards money!
Discover Future Generali India Life Insurance's savings plans and secure your child's financial future now.
Click here to get in touch with our financial advisor who will answer all your queries with regard to securing the financial future of your child.