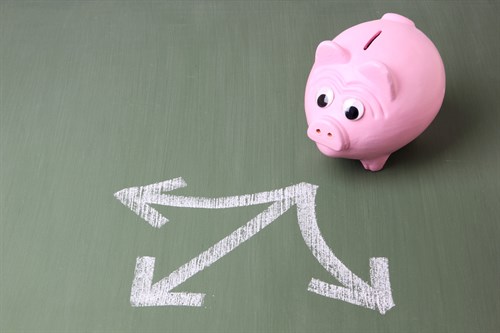 Finding a clear direction to grow wealth or to create a financial shield to protect our family during tough times can be difficult. As an investor, it is important to find the right balance between risk and return and plan according to important milestones in our lives.
There are safe investment instruments such as life insurance with guaranteed returns that provides life coverage as well as an opportunity to accumulate a large corpus for the future. With a term plan with maturity benefit, dependents can inherit a substantial sum of money if the policyholder dies or receives a decent amount of money on surviving the policy term.
Those who have a slightly higher appetite for risk can invest in mutual funds and those who can afford to take more risks can buy shares. Therefore, there are many investment avenues open for investors but striking the right balance between risk and return is what makes one successful.
---
The 5 Safest Investment Options
1. Traditional life insurance with guaranteed returns:
When we think of a safe investment option, the first thing that comes to our mind is a traditional life insurance plan . Life insurance with guaranteed returns offers death benefit, fixed income and tax savings to investors. Traditional life insurance is an ideal investment option for people who are risk averse and have a long-term outlook.
2. Term plan with maturity benefit:
Term plan with maturity benefit is one of the most affordable forms of insurance that provides a huge amount of money to dependents in the unfortunate death of the policyholder. Future Generali Term Plan with Return of Premium is the one plan with return of premium up to 115% of premium paid on survival or end of the policy term.
3. Public Provident Fund (PPF):
There is no doubt that PPF is one of the safest investment options available to investors with steady returns. It's easy to open a PPF account nowadays through banks. As of April 1, 2019, rate of return available on PPF was 8%. It has a high lock-in period of 15 years but there is flexibility in investment.
4. Fixed deposits and recurring deposits:
Fixed deposits are one of the oldest forms of investment but definitely low-risk. The rates of return on fixed and recurring deposits vary depending upon the tenure of investment. Rates of return on FDs and RDs range from 3.5% to 8%. This is a low-risk and low-yield investment tool.
5. Real estate:
With property prices coming down throughout the country and the government's push for Housing for All by 2022, this is the right time to invest on low-cost, ready-to-move homes. Real estate has been the safest form of investments that guarantees very good returns in 10-15 years.
---
The 5 Riskiest Investment Options
Let's not forget the five riskiest investment options that offer incredible returns on investment. These are for those investors who are experienced and can afford to take risks.
1. Equity or share market:
One of the oldest platforms of trading and investment is still one of the riskiest places for small and new investors. Though there are many experts, advisors, courses and things you can learn about the share market, it is still a complex and unpredictable place for investors. However, it offers high returns and you can stick to blue chip companies with less volatility and better fundamentals to mitigate risks.
2. Options trading:
Option trading offers a three-fold benefit for experienced and risk-taking investors. They can use options as a speculation, hedging (risk mitigation), protection and leveraging tool.
3. Equity mutual funds:
Equity mutual funds are less risky than investing in options or shares. Yet, they carry some amount of risks because their performance is linked to the stock market. If an investor carries out some due diligence, it can offer good returns with minimum risks.
4. Initial public offerings:
Initial public offerings (IPOs) are similar to buying equity shares but with an increased degree of risks. A private company intending to become a public company issues an IPO so that the public can buy shares of the company from the stock exchanges. Investing in IPOs can go either way depending on how the company performs after it becomes a public company.
5. Currency trading or forex trading:
Currency trading can be a rewarding investment tool if one really knows the game. Though it offers good returns, it's highly risky and better left to the experts.
Before one invests in any of these instruments, it's important to have a clear understanding of the terms, risks and returns. What may work for one may not work for another, so always weigh the risks before you invest your hard-earned money.