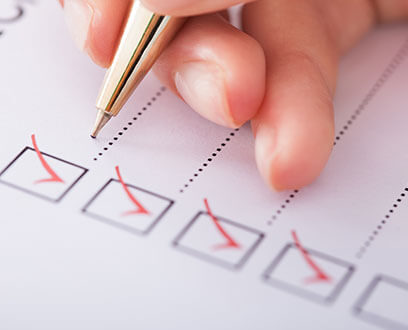 Imagine you are on the lookout for the perfect wedding outfit for an important occasion. You can't possibly buy the first thing you see, now can you? You need to find one that fits you just right. It has to be as comfortable yet stylish. You want an outfit that is the best of both worlds and to find one and most likely get it custom made!
The process of choosing a unit linked insurance plan (ULIP) is similar to buying the perfect outfit. A ULIP is a financial product that provides you with both insurance and an investment and is an essential part of your financial portfolio. But before you choose the one best suited to you, you need to tick certain boxes. After all, when it comes to securing your family's future, you would never compromise!
Here are 5 things you need to check before you select the right ULIP plan.
---
 

How much am I covered for?

Experts say that it's not movies that fall short, it's their budget. Same is the case with ULIPs. You need to make sure that the sum assured you choose provides a large enough pay-out that can help your family live the life you planned for them, even if you are not around to make it happen. The sum assured amount is usually equal to 10 times your annual premium.

What is my risk tolerance?

One of the toughest decisions is to know how much risk you are willing to take. Your risk appetite determines exactly what your ULIP plan should be made of: all debt, all equity, or a carefully planned combination of both. You can determine your risk appetite by considering several factors such as your age, your income, number of dependants, and more.

How can I pay the premium?

Nowadays, everything is customised for us, from playlists to Google searches to wallpapers! This makes it very convenient for us to find exactly what we're looking for with very little effort. When you are buying a ULIP, make sure the terms and conditions are convenient for you so that you can comfortably stay invested in the ULIP for as long as you achieve your goals.

Take what is yours!

First, ensure you have the freedom to withdraw money if you are in need. This feature usually kicks in after the 5-year lock-in period is over. With the Future Generali Easy Invest Online Plan, you can withdraw a minimum of Rs. 5000 up to 4 times a year so you needn't worry about having a backup plan.

Pay as you like!

There are usually 3 options for payment- Single premium (lump-sum payment), Limited premium (payment for a fixed number of years) or Regular premium (a periodic payment that continues throughout the policy duration). You must choose an economical way to pay a premium that suits your financial situation best. You should also demand the right to switch from one mode to another if you feel the need.  With the Future Generali Easy Invest Online Plan, you can switch anytime from a monthly to an annual payment mode, and vice versa, at a minimal cost of Rs. 250 per change.

Get paid as you like!

Most importantly, you must ensure you receive the plan pay-out as it best suits you- either as a one-time 'lump sum' payment or at regular intervals through the settlement option.

What charges will I incur?

Whenever we want to upgrade to greater comfort, we need to pay a little extra, but what's the harm in searching for a good deal? ULIPs come with a variety of charges that you need to understand and expect so that you can look for competitive rates that don't lessen your returns.  Common charges incurred include:

Premium allocation charges – Refer to the charges levied for expenses incurred to issue the policy such as underwriting costs and distributor fees.

Policy administration charges – Refer to the charges levied for administrative expenses incurred for maintenance of the plan.

Discontinuance charges – Refer to the charges that are deducted due to partial or full, premature surrender or encashment of units.

Fund management charges – Refer to the charges incurred for management of the fund, typically charged as a percentage of the value of the assets.

Mortality charges – Refer to the charges the insurance company is compensated with, in the case the policyholder does not live to the assumed age. It is typically charged on a monthly basis.

Can I switch between funds?

When you first start off with a ULIP, there are a number of factors that influence how your money is allocated to different funds, including your market view as an investor, how many years you plan to invest, and your risk appetite. But these things all change with time. Make sure you check how many times you can switch in one year as well as the cost and ease of each switch. With the Future Generali Easy Invest Online Plan, you can make 12 free switches in one year, after which you will be charged Rs. 100 per switch
Given the answers to the questions above, you can now dot the I's and cross the T's before buying a ULIP plan of your choice. Just like you would check the seam, the fabric texture, the fit, the colour- and not just the price- before buying your ideal wedding outfit.