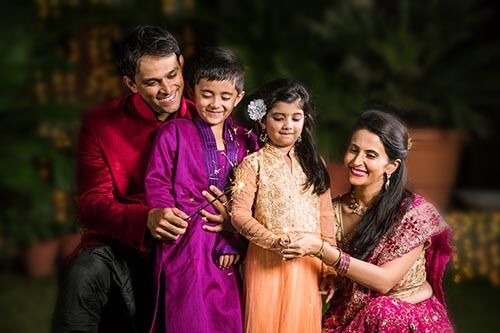 Diwali celebrates the triumph of good over and evil. In hindsight, it seems as though this year has been nothing short of a year of triumphs, a year where we didn't allow the consequences of the pandemic to crush our spirits. It has been a year that helped us discover our strengths. As we celebrate this joyous festival this year, it is important to undertake precaution due to the spread of the pandemic however let is not dampen the festival spirit. Below we explore 5 ways to celebrate a safe Diwali in the pandemic.
1. Celebrating With Loved Ones
The spirit of any festival is felt the most when we come together as a family, community and country to celebrate it together. But with physical distancing having become a norm, how do we celebrate and protect ourselves at the same time? Since people have not been able to visit their loved ones with as much ease as before, video calling to connect with loved ones who are far away is becoming the norm. And Diwali celebrations will be no different in this sense as we will see more and more people use technology this year to celebrate the festivities with loved ones. By maintaining physical distancing we will keep ourselves and our loved ones safe. However, physical distancing doesn't really mean that we can't visit our loved ones at all. If we practice enough caution we can avoid the spread of the virus. Click here to know how you can avoid getting infected and spreading the infection.
2. Diwali Gifts
Diwali is synonymous with gifts and this year we will see a fresh addition of items to the gifting catalogue that will help make the lives of our loved ones easier and safer in the new normal. Apart from the usual Diwali, you can make it a safer Diwali for your family by gifting items such as face masks, air purifiers, immunity boosting foods, sanitising items.
3. Sweets and Savouries
Since the onset of the pandemic people have been looking at ways to improve their immunity. From going by age old immunity boosting foods to looking at modern over the counter supplements, there has definitely been a surge in foods that will make us resistant to the catching the virus. Not only that, you can try gifting/consuming mithai which enhanced with immunity boosting ingredients such as dry fruits, herbs etc. to improve one's immunity instead of the traditional mithai.
4. House Cleaning
It has been a year of cleaning since the spread of the virus. Since touching surfaces increases the chances of contracting the virus, constantly sanitizing surfaces has naturally become a norm. So with the precautions that need to be taken with the pandemic this year, we will have to up our cleaning game to ensure that the house remains safe from virus. Click here to know the unexpected places where germs hide.
 5. Gratitude
Diwali is also a time that we thank Goddess Lakshmi for all the blessings and ask her to continue showering the same on us. The pandemic has by force made us realise the value of those things that we might have taken for granted. Having a positive attitude might not help us directly with battling the pandemic but will spread happiness and improve our mental wellbeing.
That being said, Diwali will certainly be a mood booster and we all look forward to it.
This year we can expect to see people's positive attitude light up and brighten up Diwali much more than the lanterns, diyas and rangolis. So keep these 5 things in mind and have a safe and happy Diwali!