Celebrate a Healthy Diwali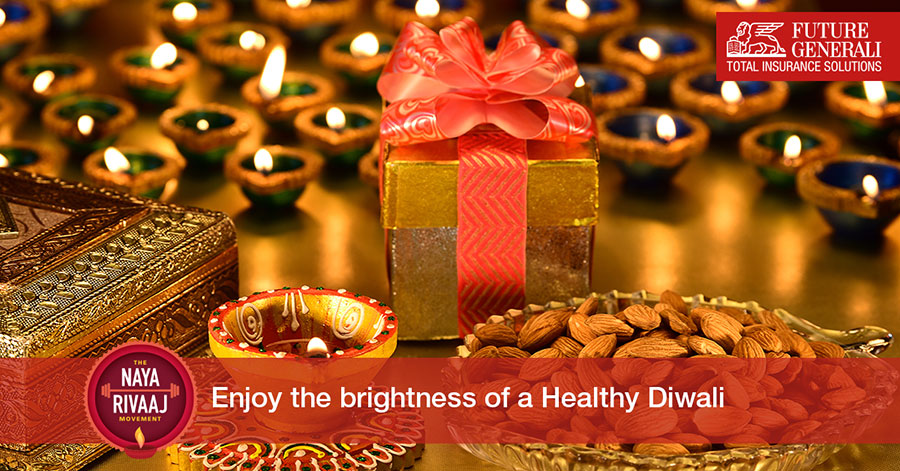 Diwali is a festival of celebration and often results in you binging on fatty sweets and snacks that may result in health problems which can last for much later on in life. To make the most of the festival and the opportunity it brings to gather relatives together, it is important to also keep good health practices in mind.
Read on below to learn the different ways to stay fit during Diwali, while also enjoying everything the festival has to offer.
1. Eat in moderation, don't skip meals:
When you meet your friends and relatives this Diwali, you know there will be loads of laughter while spending quality time with each other. This is a time for feasts and celebrations, which may lead to many people to skip their meals thinking that, they will eat later.
However, this is extremely unhealthy as not only can it lead to a buildup of gas but can also result in excessive eating of fatty sweets and snacks. For instance, this year, Swati was insistent that her father refrains from eating too many sweets and unhealthy snacks that could cause his cholesterol levels to shoot up. Swati's father had recently been warned by his doctor that his sugar and cholesterol levels were above normal and that he needed to take care of himself to avoid future health complications. While her father brushed off the warnings saying that he had taken adequate protection, Swati was determined that he take better care of himself.
2. Stay hydrated:
Say no to aerated beverages and ask for a glass of water or lemon juice. Water helps flush out toxins better from the body and drinking 8 to 10 glasses of water can ensure continued good health even during this festival. There is no replacement to water as a way of maintaining good health, and during festivals where you are bound to eat unhealthy food, Hence, drinking adequate water takes is very important.
3. Exercise:
Since there are holidays during Diwali, most people end up relaxing and avoid going to the gym as well. This may not be the end of the world since you can do simple exercises at home and maintain your good health. Pushups for half an hour before meeting your family for a hearty meal or first thing when you wake up in the morning is a good way to continue staying fit throughout the day.
4. Get adequate sleep
Get a good night's sleep to prevent fatigue, tiredness and even weight gain during this Diwali. Ensure that you get good 7 to 8 hours of sleep to wake up fresh.
While it may seem like a difficult proposition to attempt to stay healthy during Diwali when everybody around is enjoying themselves to the hilt, bear in mind that it is for your own good and for the good of your family. Along with this, taking adequate care of the health and wellbeing of your near and dear ones during Diwali is also advisable. So, all in all, drink a lot of water, feast in moderation and above all, don't forget to heartily celebrate the festival of lights with your loved ones!