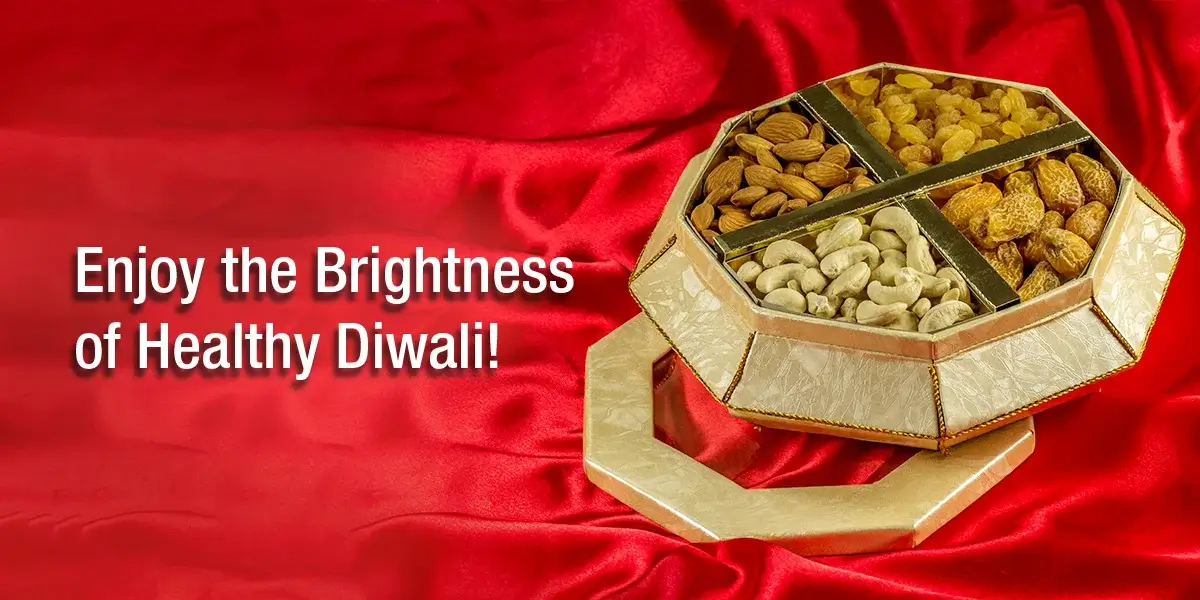 From Motichoor laddu and Gujia to Chakli and Shankarpali– we all binge on every lip-smacking dish during Diwali.
Diwali - a festival of celebration that often results in you binging on many such fatty sweets and snacks that may result in health problems which can last for a longer time.
Furthermore, the festive season brings a shift in our lifestyles, requiring a healthy balance between healthy and unhealthy choices. Discover how to stay fit during Diwali while also enjoying everything the festival has to offer.
1. Eat in Moderation, Don't Skip Meals!
During Diwali, parties and family gatherings are common, but you don't have to eat too much or go off your diet. Many people eat too much food and gain weight easily, so it is best to eat moderately by controlling your portion size.
Many believe that if you skip a meal and stay hungry, you tend to put on less weight. However, what they don't know is that this is extremely unhealthy as it can cause a buildup of gas and lead to excessive consumption of sweets and snacks containing fat and sugar.
2. Stay Hydrated
Say NO to aerated beverages and ask for a glass of water or lemon juice. Water helps flush out toxins better from the body and drinking 8 to 10 glasses of water can ensure continued good health even during this festival. In order to stay healthy, drinking plenty of water is essential. This especially holds true during festivals when celebrations are filled with unhealthy food. Drinking enough water takes on even greater importance during festivals.
3. Exercise
Diwali being a holiday, most people end up relaxing and avoiding going to the gym. It may not be the end of the world since you can do exercises at home and maintain your health. When you wake up in the morning or before you meet your family for a hearty breakfast, you can do a few pushups to stay in shape throughout the day.
4. Opt for Homemade Alternatives to Traditional Sweets
Today, the markets are full of traditional Diwali sweets, however, they contain a lot of sugar, calories, and unhealthy preservatives. This Diwali, you can control how many calories you consume by making your sweets at home using various alternatives.
Suggested Read: 5 Alternatives to Traditional Diwali Sweets
5. Get Adequate Sleep
This Diwali, make sure you go to bed early to avoid fatigue, tiredness, and weight gain. To wake up fresh, make sure you get at least 7 to 8 hours of sleep.
--
During Diwali, when everyone is truly enjoying themselves to the hilt, maintaining your health during the celebration can seem challenging. But keep in mind that it is for both your good and the good of your family. It is also important to provide a secure financial future for your loved ones. You can secure your family's financial future through the life insurance solutions offered by Future Generali India Life Insurance. To know more, connect with a financial advisor at the earliest!
Most importantly, enjoy the festival of lights to the fullest with your loved ones!
Happy Diwali!