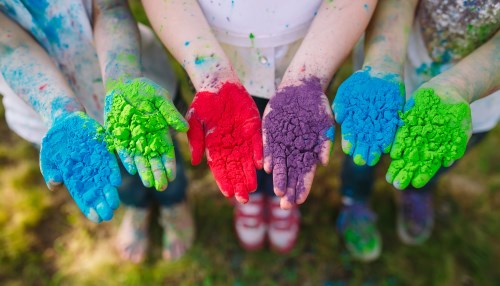 Holi is one of the most loved festivals of India. From smearing colours on each other to indulging in festive sweets and savouries this festival surely makes our day colourful and fun. Children and adults alike enjoy partaking in celebrating this colourful festival. However, there is no doubt that we need to supervise our little ones so that they can have their share of fun but also be safe. We are enlisting 5 simple ways that will help you to ensure that your child has a colourful yet a safe Holi
1. Choose Colours Carefully
There's no fun in celebrating Holi without colours, right? However, choose your colours wisely and avoid synthetic colours. These colours have harmful chemicals that may cause skin rashes & other skin problems. Organic colours are environment friendly & a safe alternative, and have also been traditionally used to celebrate Holi in India.
2. Wear Protective Gear
If you want to be carefree when your child is having a great time playing Holi, ensure that you have taken all the measures to protect their exposed skin. Smear a layer of oil or petroleum jelly, so that it doesn't come in direct contact with colours – synthetic or otherwise. While you may be careful about not using harmful colours, others may not follow suit. So, it is best to practice caution and take the necessary steps yourself. You must also ensure that your children's eyes are protected from the harmful colours. You can keep their eyes safe by making them wear a pair of swimming goggles. Lastly, it is best to make your child wear full sleeved clothes to prevent further exposure to colours.
3. Keep An Eye on What They Eat
Dahi bhalle, Gujiya, Rasmalai, Jalebi might set your children's mouth to water but too much of these Holi delicacies can leave them with an upset stomach. So, watch how much they are gorging on these festive treats. And ensure that they wash their hands properly before eating.
4. Stay Hydrated
It is easy for children to lose track of time when they are having fun. This means they might forget to drink enough water and hydrate themselves. Since the temperatures start to soar around this time, ensure that they are regularly sipping water and taking fresh fruit juices while they play out in the sun.
5. Avoid Playing With Water
While it is tempting to play with water balloons and take all the Holi fun to the next level it can be detrimental to your child's health and also for the environment. Getting soaked in water can lead to your child catching a cold which may lead to high fever. So it's best to play with dry organic colours and conserve water too in return..
A small step will go a long way to ensure that you and your family enjoy a colourful and fun-filled Holi. While you work towards ensuring your kids enjoy a safe Holi, it is also important that you pay attention to your health as your Health is Your Asli Wealth. It is only when you are healthy, that you will be able to take care of your family's health. And while you focus on your health, we offer to protect and grow your wealth. Want to take your family's financial protection a notch higher this Holi? Click here to get in touch with our financial advisor now!
ARN - ADVT/Comp/2020-21/Mar/744