This Diwali, ensure your health sparkles like a Phool Jhadi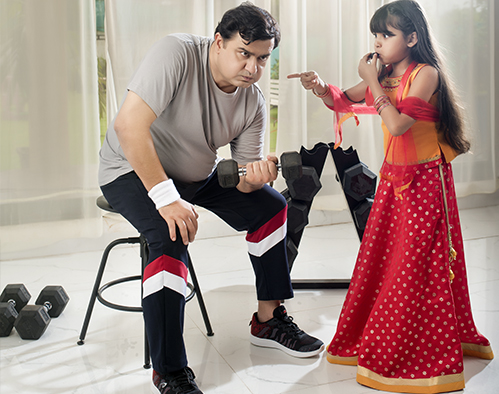 The festive season is here and you might be ready to make the most of it. You're looking to have a fun-filled Diwali with your family and make merry. From decorating your house, to rushing to get groceries and home supplies to carefully choosing gifts for your loved ones, festivals bring a lot of added responsibilities.
As you keep ticking your to-do list amidst the good cheer of festivities, take some time to sit back and think about how to be fit as a father, husband and son because, your health is as important to your loved ones, as it is to you.
An average Indian man burns more calories per day on an average as compared to a woman, claims a survey conducted earlier this year. Out of a daily budget of approximately 476 calories, Indian men were found to burn 55 percent or 262 calories a day. Women, on the other hand, burn just 165 calories, 44 percent of their daily calorie count of 374 calories. This begs the question: how many men are really in the prime of their health?
Here are some steps you can take to stay healthy this Diwali:
Schedule regular check-ups

As you reach your mid 30s and further, the body's capacity to extract oxygen from the blood declines. This leads to an increase in cholesterol and blood pressure. Fat starts getting deposited on the walls of your arteries which supply blood to the heart. After all, the heart is also a muscle and over time, it loses its strength. Regular diagnostic tests will update you on several parameters and help you be fit as a father. Keeping them in check will ensure you can catch any early signs of a health condition and find time to set it right.

Healthy diet

Resist the temptation to dive into that box of your favorite motichoor laddoos dripping with ghee and you can stay healthy this Diwali. Instead try to consume green leafy vegetables, pulses, nuts, seeds and mushrooms in your diet. Foods rich in Omega 3 fatty acid can reduce your risk of heart disease, which kills more men than women. Foods rich in zinc, lycopene and vitamin C are good for the health of all the glands. Replace junk food with salads, soups and stews and consume seasonal vegetables. This is a valuable fitness tip for fathers. Because what you eat, becomes you.

Watch your waist

If your waist size is 37 inches or above, it puts you at a greater risk for Type 2 diabetes and heart disease. If you want to be fit as a father, you better keep a tab on your waistline. Lose a few inches and you will feel much fitter and healthier. Walk, jog, do yoga, dance, play sports, whatever works for you to stay in shape. It could help you keep serious health conditions at bay.

Build muscle and bone strength

With age, muscle mass drops making you more susceptible to injuries. Your joints no longer have the same strength that you had as a kid. If you have a family history of osteoporosis, you should get your bone density measured regularly. Get enough calcium in your diet and keep vitamin D levels at an optimum. An important fitness tip for fathers is to focus on their muscle and bone health starting in their 30s.
So change your approach to your health and reap the benefits. Responsibilities go hand in hand with rest and recreation. So, do not forget to enjoy with your loved ones, neighbours and relatives as you learn to stay healthy. After all, maintaining a balanced state of mind is also a fitness tip that should not be ignored.
Critical illness can strike you, even after being watchful of your health. Which is why buying a critical illness insurance helps you tide over the financial difficulty that such a situation can bring in the future. It helps your loved ones to live their life with self respect without any interruption. So that they can fulfill their dreams and realise their potential, should your health be compromised. But you wouldn't want that would you? So take a vow to stay healthy this Diwali and be a fit father to be there for your family, today and every day!