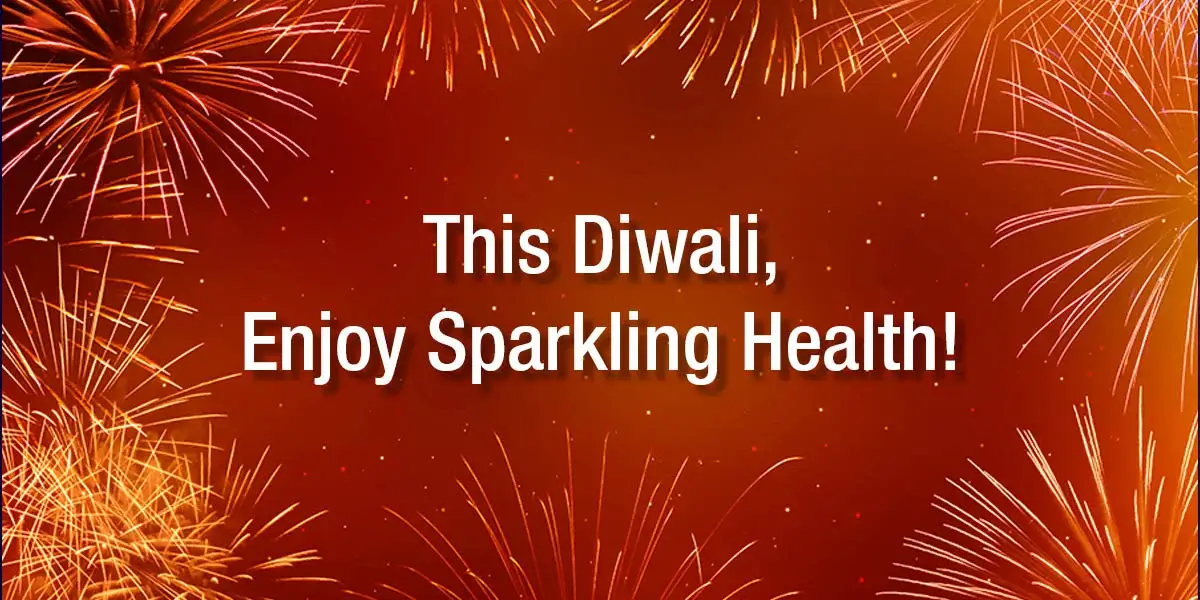 The festive season is here and you might be ready to make the most of it. You're looking to have a fun-filled Diwali with your family and make merry. From decorating your house, to rushing to get groceries and home supplies to carefully choosing gifts for your loved ones, festivals bring a lot of added responsibilities.
As you keep ticking your to-do list amidst the good cheer of festivities, take some time to sit back and think about how to be fit as a father, husband and son because, your health is as important to your loved ones, as it is to you.
An average Indian man burns more calories per day on an average as compared to a woman, claims a survey conducted earlier this year. Out of a daily budget of approximately 476 calories, Indian men were found to burn 55 percent or 262 calories a day. Women, on the other hand, burn just 165 calories, 44 percent of their daily calorie count of 374 calories1.
This begs the question - how many men are really in the prime of their health?
Here are some steps you can take to stay healthy this Diwali:
Schedule Regular Check-ups
The body's ability to absorb oxygen from the blood decreases as you approach your mid-30s4. This increases cholesterol levels and blood pressure. Your arteries which supply your heart with blood begin accumulating fat. Because the heart is also a muscle, it loses strength over time. Regular diagnostics will update you on several parameters and assist you in being a fit father. By keeping them in check, you can catch any signs of a health issue early and take action to fix it.
Healthy Diet
Stay healthy this Diwali by avoiding that box of motichoor laddoos dripping with ghee. Consume more green leafy vegetables, pulses, nuts, seeds, and mushrooms. Heart disease is the leading killer of men, so adding foods rich in Omega-3 fatty acids reduces your risk3. It is important to eat foods rich in zinc, lycopene, and vitamin C to keep glands healthy. Consume salads, soups, and stews instead of junk food. Dads should heed this advice. You are what you eat.
Watch Your Waist
For men, if your waist size is 40 inches or more, you are at a greater risk for Type 2 diabetes and heart disease2. When it comes to being a fit father, you need to take care of your waistline. Lose a few inches and you will feel much lighter and healthier. Stay fit by walking, jogging, doing yoga, dancing, or playing sports. Doing so may prevent serious illnesses.
Build Muscle and Bone Strength
As you age, your muscle mass drops, making you more prone to injuries. You don't have the same strength in your joints as you did when you were a child. If you have a family history of osteoporosis, you should get your bone density checked regularly. Make sure you consume enough calcium and vitamin D in your diet. It is crucial for fathers to pay attention to their muscle and bone health starting in their 30s.
--
As the saying goes, you reap what you sow. Hence it is important to take care of your health today to avoid critical illnesses tomorrow! Even when you are taking good care of your health, critical illnesses can still strike. That is why it is crucial to buy critical illness insurance to avoid the financial hardship that can result from a critical illness. It allows your loved ones to live life without being interrupted by a financial burden.
--
Do you think your health should be compromised so that your children can achieve their dreams?
Of course not!
This Diwali, be a fit father to be there for your family, and let your health sparkle like a phool jhadi today, tomorrow, and every day!
References:
1.https://poshan.outlookindia.com/story/poshan-news-how-healthy-is-india-inc-take-a-peek-into-the-corridors-of-corporate-power-with-health-and-fitness-app-healthifyme/344772
2.https://www.nhlbi.nih.gov/health/educational/lose_wt/risk.htm
3.https://www.urmc.rochester.edu/encyclopedia/content.aspx?contenttypeid=1&contentid=3054
4.https://www.msdmanuals.com/home/older-people%E2%80%99s-health-issues/the-aging-body/changes-in-the-body-with-aging