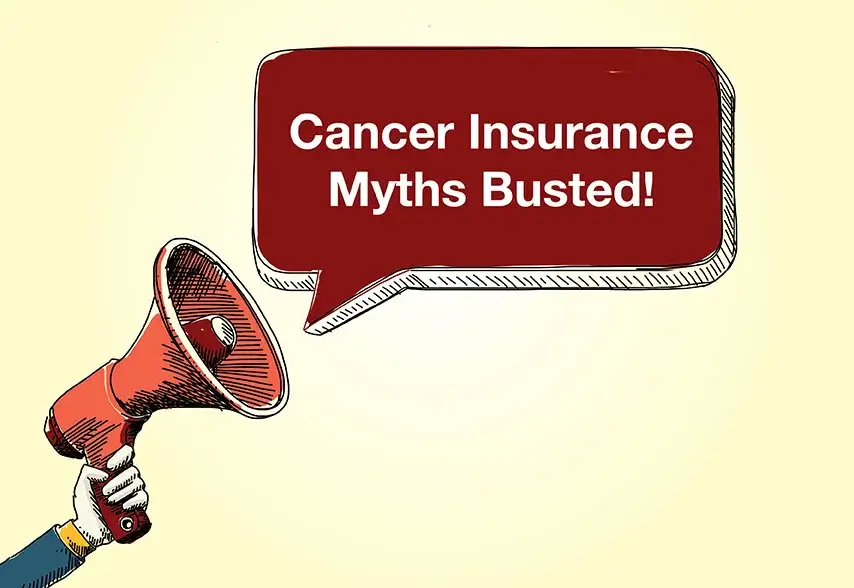 Did you know that there are more than 100 different types of cancer that could affect any part of your body? Cancer is often termed a silent killer since most of its signs go unnoticed over a long period of time, until it reaches an advanced stage.
It strikes unannounced and hence it is important to buy a dedicated cancer insurance policy to protect yourself. However there are several myths about cancer insurance doing the rounds. Take the case of Parthiv. Two years into his profession, when he saw his colleagues at work buy health insurance, he also decided to buy a policy.
One day he met his old friend Sudhanshu in the gym after a long time. Sudhanshu told him that he had been looking after his father who had been recently detected with colon cancer. However, since he had bought cancer insurance three years back, most of his father's treatment costs were taken care of.
The first question that Parthiv asked Sudhanshu was how could he afford to get his father insured for cancer? Isn't it expensive? This is just one of the myths about cancer insurance that an average person has. Let us take a look at others:
Myth 1: Buying insurance for cancer is expensive
Answer: Buying cancer insurance early in life could help you even out the high treatment costs of cancer. Right from the diagnosis to post treatment cancer care can wipe out your hard earned life savings before you know it. The perception that getting insured for cancer can burn a hole in your pocket is a cancer insurance myth that is not true.  A 10 lakh cover for a period of 10 years bought by a healthy non-smoking 30 year old male costs only a few rupees a day. Wouldn't it be better to pay cheap monthly premiums knowing you will be financially protected in the future, than shelling out money you would need to manage your retirement and be left with nothing?
Myth 2: Cancer is covered by my health insurance policy
Answer: Although most health insurance policies provide cover for critical illnesses such as cancer, they may at times only cover inpatient hospitalization. They also have a lower sum assured which may not be sufficient should you be diagnosed with a critical illness such as cancer. These are some of the limitations that your regular health insurance has and hence the assumption that it will be able to offer you adequate coverage for cancer is nothing but a cancer insurance myth.
Myth 3:
Cancer insurance

does not cover all types of cancer

Answer: Insurance for cancer covers most common types of cancer that occur in both men and women. Financial assistance is provided should you be diagnosed with either a major stage or a minor stage cancer, or both in your lifetime, depending on your insurance provider. Financial assistance starts right from the diagnosis and payouts are made to cover the cost of chemotherapy, surgery, radiation and even post treatment care. 
Myth 4: I do not have a family history of cancer, I don't need to buy cancer insurance
Answer: This is in fact one of the biggest myths about cancer insurance today. Genetics might not be the only reason for developing cancer, environment also plays a role and studies are underway to help understand other causes as well. However, the number of Indians being detected with cancer is only increasing year by year. Would you rather be protected against this disease which poses a threat for your future or be unarmed with no financial cover?
Myth 5: The process of buying insurance for cancer must be tiring
Answer: This cancer insurance myth does not hold true in the age of technology. Gone are the days when you would visit a branch, do lengthy paperwork, then wait for your documents to be verified and approved. Today, you can easily buy cancer insurance with a few clicks on your smartphone or laptop. Just choose your sum assured, policy term and the kind of plan you want and pay the premium online to be the proud owner of a policy.
Now that you are better informed on the myths about cancer insurance, you understand how important it is to be financially covered for a life threatening illness such as cancer. Click here to consult your financial advisor.