Vanya Tripathi, a 35-year-old acclaimed young professor of history, is a vegetarian and non-smoker. She has proper dietary habits, especially with a preference for home-cooked food, and follows a one-hour yoga regimen daily. She has been selected for a prestigious one-year post-doctoral fellowship in the UK. For her travel to the UK, she got a few medical tests done as mandated by the UK visa application process. With only a month left before the travel, she was busy shopping and meeting friends and family. One day, amidst her busy plans, she found out from the doctor that she's been detected with early stage lung cancer. Unfortunately, she had to forego her foreign fellowship and undergo a regular treatment.
Critical Illnesses like cancers do not give a guarantee of not affecting a human body, despite following a religious and disciplined lifestyle. They can pull an individual back and throw his/her life out of gear completely, while he/she is busy making ambitious plans like Vanya's. Today, critical illnesses account for 60 percent of deaths in India, according to the Global Burden of Disease Study. Treatments to cure critical illnesses are usually lengthy and expensive making it impossible for an average Indian family to afford the costs.
Critical illness (CI) insurance plans with lower premium rates become extremely crucial for an individual and his family to be able to afford the treatment costs without draining their savings. Here are the five most common critical illnesses in India that are covered under most critical illness insurance plans: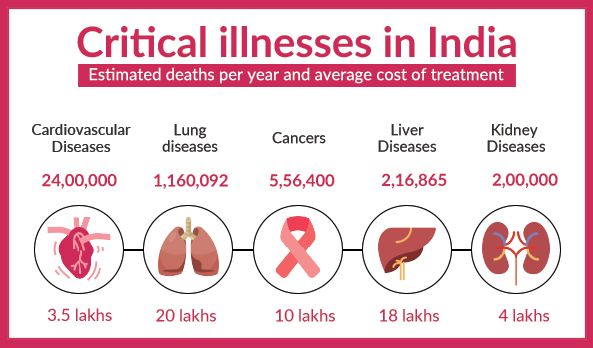 Figure 1 - Statistics
Cancer
Cancer is one of the most common and lethal illnesses in India today. The recent India-specific figures released by the Global Cancer Observatory (GLOBOCAN) report a total of 11.57 lakh cancer cases in 2018, a more than 15 percent increase over the 10 lakh cancer cases reported in 2012. Cancer treatments are excruciating – physically, emotionally and financially, and the pain is even inexplicable if the breadwinner of the family succumbs to the deadly disease. The top five cancers that are affecting Indians today are Breast, Oral, Cervical, Gastric, and Lung cancers.
Cardiovascular Diseases
Between 1990 and 2016, the death rate due to heart-related illnesses rose by around 34 percent from 155.7 to 209.1 deaths per one lakh population, says a new global study published in the Journal of the American College of Cardiology. Heart disease and stroke were estimated to account for about 15-20 percent of deaths in India. These illnesses are unsurprisingly the leading causes of death in the country.
Renal diseases
According to data from the International Society of Nephrology's Kidney Disease Data Center Study, chronic kidney disease (CKD) across different regions of India reported a prevalence of 17 percent, with 17 in every 100 individuals in the country suffering from some kind of kidney ailment. Also, the number of patients, including children undergoing dialysis has risen by 10-15 percent annually during the last decade. Diabetes and hypertension are two common causes linked to prevalence of kidney ailments. The cost of a dialysis session can range from Rs. 2k-3k, and two sessions per week can cost upto Rs. 25k per month. This is a considerably high amount for an average family of four.
Liver Cirrhosis
Liver cirrhosis is a permanent damage of the liver that leaves a non-functioning scar tissue. The only remedy to treat this condition is a liver transplant. According to the latest World Health Organisation (WHO) data published in 2017, liver disease deaths in India reached over 2.5 lakhs accounting for over 2 percent of total deaths. Factors like fatty liver, excessive alcohol consumption lead to cirrhosis of the liver. Of late, cirrhosis patients suffering from non-alcoholic fatty liver diseases (NAFLD) are on the rise in comparison with the alcohol-inducing variety. A liver transplant surgery can cost somewhere between Rs. 12 - 15 lakh.
Lung Diseases
India today ranks no. 4 in total number of deaths caused by lung diseases in the world and accounts for 10 percent of total deaths in India. In 2017, Chronic Obstructive Pulmonary Disease (COPD), an incurable and progressive lung condition that can destroy the air sacs responsible for extracting oxygen and dispelling carbon dioxide from the body, figured as the second biggest killer in India after heart diseases. COPD is caused by long-term exposure to lung irritants and toxins in the atmosphere. Treatment of critical illnesses like COPD only halts the deterioration of the lung condition and can't be cured completely.
Step it up
Given the expensive treatments for critical illnesses, purchasing a critical illness insurance plan would be a smart way of meeting these expenses without affecting a family's regular source of income. The Future Generali Heart and Health Insurance plan is one such critical illness insurance plan that pays the insured a lump sum benefit to meet the treatment costs upon diagnosis, and even make up for a loss of income, if the insured is the sole earning member of the family. The CI plan covers treatment costs of 59 critical illnesses. It offers four flexible critical illness covers to choose from along with multiple sum assured options of 5L/10L/20L/30L/40L based on tenure options. The insured can avail tax benefits under Section 80C and 80D of the Income Tax Act, and multiple claim benefits as per the minor, and moderate conditions of illness, provided the full sum assured is not exhausted. With low premiums paid towards a CI plan, an individual can be assured of quality treatment for his critical illness, without having to worry about finances.