With the passage of time, it's common for human beings to cultivate myths or false perceptions about things. Myths are old as human civilization and sometimes myths can become a way of life – that's why we have a mythology. Most myths harm us in the long run though we may indulge in them for entertainment value and think of them as harmless.
The same goes for financial myths. Financial myths can have an adverse impact on your finances or you may not be able to derive benefits from some investments due to fear, lack of knowledge, or false perception. These financial myths have also risen as a result of misinformation and rampant mis-selling to pocket high commissions in the past. In this article, we will focus on ULIPs and bust the top 5 myths surrounding it for good. Here we go!
Myth 1: ULIPs are costly
Fact: Not anymore! ULIP charges have come down significantly insurers have even done some charges away
ULIPs are a complex investment tool and there are many operational costs involved. The fact that the entire premium of a ULIP plan is not invested in the unit has made people think that ULIPs are costly. However, to get higher returns as well as provide life protection there are various dynamics involved in a ULIP and these extra charges only helps customers to get better returns on their investment.
Moreover, ULIP charges in new generation plans are considerably less and some insurers selling online ULIP plans don't charge premium allocation and policy administration charges. Also, the IRDAI has capped the maximum fund management charges to 1.35% of the fund value bringing down costs of investing in ULIPs significantly.
Myth 2: Insurance cover will be reduced if the markets tanks
Fact: Insurance companies have to pay the sum assured or fund value in case of death or maturity as per IRDAI
Your insurance company invests a portion of your premium for life cover and the other portion on the linked investment instrument. Under the principles of the contract and as per IRDAI regulations, the insurance company has to pay the sum assured or fund value, whichever is higher, in case of the death of the policyholder. The sum assured is generally 10 times the yearly premium.
Myth 3: ULIPs are risky
Fact: That depends upon your risk appetite
When you drive a car you either drive it fast, slow or at normal speed to reach your destination. The faster you drive, the earlier you reach your destination but there are some risks involved. But that doesn't mean that driving a car is risky. Similarly, if you want to grow your wealth faster and earn higher returns, you have to take some risks and invest in equity-linked ULIP plans. However, if you are risk-averse you can stay a conservative investor and select debt funds where the returns may be lower but offer more security.
Not only that; the ability to continuously switch funds in a ULIP prompts investors to take maximum advantage of market movements and protect themselves from market volatility.
Myth 4: ULIPs give low returns
Fact: ULIPs have yielded 5-year absolute returns of up to 67% [1] Due to lack of knowledge, many investors equate ULIPs with endowment plans and think that they yield low returns. However, the truth is that ULIPs have consistently provided handsome returns to investors. Future Generali Life Insurance has been able to offer investors absolute returns of 67% in five years from its Pension Advantage Plan. You can also check the absolute returns for the past 5 years of other ULIP plans from Future Generali Life Insurance below:
Performance of Few ULIP Plans (Last 5 years)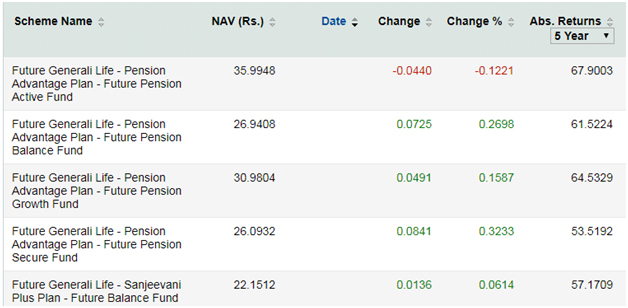 Myth 5: ULIPs cannot be discontinued
Fact: Sure, it can be done!
This is another myth that stops people from investing in ULIPs and deriving the triple benefits of life cover, wealth creation, and tax savings. You can discontinue a ULIP after the lock-in period of five years and there are no surrender charges or discontinuation charges after that period.
With the Future Generali Easy Invest Online Plan, you can withdraw a minimum of Rs.5000 up to 4 times a year to meet your emergency expenses after the 5-year period. Before you buy a ULIP plan, inquire about all the ULIP charges, investment horizon, the sum assured and be clear about your investment goals for investing in a ULIP plan. If you are clear about your goals, you stick to the plan longer and build a larger corpus for you and your loved ones.