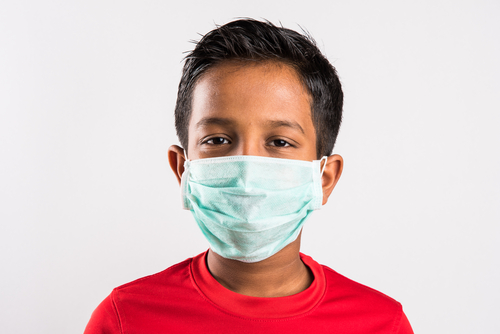 The COVID-19 scenario has created many challenges in our day-to-day lives. While being self-cautious with everyday dealings is not easy, what is even more difficult is to monitor children during this time as they don't understand the gravity of the situation. It is indeed a challenging time, but with some foresight, better planning and a positive attitude, we can make the grave situation slightly better to handle.
Firstly, it is essential to get your facts right on the impact of COVID-19 on children.
According to WHO, in China, children under the age of 18 made up only 2.4 per cent of all reported cases. Only 2.5 per cent of kids under the age of 19 developed a severe case, and only 0.2 per cent were critical.   
What symptoms to look out for in your kids?
Mild infection symptoms include fever, fatigue, cough, runny nose and sneezing.
Exceptions: Some kids have no fever but experience nausea, vomiting, abdominal pain and diarrhoea.
Moderate infection symptoms include pneumonia, frequent fever and a mostly dry cough, followed by wet cough and wheezing, but no apparent shortness of breath. Those who have fever and cough also experience gastrointestinal symptoms like diarrhoea. After a week, blood oxygen levels dip below 92%, and breathing becomes difficult.
Critical cases symptoms include breathing issues and vital organ failure.
Who to contact if your child shows these symptoms?
If your child shows any of these symptoms seek help immediately on Helpline Number Toll-free: 1075
 +91-11-23978046
Helpline Email ID : ncov2019[at]gov[dot]in OR
 ncov2019[at]gmail[dot]com
More details available at https://www.mohfw.gov.in/
The good news is that going by the statistics; children are a lot less likely to get the virus. Yet going by the steep increase in cases of the COVID-19, you must take adequate care of your little ones.
1. Make Them Aware Of The Situation
If you're dealing with kids above the age of 8, make them aware of the situation. The best way to approach is to make them watch fun and verified educational videos available on the internet that educate them on the matter. That way, they will better understand the situation and also know what they need to do to be safe. However, while doing so, it is crucial not to make the case seem grim. State everything in a positive light and help them understand that it is a temporary situation. The main challenge arises in dealing with kids below the age of 8. It is best to not explain the situation to them because it might be too unpleasant or confusing for them to fathom. It is also important to teach them to wash their hands correctly.
2. Use-Storytelling
Children love stories and games. Get creative and make them picture COVID-19 as a monster who would steal their toys if they don't follow some rules. Create a set of new "rules" to be followed at home. For, e.g. reward them with a gift if they wash their hands before touching their face. Maintain a points system. Reward them with additional points for washing their hands correctly and reduce points for not doing so. As you understand your children best, you can improvise on these games.
3. Take Turns To Keep An Eye On Children
As parents, juggling work and home responsibilities can easily take a toll on either partner. Hence it is important to take turns to keep an eye on the young ones. Assign alternate hours to each partner to keep vigil.
4. Ask For Help
Ask older siblings to take a share of the responsibility to look after their younger siblings. Simultaneously, request grandparents to keep an eye on the children too so that some load is taken off your shoulder.
5. Provide Nutritious Food And Keep Them Active
On account of the lockdown, sourcing nutritious food might not always be possible. Yet try your best to provide nutritious food to kids so that their immunity is strong. Since outdoor playtime is a complete no during this time, encourage your kids to join you every day during workouts.
Tip: Dance together as a family. A family activity will not only help keep your kids physically fit, but also ease the tension in the air.
6. Inculcate Good Hygiene
Create a list of "Don'ts" and stick it on a wall or door in the common areas of the house. In this list include nose-picking, face touching and getting too close to others. 
7. Social Distance At Home
It is challenging to maintain social distancing with children as you need to feed them, bathe, dress them up, etc. Yet for their safety, avoid physical contact whenever possible. Also sanitize your own hands before coming in physical contact with your kids.
8. Disinfect The House
Disinfect the whole house, flooring, doors, fittings, furniture, two times in a day to ensure that your kids don't touch anything that can be infected.
9. Care For Pregnant Women
While there has been no conclusive evidence on whether children in the womb can be infected, it is best to follow the ground rules for COVID-19 for prevention. 
In the case of the coronavirus situation, the best approach is prevention. So protect the community as a whole by social distancing and by staying at home. 
Source: https://www.unicefusa.org/stories/coronavirus-children-complete-guide/37092
as on 28/03/2020