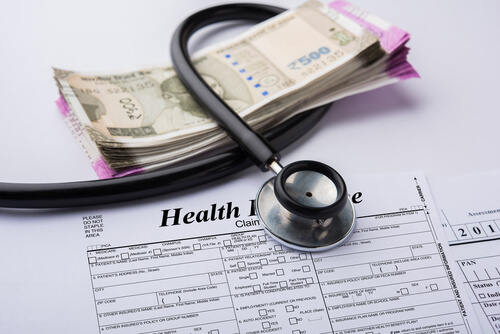 In India, the cost of healthcare has seen a meteoric rise over the past decade. Today, the cost of surgery is only a fraction of the overall money spent on recovery and rehabilitation of someone who is critically ill. For instance, after one is diagnosed with a critical illness, a significant amount of money is spent on seeking consultation from multiple doctors before going into the big surgery, medical expenses, therapy besides the usual household recurring bills that don't stop coming. This can put the family of the critically ill in a tight financial spot, especially those who belong to the middle class.
Now, a critical illness insurance plan covers the financial risks after you come down with a serious medical condition, apart from your hospitalization expenses. In a critical illness insurance plan, the policyholder gets a single lump sum amount if he is diagnosed with a critical disease that's included in the policy plan. It helps you cover the recurrent medical bills that are not covered by your usual health insurance plan, along with the daily cost of living while you are ill.
Ritika was having a great year until a sudden attack of illness rendered her hospitalized and under critical care. In a few days, the doctors diagnosed her with stage 2 of breast cancer, and she was asked to undergo surgery immediately. Ritika had just had a big promotion which she was anticipating for months and the timing of this illness couldn't be worse, she thought.
The surgery was intense and she needed to take some time off from work to recover. An accountant at a prestigious firm, Ritika was well aware that there were many lining up for that job opportunity and she ultimately had to give up her job in order to have adequate time in her hands to take care of herself and recover from her critical illness. However, while now she had the liberty of time, the monthly flow of income had stopped and her rising expenses knew no bounds. Though her standard health insurance had taken care of her hospitalization charges, everything else was to be borne by her. There were medical bills, household bills, consultation fee, therapy charges and the list went on. Had Ritika invested timely in a comprehensive critical illness insurance, she could have had the freedom to focus on her health recovery and rehabilitation alone without fretting about the bills that were piling up in her bedroom.
One can never stress enough on the unpredictability of life. A critical illness insurance is essential to safeguard your future against any such adverse circumstances that life may throw at you. In a critical illness plan, you get a lump sum payment that can be utilized in any way you want, whether to pay for your rising medical expenses or recovery and rehabilitation process. A critical illness insurance cover comes with a predetermined list of illnesses that are covered under the plan.
India is still one of the most attractive destinations for people in the southeast Asia region for seeking latest treatment options at affordable prices. Citizens from other neighbouring countries often seek treatment here, especially for critical illnesses like cancer. If you compare what one pays for such treatment in countries like the US or the UK, the cost here is 70 to 80 percent of what it would take in these countries.
To safeguard their families and themselves against such risks, an increasing number of investors are now buying critical illness insurance cover that is aimed at providing its purchasers with a financial cushion during the times when the flow of income might come to a halt while the expenses keep piling up. A critical illness cover is a health insurance policy rider which can also be defined as an attachment or an amendment to an existing policy that provides coverage in addition to the plan.