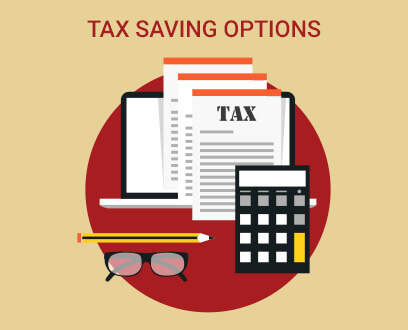 Paying and managing Income Tax is one of the most important responsibilities of life. As a citizen of a country, it is one's duty to pay their income tax without fail. However, like they say, 'where there is a will, there is a way', you can save some part of your income from getting taxed by means of investments and other options.
Understanding Income Tax?
Income tax is an important part of financial planning. It is vital for every individual and business owner to file an income tax return every year to determine whether or not they are eligible for tax refunds. Tax saving, if done in the most appropriate way, can aid in meeting monetary goals while saving some of your income from going under the tax radar.
There are different means and methods that help save tax in the most convenient way possible.
Factors Determining Individual Income Tax
As far as income tax is concerned, most individuals do not pay taxes on all of their income. Rather, there are a series of deductions, including loan interest, medical and dental bills, education expenses, and several others, which taxpayers deduct from their gross income to determine their final taxable income.
Life Insurance Policies


One of the most convenient and simplest ways to save tax is through life insurance policies. Yes, as life insurance policies come with added benefits, it does lead the way as one of the most opted for methods to save tax. Moreover, under section 80C of Income Tax Act, the premium you pay for a life insurance plan is deductible from your total income, thus lowering your taxable fraction. The maximum deduction that can be claimed is Rs.1.5 Lakhs. The premiums paid for Unit Linked Insurance Plans are exempted from taxes under section 80C.

There are several types of life insurance plans that you can opt for such as:
Term Plans
Endowment Plans
Money Back Plans
ULIPs

No matter which plan you opt for, tax-saving is guaranteed. At Future Generali, you have multiple plans at your disposal that make for a good investment and aid in saving income that gets taxed.

Health Insurance Policies


Most of us don't agree with the fact that health insurance plans make for a good tax saving option, however, the value you get in return from a health insurance coverage is much more than any other form of investment. As per section 80D of the Income Tax Act, you can enjoy a tax deduction on the premium that you pay for the health insurance plan.

Under health insurance, an insurance premium of up to Rs.20,000 for senior citizens and Rs.15,000 for others is eligible for tax benefit, thus proving health insurance plans to be an efficient tax saving instrument.

ELSS Mutual funds


It is known that equity-linked saving mutual funds invests in stocks of equity markets, which ensures a higher return over a specific period. The best part about investing in ELSS funds is that all returns are tax-free. Investments are locked in for three years. Investments towards tax-saving mutual funds are covered under Section 80C of the Income Tax Act up to a maximum of Rs.1.5 lakhs. Such investments bring an advantage of profitable returns as well as tax saving.
All of the above strategies with regards to tax planning will help you save a lot of your income along with multiplying your total wealth. The key here is to make smart choices to prevent financial loss.